The New York Times Strikes Out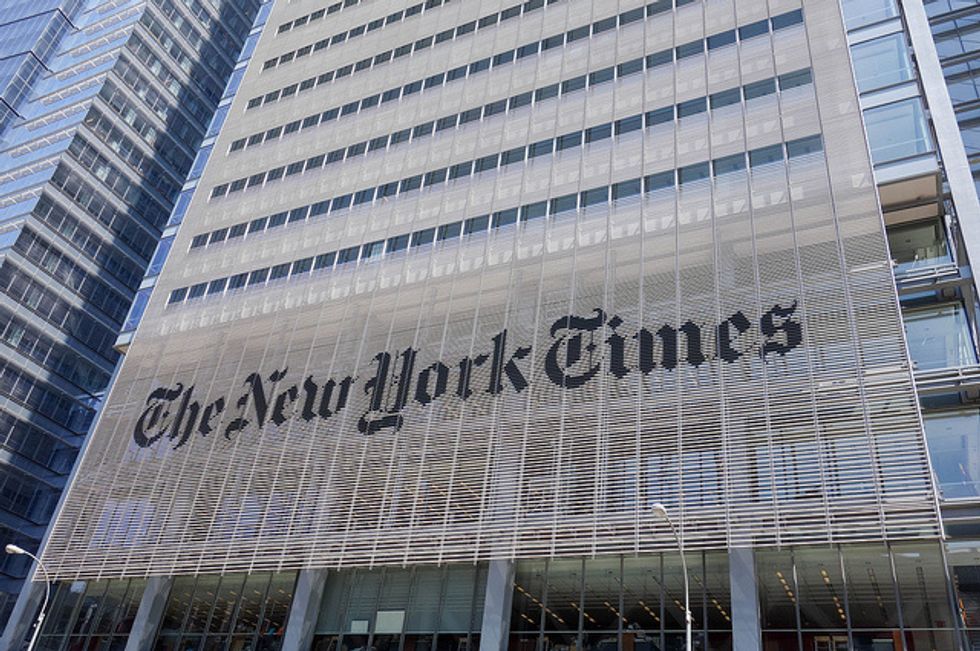 Reprinted with permission from Creators.
For more than a century, The New York Times has unabashedly bragged in a banner slogan that it publishes "All the News That's Fit to Print."
Really? Then why did this prestigious publication waste so much paper and ink on a June 25 front-page article about Bernie Sanders that was demonstrably untrue, not news and clearly unfit to print?
The piece claimed that the formidable presidential contender of 2016 has been a ballot box flop this year, failing to "expand his political base and propel his personal allies to victory in Democratic primaries." Moreover, it took a slap at Our Revolution, the aggressively progressive grassroots political movement that sprang out of Senator Sanders' presidential run. The Times scoffed that "fewer than 50 percent of the more than 80 candidates [OR] has endorsed have won elections this year."
News flash for clueless media cognoscenti: Winning anywhere near half of your campaigns is a stunning achievement for a political organization! It's all the more stunning that it's being achieved by Senator Sanders and Our Revolution, for nearly all of the candidates they endorse are unconventional, first-time contenders who start out with no name recognition, no fat cat money and no support from establishment power brokers. I happen to be a board member of the upstart Our Revolution movement, so I know of these gutsy mavericks personally, and I've seen their surprisingly successful campaigns from the ground level. They are winning because they're bringing political integrity and Bernie's big policy ideas to voters hungry for both — and because, in less than two years, has organized hundreds of thousands of democratic populists into more than 600 active political networks all across the country, including grassroots organizing in red areas the party has long ignored.
Asked about the Times' mocking of the movement's win-loss record, Sen. Sanders deadpanned: "It's not a baseball game." In fact, thought even the biggest of baseball superstars have never came close to a .500 batting average! Nor will the Times ever hit .500 on its pledge to cover all the news fit to print.
Internet users who tap out angry, spur-of-the-moment emails and tweets are advised to pause, take a deep breath and think before hitting that irreversible "send" button.
The same rule of thumb should guide major news organizations before they rush out with untrue stories. For example, The New York Times screed that prematurely pronounced the Our Revolution political organization a failure. "The group has repeatedly picked fights with the Democratic establishment in primary elections, losing nearly every time," the paper barked in a Monday morning article.
Hold that thought! Hold that thought! The very next day, Our Revolution's progressive candidate for governor in the Maryland primary, Ben Jealous, handily defeated the party establishment's favorite. Also, in New York a 28-year-old Our Revolution activist, Alexandria Ocasio-Cortez, shocked the national party's entire corporate hierarchy with her resounding grassroots victory over Rep. Joe Crowley, the fourth highest ranking Democrat in the U.S. House.
These big scores followed OR's earlier outsider victories over monied insiders in the Georgia and Texas gubernatorial primaries. Meanwhile, the insurgent group, which the Times ridiculed as "Failing," has also been winning dozens of upset victories in down ballot primary elections from coast to coast. Indeed, the feisty progressive rebels of OR are already electing 40 percent of its candidates — a better batting average than hall-of-fame sluggers Ted Williams and Babe Ruth ever reached.
Just as significant, this Sanders-inspired progressive surge has now defined the Democratic Party's agenda and enlivened both its supporters and many of its previously-moribund office holders who now backed such populist (and popular) proposals as Medicare For All and debt-free higher education.
Apparently, it's hard to see America's grassroots reality through the dusty-distant office windows of The New York Times. So, before the editors and writers send out another hit piece on the people and candidates of Our Revolution, maybe they could come out of their journalistic cubicles… and at least visit the countryside.
Populist author, public speaker, and radio commentator Jim Hightower writes The Hightower Lowdown, a monthly newsletter chronicling the ongoing fights by America's ordinary people against rule by plutocratic elites. Sign up at HightowerLowdown.org.