The Quiet Eloquence Of Elijah Cummings' Example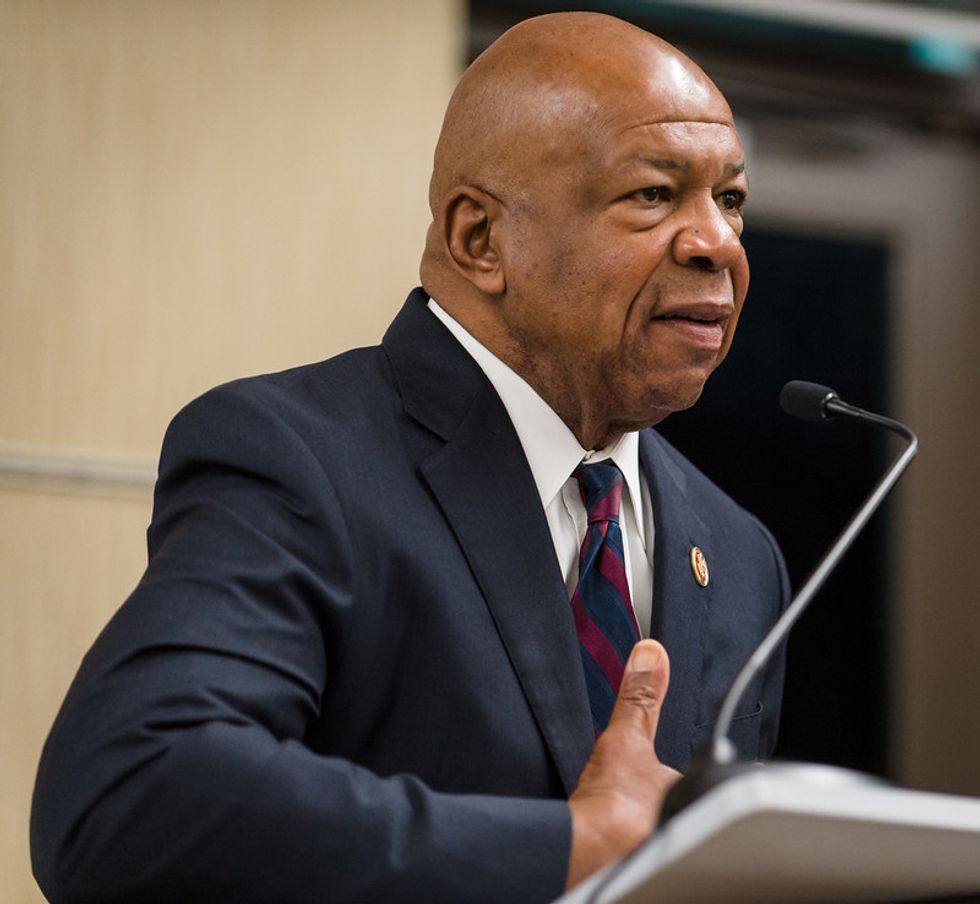 The 1994 funeral of former Speaker of the House Thomas P. "Tip" O'Neill was truly memorable. To the same North Cambridge, Massachusetts, church, St. John the Evangelist — where O'Neill was baptized as an infant and had married his beloved Millie — came two former U.S. Presidents, George H.W. Bush and Gerald Ford, scores of senators and members of congress. But more important to O'Neill, also filling the pews were nurses, waitresses, firefighters and nuns.
That 1994 night, now-Sen. Ed Markey, D-Mass., reflected on the huge turnout for the late speaker and confided to me: "Every politician in the church today, Republican or Democrat, witnessing that incredible outpouring of love and gratitude for 'Tip,' had exactly the same thought: I'll never have a funeral like this. Damn it.'"
Twenty-five years later, in the fall of 2019, the late Rep. Elijah Cummings, in his New Psalmist Baptist Church in Baltimore, with two former Presidents, Bill Clinton and Barack Obama, eulogizing him in a congregation filled with members of Congress, senators, presidential candidates and, yes, health care workers, cab drivers and busboys, did, in fact, have a funeral equal to O'Neill's.
Much has been written about Cummings, who died too soon, at 68 in his 12th commendable term in the U.S. House. When he confronted the cruel reality of the U.S. federal forces' cruelly separating the children of immigrants from their parents at the border, Cummings, with measured anger, told the authorities and his fellow Americans: "We are better than this … we are so much better than this."
Cummings grew up in Baltimore, the son of South Carolina sharecropper parents whose own schooling had been cut short. His parents had moved North so their children could get an education and have a better life. From first grade through senior year, Elijah never missed a day of school. At Howard University, he was elected into the nation's most prestigious honorary academic society, Phi Beta Kappa.
But at the age of 11, Elijah had been in the small group of African American youngsters who desegregated a city swimming pool, and he recalled that experience: "People were throwing bottles, rocks and screaming, calling us everything but a child of God."
Yet this man, who had known firsthand the slap of racism and felt the sting of hatred, was conspicuous in Congress for reaching across partisan and racial divides. For this personal courage and personal magnanimity, so rare in Washington today, Cummings gave great credit to his own father, who had only four years of formal education. He wrote to his father: "I thank you for being kind and gentle to my mother. … I also thank you for your consistent efforts to protect us from a cruel world. Every time you would come home after working very long hours as a laborer at Davidson Chemical, you would sit in the car in front of the house for at least an hour. Whether it was 20 degrees or 95 degrees, you sat there in the car quietly. We knew not to disturb you."
Later calm and gentle, Elijah's father would join his family. Years later, Elijah asked him about that hour: "You responded by telling me that at work, you were often treated badly, discriminated against and called everything but a child of God." He had "felt a need to calm down" so that his family would not be victimized by his anger.
Elijah asked his father: "Did you know that you're my hero and everything I'd like to be? I can fly higher than an eagle because you are the wind beneath my wings." And fly higher he did.
To find out more about Mark Shields and read his past columns, visit the Creators Syndicate webpage at www.creators.com.