The Real Reason Trump Hates Journalists So Deeply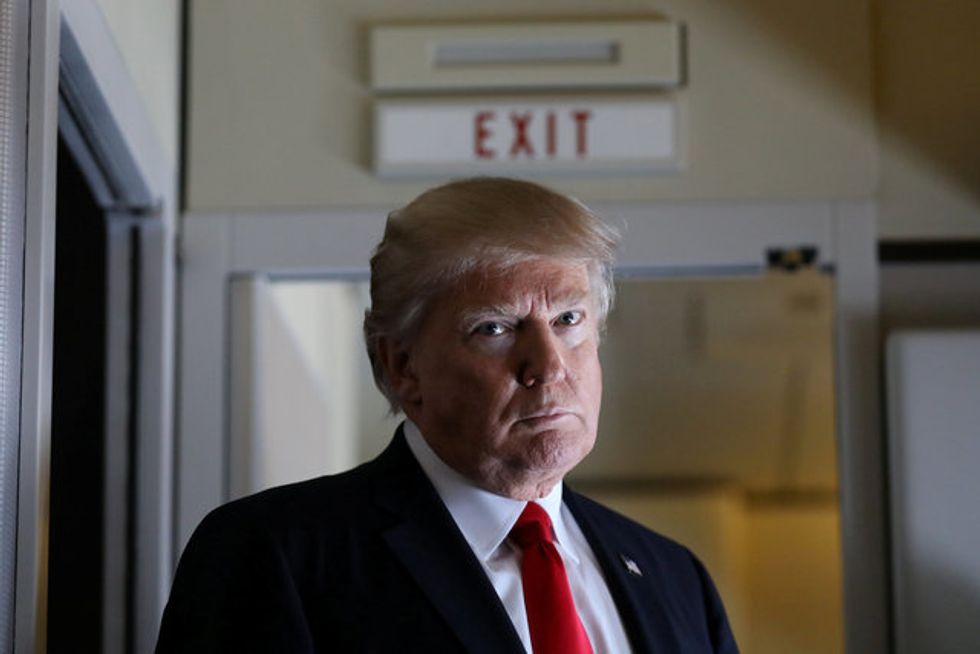 Reprinted with permission from Creators.
Last week, CNN Washington correspondent Ryan Nobles tweeted about a random encounter with a member of the public: "This rarely happens so I thought it was worth documenting. Gentleman stops me at the hotel where the press are staging covering POTUS — asks if I'm part of the press corps. I say yes — he replies
"'Thank you for your service, the First Amendment is so important right now.'"
I understand why Nobles wanted to share this. It was not that he agreed with the man's assessment. As Nobles made clear in a later tweet, he would never claim to be a public servant, and no journalist should. His original tweet offered a glimpse into how it feels whenever a member of the public is not attacking us for what we do.
This is not a woe-is-us column. Look at what we get to do for a living. Lucky us. I'm just acknowledging how our jobs have changed since the 2016 election. I've been a journalist for more than 30 years, 16 of them as a columnist. I am accustomed to being unpopular with some.
What's new is the looming shadow of this president, who regularly brays his hatred for journalists. He calls us the "enemy of the people," potentially endangering lives. His venom is toxic. And contagious. It is nice to cross paths with those who are immune. Every time a stranger approaches me to express support for journalists — which happens with greater frequency, I'm grateful to say — the weight lifts a bit.
It is not news that our numbers are dwindling. Just this week, the New York Daily News reduced its newsroom staff by half. This is a monumental shift in local journalism. As Columbia Journalism Review Editor-in-Chief and Publisher Kyle Pope noted, "With an editorial staff of about 44 people remaining, and a New York City population of 8.6 million people, there'll be one Daily News staffer for every 195,000 residents — a ratio much worse than most small-town papers."
Pope goes on to describe the impact of such cuts: "What does it mean not to have local news in your town? Would it change where you live, how you raise your kids, where they go to school?
"It would if a local coach were abusing kids, and would have kept doing so if a newspaper hadn't reported it. It would if money that was supposed to be going to city services was instead going to higher financing costs for government bonds, since no one was paying attention to the deals the city was cutting. It would if there were a spike in health viruses, because there wasn't the news infrastructure to warn people to be safe."
If you think about it, even a bit, it's easy to imagine all that could go wrong if you couldn't count on local journalists to keep you informed. It's a complicated relationship, to be sure. As long as local journalism exists, there will be tension between the newsroom and the community it covers. Familiarity breeds conflict in the happiest of families. There's no avoiding one another, and never did I feel closer to readers than during my two decades at The Plain Dealer in Cleveland. I was held accountable wherever I went, from the produce section at the corner grocery store, to the fourth pew from the back at our church. There was no escaping others' viewpoints, which is how it should be for anyone trying to influence public opinion.
Earlier this week, The New York Times reported that President Donald Trump threw a fit on Air Force One because one of its televisions was set to CNN, rather than Fox News. Think about that. The president of the United States wants all of his news filtered through the one network willing to alter reality to his liking.
Small wonder, then, that Trump continues to cast journalists as a menace — but not for the reason he claims. In this country, journalists are constitutionally empowered to expose any and all threats to democracy.
This is the president's grievance.
Ask yourself why.
Connie Schultz is a Pulitzer Prize-winning columnist and professional in residence at Kent State University's school of journalism. She is the author of two books, including "…and His Lovely Wife," which chronicled the successful race of her husband, Sherrod Brown, for the U.S. Senate. To find out more about Connie Schultz (con.schultz@yahoo.com) and read her past columns, please visit the Creators Syndicate webpage at www.creators.com.