There's No Laugh Line In A Lynching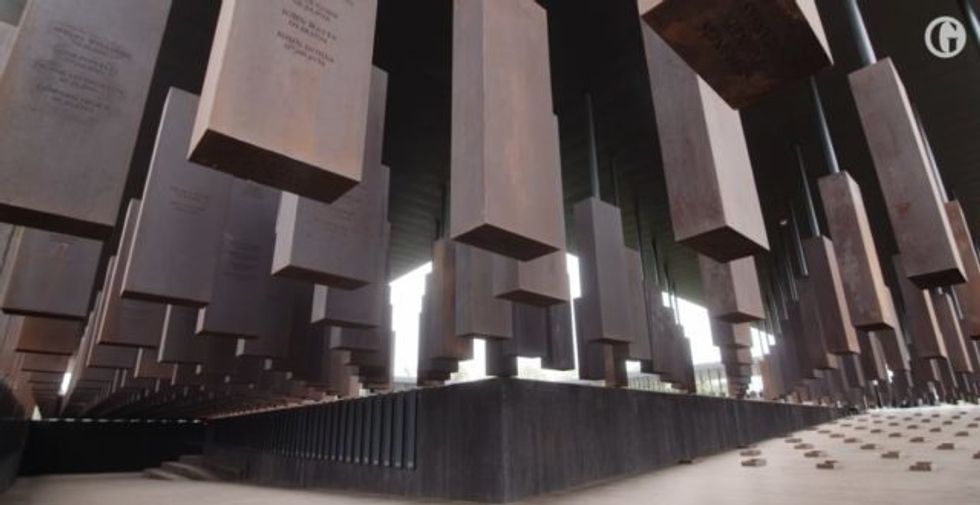 Reprinted with permission from Creators.
Earlier this year, on April 26, a new museum dedicated to the victims of American white supremacy opened in Montgomery, Alabama.
At the heart of the National Memorial for Peace and Justice is an exhibit that demands we come to terms with our country's history of lynching thousands of black people in the Jim Crow South.
Consider Campbell Robertson's description of this exhibit for The New York Times:
"At the center is a grim cloister, a walkway with 800 weathered steel columns, all hanging from a roof. … The columns meet you first at eye level, like the headstones that lynching victims were rarely given. But as you walk, the floor steadily descends; by the end, the columns are all dangling above, leaving you in the position of the callous spectators in old photographs of public lynchings.
"The magnitude of the killing is harrowing, all the more so when paired with the circumstances of individual lynchings, some described in brief summaries along the walk: Parks Banks, lynched in Mississippi in 1922 for carrying a photograph of a white woman; Caleb Gadly, hanged in Kentucky in 1894 for 'walking behind the wife of his white employer'; Mary Turner, who after denouncing her husband's lynching by a rampaging white mob, was hung upside down, burned and then sliced open so that her unborn child fell to the ground."
On Nov. 2 in Tupelo, Mississippi, about a three-hour drive west of Montgomery, Republican Sen. Cindy Hyde-Smith laughingly said this about a supporter at a public event:
"If he invited me to a public hanging, I'd be on the front row."
She is facing a runoff election later this month against Democrat Mike Espy. He was the first black congressman from Mississippi since Reconstruction, let us all note.
When her comment went viral, Hyde-Smith rejected widespread criticism, insisting that she had "used an exaggerated expression of regard" and that "any attempt to turn this into a negative connotation is ridiculous."
Fortunately, Jackson Free Press reporter Ashton Pittman is here to remind us that between 1877 and 1950, Mississippi had the highest number of lynchings of African-Americans in the country — two of them in the county where Hyde-Smith "exaggerated" her enthusiasm.
Her response has been a big so what. At a news conference Monday, Hyde-Smith repeatedly refused to answer questions about her "public hanging" comment.
"We put out a statement yesterday, and we stand by that statement," she said.
From Pulitzer Prize-winning journalist Elliot Jaspin's 2007 book, "Buried in the Bitter Waters: The Hidden History of Racial Cleansing in America":
"Lynchings were not simply executions. Often the victims were first tortured, sometimes for hours, before they were murdered. Men were castrated and women disemboweled. The form of execution was just as often burning at the stake as it was strangulation; the death throes were long and horrible. Afterwards, the corpses were sometimes ripped apart, and pieces of the victims sold as souvenirs."
A reporter asked Hyde-Smith whether she is familiar with Mississippi's history of lynchings.
"I put out a statement yesterday, and that's all I'm going to say about it," she said.
From Rep. John Lewis' foreword for "Without Sanctuary: Lynching Photography in America," describing the 1899 lynching of black Georgian Sam Hose:
"After stripping Hose of his clothes and chaining him to a tree, the self-appointed executioners stacked kerosene-soaked wood high around him. Before saturating Hose with oil and applying the torch, they cut off his ears, fingers, and genitals, and skinned his face. While some in the crowd plunged knives into the victim's flesh, others watched 'with unfeigning satisfaction' (as one reporter noted) the contortions of Sam Hose's body as the flames rose, distorting his features, causing his eyes to bulge out of their sockets, and rupturing his veins. The only sounds that came from the victim's lips, even as his blood sizzled in the fire, were, 'Oh, my God! Oh, Jesus!'"
A reporter wanted to know whether Sen. Hyde-Smith could explain her supposedly positive connotation of "public hanging."
"I put out a statement yesterday, and we stand by the statement," she said.
"Is that phrasing in your everyday lingo, in your vocabulary?" another reporter asked.
"I put out a statement yesterday," Hyde-Smith said.
Come Nov. 27, Mississippi's voters will decide whether that's all she had to say.
Connie Schultz is a Pulitzer Prize-winning columnist and professional in residence at Kent State University's school of journalism. She is the author of two books, including "…and His Lovely Wife," which chronicled the successful race of her husband, Sherrod Brown, for the U.S. Senate. To find out more about Connie Schultz (con.schultz@yahoo.com) and read her past columns, please visit the Creators Syndicate webpage at www.creators.com.