Top Lawmakers To Meet Obama For U.S. Shutdown Talks
@AFP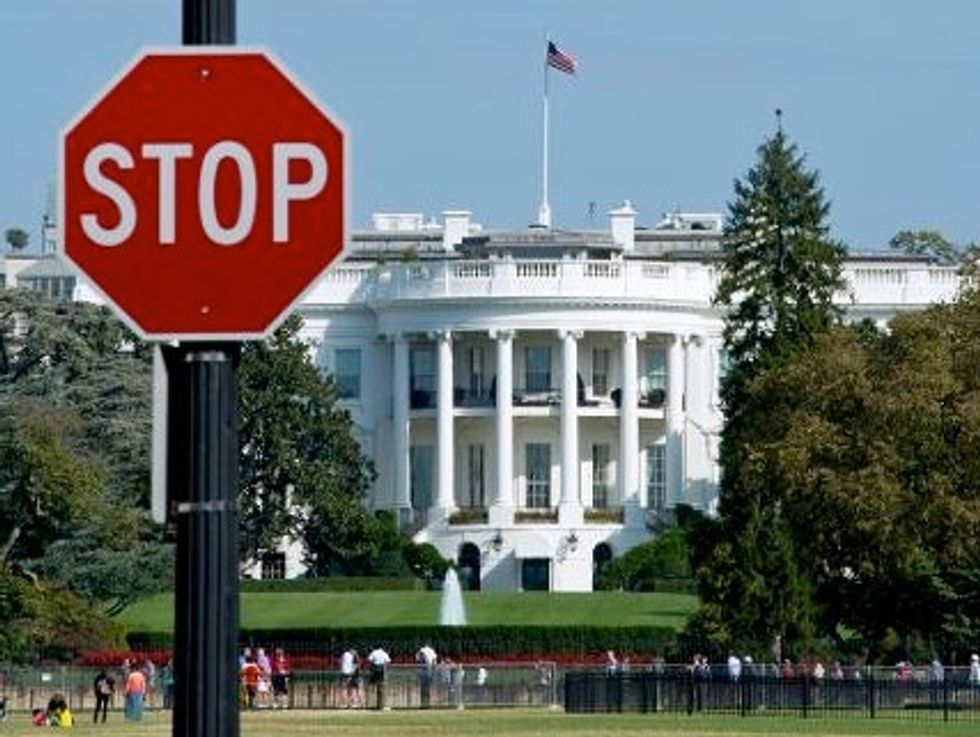 Washington (AFP) – U.S. President Barack Obama on Wednesday called congressional leaders to a White House meeting, providing a glimmer of hope for movement on day two of a crippling government shutdown.
The White House is squaring off with Republican rivals in Congress over how to fund federal agencies, many of which are now closed, leaving some 800,000 furloughed workers in the lurch and a fragile economy at risk.
Obama wants a straightforward temporary spending bill to end the first shutdown in 17 years, while Republicans have sought to tie the measure to a dismantling or delay of his signature health care law.
Neither side has blinked, and Americans are exasperated with the inability of their elected officials to break the impasse.
"Most of the time you can see an end game," Republican Senator Johnny Isakson told MSNBC. "Right now there's no end game in sight."
An hour after those comments aired, the White House announced an early evening meeting with Republican and Democratic congressional leaders to address the standoff.
The office of House Speaker John Boehner, Obama's primary political foe, said it represented a potential "start to serious talks between the two parties."
It was not immediately clear if the talks amounted to a possible breakthrough or were merely for appearances.
Meanwhile, furious tourists are locked out of Washington museums and monuments, as well as national parks and landmarks like the Statue of Liberty in New York. Cancer research and treatment at the world-class National Institutes of Health has ground to a halt.
Senate Majority Leader Harry Reid, in scolding Republicans whom he blamed for the shutdown, said some 200 patients — including 30 children mostly needing cancer treatment — were denied access to NIH on Tuesday.
"They were turned away," Reid said.
The roiling political and fiscal drama threatens to affect the global economy as well, with European Central Bank chief Mario Draghi warning Wednesday that a U.S. shutdown "is a risk if it is protracted."
"It would be a risk not only for the U.S., but also the world economy," Draghi said.
The fallout has already caused Obama to shorten his long-planned Asia trip, scrapping stops in Malaysia and the Philippines that were due to begin this weekend, so he could attend to the crisis at home.
The president's attendance at summits in Indonesia and Brunei was also in doubt.
Complicating the budget gridlock, Congress has just over two weeks to strike a deal on raising the country's debt ceiling and avoid a painful default.
U.S. Treasury Secretary Jacob Lew has warned that U.S. borrowing authority will reach its cap by October 17, and he informed Congress that Treasury "has begun using the final extraordinary measures" available to pay U.S. bills.
Without a raising of the debt ceiling, Treasury's money ceases to flow, triggering a default.
With stakes critically high, Republican lawmakers were scrambling to at least get parts of government up and running.
The Republican-led House of Representatives was to vote Wednesday on five measures that would fund popular operations, including services for veterans, opening national parks and museums, and keeping key health research going.
Boehner insists they are good-faith efforts to keep crucial government operations running, but Democrats swatted them away as incremental funding bids ultimately aimed at leaving the health care law known as "Obamacare" high and dry.
"These piecemeal bills, they're not a way out," Reid said, sneering that Republicans were offering "one 'cockamamie' can't-pass idea after another."
"It's time for my Republican colleagues to do a gut check," Reid said.
Obama on Tuesday accused conservatives in the House of waging an "ideological crusade" by making government funding conditional on gutting his health care law.
Boehner has chosen to side with the renegade Tea Party faction of his party rather than risk his job by attempting to pass a straight funding resolution stripped of political poison pills.
Boehner's tactic has left him on precarious political ground.
A Quinnipiac University poll Tuesday found voters, by a margin of 72 percent to 22 percent, oppose the shutdown of government as a way to derail Obamacare.
Photo Credit: AFP/Karen Bleier