Top Republican Invokes Detroit To Call For Cuts To Veterans' Benefits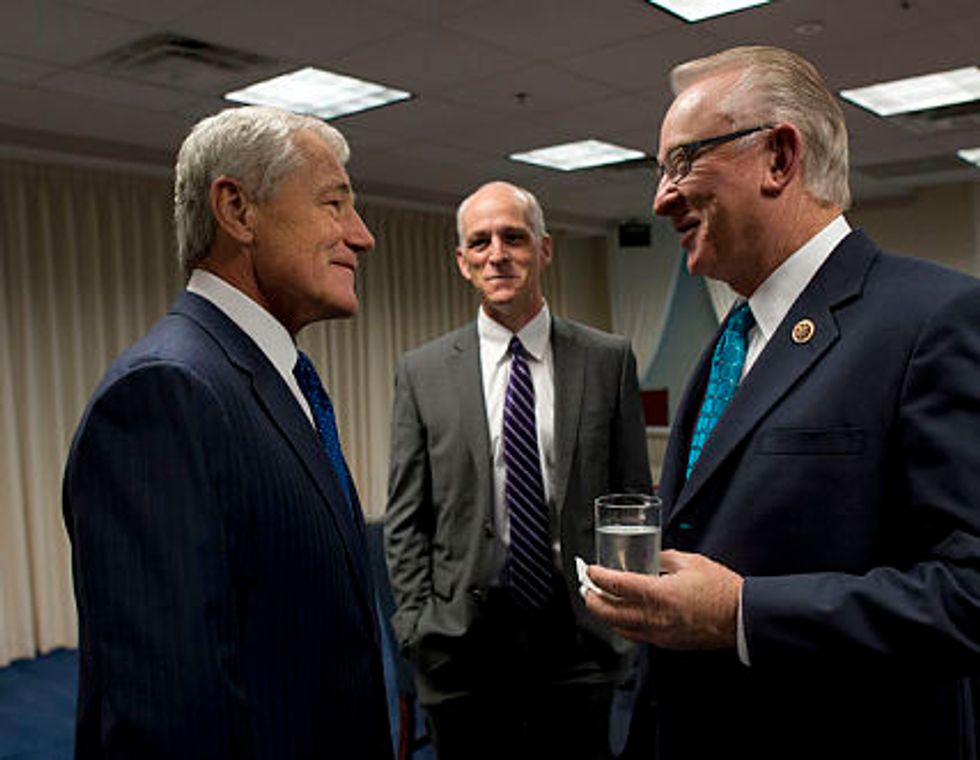 At least one top Republican is invoking the bankruptcy of Detroit and the rescue of the auto industry to call for cuts to the benefits of military veterans.
"Forty-four cents of every dollar we spend goes to military personnel," House Armed Services Committee chairman Buck McKeon (R-CA) told Politico. "You look at Detroit, you look at General Motors, you look at what happens when you build up these costs, but we aren't doing anything about it in our [defense] bill this year."
The Congressional Budget Office estimates, however, that the Department of Defense received $155 billion — about a quarter of its budget — for personnel costs.
As the Baby Boomer generation begins to retire and the passion for cutting taxes has underfunded many obligations to retirees, cuts to public retirement benefits have become a passion for many Republicans. The first budget written by Paul Ryan privatized both Social Security and Medicare while slashing Medicaid, the program that pays for nursing home coverage for Americans who cannot afford it otherwise. Subsequent versions of the Ryan Budget maintained the cuts to Medicaid while revising his Medicare proposal to include a "public option" for retirees.
The mania to revise or eliminate pension benefits will likely heighten after a judge ruled that pension obligations can be erased in Detroit's ongoing bankruptcy.
"This is nothing short of theft, as pensions are simply deferred wages, that is, money that workers could have taken as cash in their regular paychecks had they not opted to set it aside," writes David Cay Johnston.
Also last week, the Illinois legislature approved a gradual reduction in pension benefits that will eventually reduce the state's obligations by 43 percent after underfunding their commitments to state workers. This deal will cut cost-of-living increases and raise retirement ages for younger workers.
Public sector workers and retirees in Detroit, however, could see their pensions slashed and even eliminated, even though most do not qualify for Social Security. Employees of the auto industry have given up an estimated $7,000 to $30,000 in annual compensation since 2005, as part of compromises with employers and the government to keep the companies afloat.
After a decade of war, the promises made to those who served in the armed forces seemed sacrosanct. But this statement from a power broker like McKeon shows that military personnel may not be spared as Republicans in Congress seek to maintain the size of the military while also shrinking the deficit.
The president has proposed increasing the fees charged in the military Tricare health insurance program for non-active duty personnel to control the growth of costs. But the administration has not put forth any proposed reforms to military pensions.
Military pensions require no contribution from personnel, which make it the sort of "unfunded" liability the right-wing despises for workers, despite supporting a completely unfunded prescription-drug benefit to Medicare during the Bush administration.