Top Trump Officials Ready To Bail After Midterm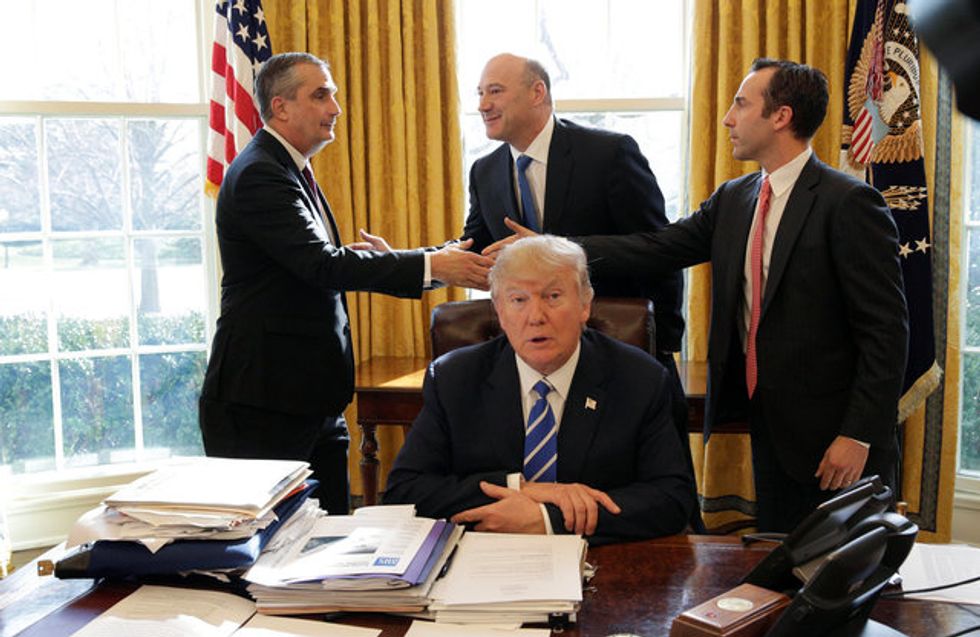 Reprinted with permission from AlterNet.
Every White House and presidential administration is forced to grapple with frequent staff turnover due to the nature of the job, but under President Donald Trump, the country has seen a historic amount of resignations and dismissals.
And after the 2018 midterm elections, the problem is almost certain to get worse, as multiple reports indicate.
A recent report from Politico found that five Cabinet officials (Attorney General Jeff Sessions, Commerce Secretary Wilbur Ross, Defense Secretary James Mattis, Interior Secretary Ryan Zinke, and Homeland Security Secretary Kirstjen Nielsen) were likely to leave the administration after the November election.
And on Tuesday, the Washington Post reported that one of the investigations of Zinke has been referred to the Department of Justice as a potential criminal probe, raising the likelihood that he'll depart. The Post also confirmed that he is only "one of multiple Cabinet members who may leave after the midterm elections."
On Wednesday, Gabriel Sherman of Vanity Fair added that Treasury Secretary Steve Mnuchin may also be eyeing the exit — in large part because of his wife.
"She's been poorly treated in Washington and she's like, 'I want the fuck out,'" one source told Sherman of the Louise Linton, Mnuchin's wife, though a department official called the claim "ridiculous."
Sherman also reports that Kellyanne Conway, counselor to the president,  is rumored to be leaving the White House, though one source rejected this idea.
One person Sherman says is secure in his job is Chief of Staff John Kelly. Despite long-running reports that he was on thin ice with the president, it appears the opposing personalities have reached something of a stable equilibrium.
"And on a phone call with a former West Wing official earlier this month, Trump said he worried that Kelly would campaign against him if he was fired," Sherman wrote. "Bill Shine recently told a friend, 'This guy isn't going anywhere.'"
Back in June, CBS reported that Press Secretary Sarah Sanders was planning on leaving the White House by the end of the year as well. Though at the time Sanders issued a statement in an attempt to tamp down the speculation, she never actually denied that the report accurately represented her intentions.
Cody Fenwick is a reporter and editor. Follow him on Twitter @codytfenwick.