Trey Gowdy Admits He Wasted Years In Congress
@KailiJoy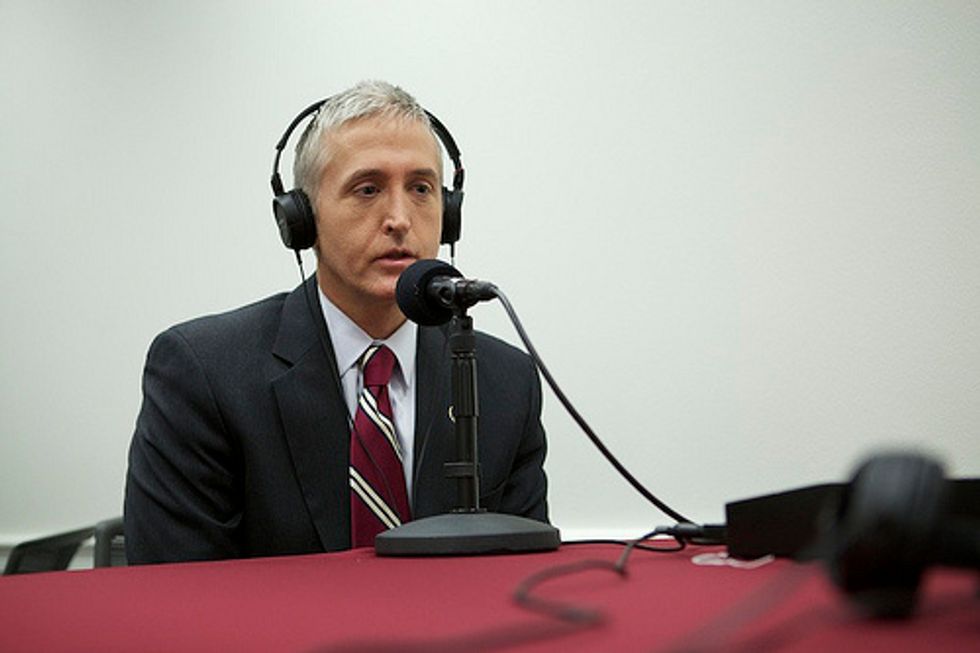 Reprinted with permission from Shareblue.com
South Carolina Republican Trey Gowdy has been viciously hyper-partisan since the day he rode the 2010 tea party wave to Congress, but now he says his heart was never really in it.
"It's not who I am," the congressman insisted in an interview with Vice News.
That would be shocking news to anyone who has watched Gowdy in office. For two-and-a-half years, he chaired the panel investigating Benghazi, spending nearly $8 million to try to prove that President Obama and Hillary Clinton were somehow to blame in some vague but nefarious way.
Now, however, Gowdy is trying to claim distaste for all that partisanship.
"We've convinced ourselves that we have to win because the country will go to Hades in a hand-basket if my team doesn't win," he told Vice.
He certainly seems to have been convinced of that while he was heading the Benghazi committee. But once Trump took office, Gowdy seemed to lose his lust for public exposure of potential wrongdoing.
Now, as he prepares to leave office, he is bemoaning the "ineffectiveness" of being a member of Congress.
"I don't have a lot to show for the last seven years," he told Vice.
Though it's not as if he didn't try.
But as his party is facing massive losses in the November midterms — and Gowdy, therefore, faces losing his powerful position as chair of the House Oversight Committee — he's over it. In fact, he never really wanted to play the role of vicious attack dog in the first place.
That, he says now, was former Speaker John Boehner's doing.
"Boehner put me on the ethics committee," he said. "He put me on the Benghazi committee." If Gowdy didn't really enjoy abusing his power to try to destroy Democrats, he certainly gave a convincing performance.
Gowdy dragged Clinton before his panel to testify for 11 hours in what Republicans — especially former prosecutor Gowdy — desperately hoped would be a historic "gotcha" spectacle that would finally be Clinton's undoing.
Instead, Clinton was widely declared the winner of that round. Rep. Lynn Westmoreland of Georgia, a member of the panel, later complained that Clinton had essentially outsmarted them.
Gowdy was so rabid in his investigation that he fired an Air Force reservist working on the committee for refusing to focus on Clinton. The Benghazi panel ultimately paid $150,000 of taxpayers' money to settle a wrongful termination suit.
Despite all those efforts, Gowdy never could find any wrongdoing. No wonder he considers himself "ineffective."
If it was all just for show and he actually disdains the way Congress works — or the way it's supposed to work — it's probably a good thing Gowdy's taking his toys and going home. Before he can be any more "ineffective" to help his team win.