Trump a Long-Lost, Not-So-Great Nephew to Jackson
@JamieStiehm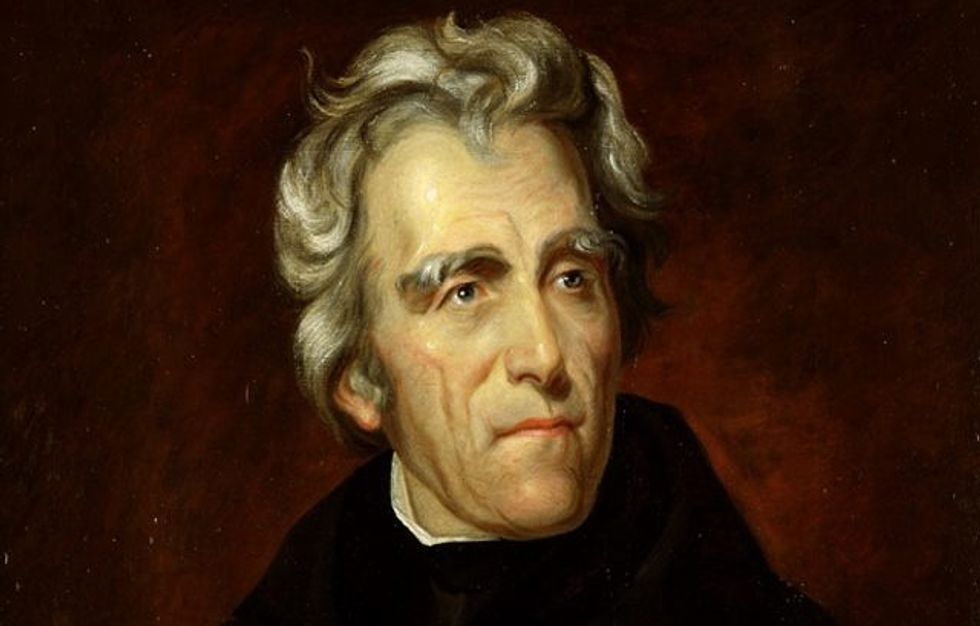 WASHINGTON — Andrew Jackson, anyone? How about a new Trail of Tears? Let's go back to the 1830s, unruly times that tried our souls. Mob rage and violence rose to a peak, anger spilling over Southern slavery.
The cantankerous seventh president is already being served and passed. Donald Trump, the presumptive Republican nominee, is holding a revival. In a way, Old Hickory himself is holding court, giving the American people — who largely loved him — a chance to vote for "Jacksonian democracy" again.
Across our enormous expanse, it's writ larger than in the 1830s, when President Jackson, "the General" from Tennessee, governed the country in tempestuous style. His first day on the job brought a riot on the White House grounds and broken glass, missing plates and other goods inside, thanks to spirited supporters. They were the people and he was the first president born a commoner, a boy in the American Revolution, orphaned after.
Don't do it, America. The Donald is like a long-lost, not-so-great nephew of the General — yes, the military man was always "the General," even when he occupied the White House. To the restless young nation, Jackson was a bracing breeze after the cerebral, cloistered Harvard-educated John Quincy Adams. Trump, with his rambunctious outreach on the stump, has a similar rough appeal after eight years of Barack Obama's cool restraint.
Indian removal was the major expulsion policy that Jackson embraced as an old warrior against the American Indian — or "savages." Thousands from the Cherokee Nation were forced on a march to Oklahoma, dusty and dry land far from their home.
Trump, in pursuit of sending undocumented immigrant workers out of the country, has learning to do on this score.
Whole schools of historical thought have praised Jackson for invigorating and shaping our informal democratic ways and habits — after four Virginia planters and two Boston Brahmins. White working-class men were his enthusiastic base, with women and blacks excluded from the electorate. Trump, too, energizes a universe of white working-class men who feel they have been left out of the nation's Northeastern circles and conversations, from Wall Street to Washington. Simple ideas carried them far.
Used to deference down south as the Battle of New Orleans hero, Jackson resented the elites rejection. He was just not their kind, he who fought more than one duel out on the frontier and carried a bullet in his body as a reminder. John Quincy Adams, John Calhoun and silver-tongued Henry Clay, his political rivals, could not match his roar. The same thing is happening, with Trump turning against Republican Party leaders who don't bow to his unconventional populism. The establishment knew not what to do with Jackson then — nor Trump today.
This gave rise to Jackson's consequential clash with Eastern elitism. He amazed all alike by trying to close the Bank of the United States. This was the central engine or commerce, circulation, loans and growth. Alexander Hamilton opened it as treasury secretary. Closing the federal bank was a terrible idea, yet the strong-minded Jackson clung to it stubbornly, shuttering the grand Bank in Philadelphia. The crippling Panic of 1837 resulted the year Jackson left office. It was a painful legacy, but Jackson was riding back to the Hermitage, never one to look back.
I've visited the Hermitage, Jackson's plantation, a 19th-century Trump Tower. They show the General's favorite chair, table, clock, garden where he and his wife Rachel rest. "Did the General have slaves?" I broke in. Yes, a hundred enslaved people. No sign or trace left.
Jackson was fond of his privilege and station, just as Trump brags endlessly about his empire. As president, Jackson was a determined defender of slavery against the budding abolitionist movement. Tragically, he appointed the racist Roger Taney chief justice of the United States — author of the truly awful Dred Scott decision — a harbinger of the Civil War.
Crude, rude and lewd thrice-married Trump is not near Jackson's character in the life and death of Rachel. She died at home just before he took the reins of the presidency. His most private sorrow struck in the most public of times. He wrote and spoke of her tenderly, before and after her passing. He never remarried.
We notice these things.
To find out more about Jamie Stiehm and read features by other Creators writers and cartoonists, visit Creators.com.
COPYRIGHT 2016 CREATORS.COM