Trump Angrily Ducks Ukraine Questions At Press Conference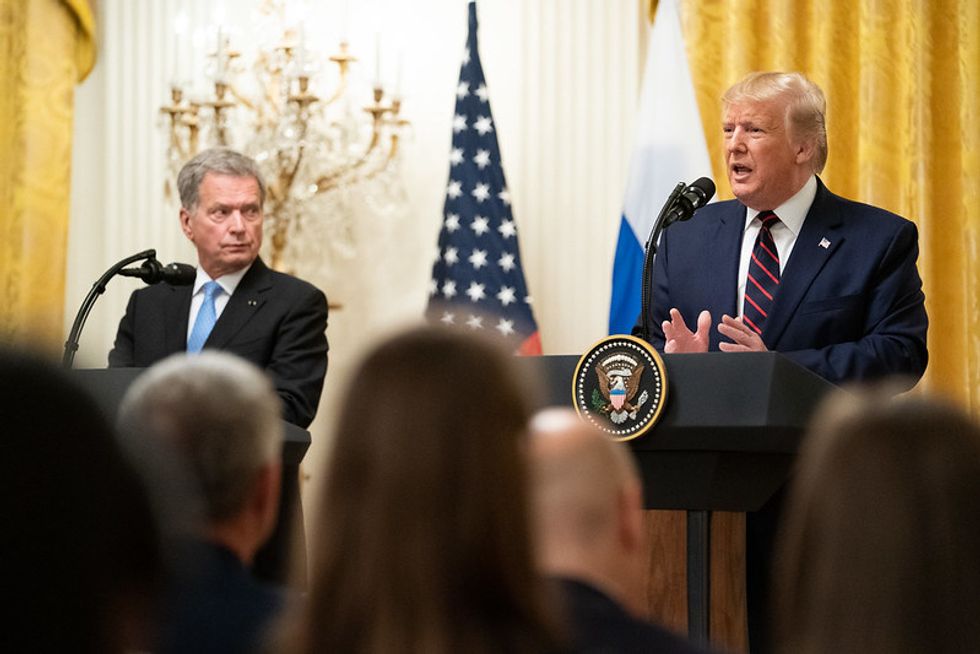 Trump responded angrily on Wednesday to being asked what, exactly, he wanted Ukrainian President Volodymyr Zelensky to do with regard to former Vice President Joe Biden.
"The question, sir, was what did you want President Zelensky to do about Vice President Biden and his son Hunter," Jeff Mason of Reuters asked Trump at a joint press conference with Sauli Niinistö, the president of Finland.
Trump responded by asking, "Are you talking to me?"
"It was just a follow up of what I just asked you, sir," Mason replied.
Trump ordered the reporter to ask a question to Niinistö, instead: "Listen, listen. You ready? We have the president of Finland, ask him a question."
When Mason refused and sought an answer from Trump, Trump became angrier.
"Did you hear me? Did you hear me," Trump asked Mason. "Ask this gentleman a question, don't be rude."
When Mason continued to press Trump on the question, Trump launched into a tirade, attacking the investigation into his call with Zelensky as "a whole hoax" and blamed the "fake news media," which he also referred to as the "corrupt media" for "playing into" it by asking questions.
Despite repeated questioning, Trump dodged it every time, adamantly refusing to say what he wanted Zelensky to look into with regard to Biden.
The question Trump refused to answer centers around a July 25 phone call between Trump and Zelensky. A White House memo summarizing the call  — which Trump has repeatedly said is a "word for word transcript" — shows Trump explicitly bring up Biden after asking Zelensky for "a favor."
"The other thing, there's a lot of talk about Biden's son, that Biden stopped the prosecution and a lot of people want to find out about that so whatever you can do with the attorney general would be great," Trump said. "Biden went around bragging that he stopped the prosecution so if you can look into it… It sounds horrible to me."
At the press conference, Trump had the opportunity to explain what he meant when he requested Zelensky to "look into it." Trump has made false allegations that Biden was seeking to fire a Ukrainian prosecutor to protect his son, Hunter Biden. There is no evidence to support Trump's claim.
The call has become central to a House impeachment inquiry, since soliciting foreign interference in a U.S. election is illegal. National security experts also see Trump's actions as a gross abuse of power that puts the country at risk.
When pressed about it by a reporter, Trump's reaction is both anger and a desire to shift attention.
Published with permission of The American Independent.