Authoritarian Watch: Trump Calls For Congressional Investigation Into U.S. News Outlets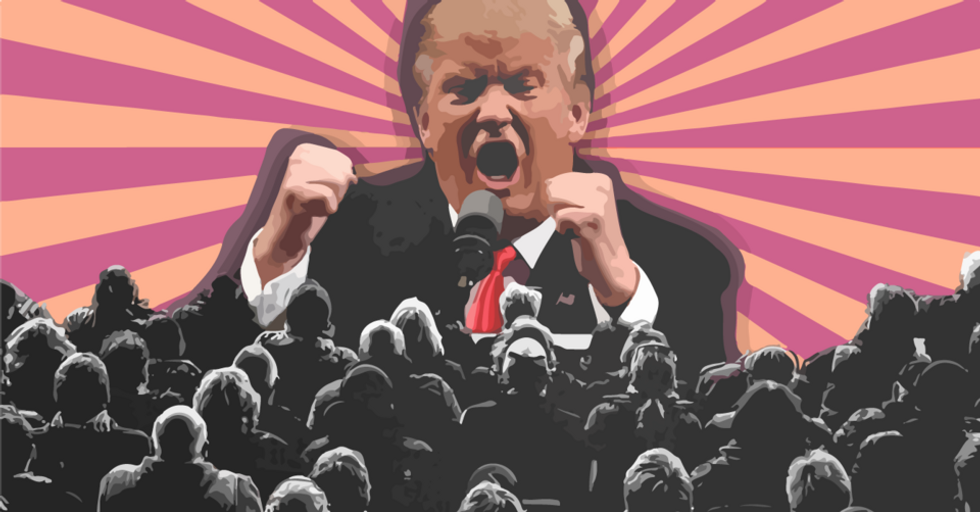 Reprinted with permission from MediaMatters.
President Donald Trump urged Congress to begin investigations into the U.S. media, which he baselessly claimed was fabricating stories in order to damage his presidency, in a Thursday morning tweet with authoritarian overtones.
"Why Isn't the Senate Intel Committee looking into the Fake News Networks in OUR country to see why so much of our news is just made up-FAKE!," the president tweeted just before 7 a.m. EST.
Why Isn't the Senate Intel Committee looking into the Fake News Networks in OUR country to see why so much of our news is just made up-FAKE!

— Donald J. Trump (@realDonaldTrump) October 5, 2017
Trump's tweet came the morning after the bipartisan leaders of the Senate Intelligence Committee — which has been investigating what U.S. intelligence agencies have determined was a Russian propaganda effort aimed at disrupting the 2016 presidential election in Trump's favor –confirmed those conclusions and warned that the Kremlin's effort to influence U.S. elections is ongoing. At a news conference detailing the progress of their investigation, Sen. Richard Burr (R-NC), the committee's chairman, said that the issue of whether Trump's associates had colluded with Russia "is still open."
Trump has long been defensive about the question of whether Russia aided his election, and has termed the special counsel's investigation into whether his associates participated in that effort a "witch hunt." And his constant attempts to undermine and delegitimize the press are one of the rare throughlines in his chaotic administration. Critics have noted that this effort parallels those made by authoritarian leaders.
In this case, Trump was criticizing NBC News' report yesterday that Secretary of State Rex Tillerson had been "on the verge of resigning this past summer" and had referred to the president as a "moron" following a Pentagon meeting with senior officials. After the report's publication, Tillerson denied that he had considered leaving the administration and praised the president as "smart," but did not directly deny that he had called Trump a "moron." A spokesperson later denied that claim on his behalf.
"Rex Tillerson never threatened to resign," Trump tweeted roughly an hour after his initial tweet this morning. "This is Fake News put out by @NBCNews. Low news and reporting standards. No verification from me."
It seems unlikely that the Senate Intelligence Committee, whose Russia investigation appears driven by a spirit of bipartisanship and professionalism, will take up Trump's challenge. But it is certainly not out of the question that some congressional committee will do so.
Just yesterday, Politico reported that Trump loyalists, including some members of the House Republican caucus, are "losing patience" with the congressional Russia probes, preferring instead that investigators "probe more deeply into issues that could harm Democrats."
Spurred on by right-wing media, Republicans frequently wielded their committees as partisan cudgels in this manner during President Barack Obama's administration. Notably, House Republicans voted to assemble a select committee to investigate the 2012 attacks on U.S. diplomatic facilities in Benghazi after several other House and Senate committees had already reviewed those events. Several Republicans, including House Majority Leader Kevin McCarthy, subsequently acknowledged that the panel's purpose was to damage the political standing of former Secretary of State Hillary Clinton.
According to Politico, Trump's supporters would like congressional investigators to focus on Clinton, a figure hated by the conservative movement for decades. But don't be surprised if, with a shove from Trump's twitter feed, they begin calling for investigations into that movement's other leading enemy, the press.
UPDATE: 
White House press secretary Sarah Sanders had several opportunities at today's press briefing to walk back the president's tweet, but repeatedly declined to do so, instead continuing the administration's attack on news outlets.
First, Sanders was asked if there's concern in the White House about the way Trump refers to stories he considers inaccurate as "fake news," conflating the term with deliberately false stories, and whether she draws a distinction between the two. She said that the president is concerned with "inaccurate information that's being presented as factual" and "opinions that are being presented as news," saying that problem "should be looked at." She declined to draw such a distinction between incorrect and deliberately false reports:
From WH podium, Sarah Sanders refuses to distinguish between erroneous news reports and deliberate Russia-pushed fabricated stories. Awful. pic.twitter.com/M2lHBZmNgU

— Matthew Gertz (@MattGertz) October 5, 2017
Asked a second time about the president's tweet and whether he values the First Amendment, she responded that he does but that "with those freedoms also come responsibilities and you have a responsibility to tell the truth." She then declined to directly address a question about whether she thinks Congress should investigate news outlets:
Reporter: Does Trump believe the Senate should investigate news outlets?

CNN's Jim Acosta: Should Congress investigate news outlets?

Sanders: [refuses to answer directly, moves on] pic.twitter.com/touqDU5fSE

— Matthew Gertz (@MattGertz) October 5, 2017

When another reporter questioned whether the president believes the Senate Intelligence Committee should investigate U.S. news outlets, as he suggested in his tweet, Sanders replied, "I don't know that that's the case, but I do think that we should call on all media to a higher standard."

Sanders: I don't know that that is the case, [gobbledegook] pic.twitter.com/7KqaKQKpGw

— Matthew Gertz (@MattGertz) October 5, 2017
Header image by Sarah Wasko / Media Matters