Trump Cancels Event With Black Pastors After Other Clergy Raise Concerns
@reuters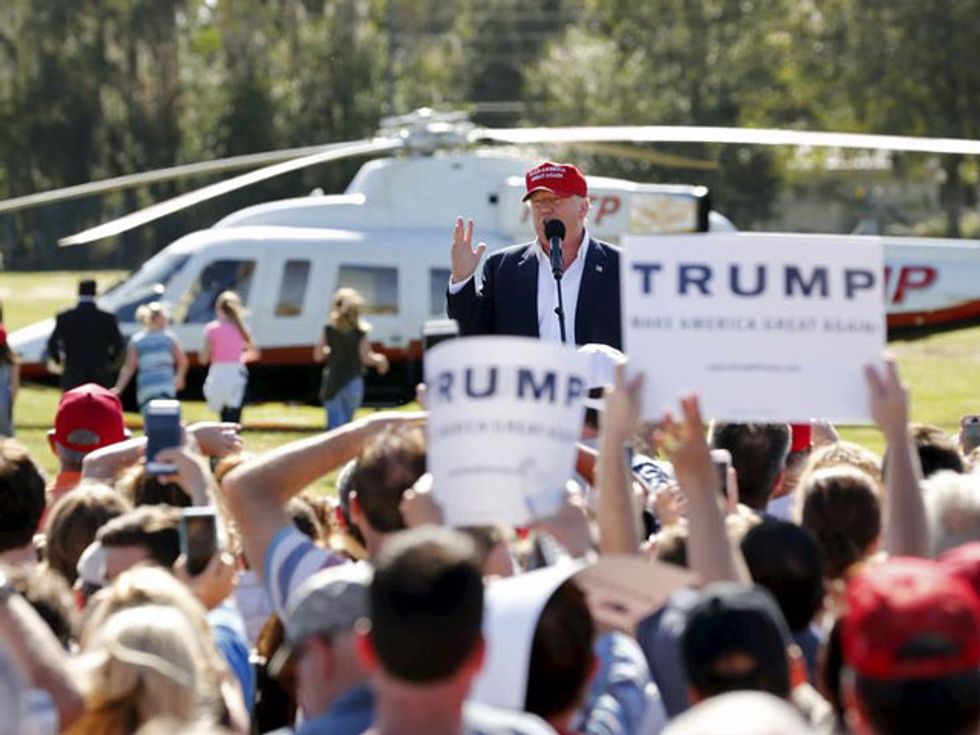 By Emily Flitter
NEW YORK (Reuters) — Republican presidential front runner Donald Trump has canceled a public event set for Monday where he had planned to announce endorsements from black pastors, after a group of African-American academics and clergy members urged them to reconsider, citing Trump's "racially inaccurate… rhetoric."
Trump sent out word to media outlets last week that he would hold an early afternoon news conference Monday to announce the endorsement of his campaign by "100 African American Evangelical pastors and religious leaders… after a private meeting."
He did not reveal the names of the people he expected to meet.
On Sunday he tweeted: "Will be meeting on Monday at Trump Tower with a large group of African American Pastors. Many I know-wonderful people! Not a press event."
In an open letter published on the website of Ebony Magazine, 114 academics and church leaders warned the pastors that meeting with Trump would be a mistake.
"We are concerned that your choice to meet with Mr. Trump, particularly in such a visible way, will not only de-radicalize the Black prophetic political tradition, but will also give Trump the appearance of legitimacy among those who follow your leadership and respect your position as clergy," the letter said.
"Trump's racially inaccurate, insensitive and incendiary rhetoric should give those charged with the care of the spirits and souls of Black people great pause."
Trump's spokeswoman Hope Hicks confirmed that the previously scheduled event had been canceled. She did not respond when asked whether the letter directly influenced Trump's decision to cancel Monday's press conference.
Hicks said the change had first been made public on Saturday, when an update to the previously announced event described it as an "informal meet and greet" that was "not a press event" and "after which a number of attendees are expected endorse Mr. Trump's campaign."
The change of plans comes after a week of setbacks for the billionaire real estate mogul.
A Reuters/Ipsos poll on Friday showed a 12-point drop in Trump's poll numbers. He was the favorite of 31 percent of Republicans in a rolling poll in the five days ended on Nov. 27, down from a peak of 43 percent registered on Nov. 22.
Trump has found himself on the defensive over his assertions that he saw thousands of Muslims in New Jersey celebrating the destruction of the World Trade Center towers on Sept. 11, 2001. That claim has been disputed by public officials and New Jersey Governor Chris Christie, another contender for the Republican nomination for the November 2016 election.
Trump also said he supported the idea of requiring all Muslims living in the United States to register in a special database as a counter-terrorism measure.
Trump ignited further controversy when he tweeted a graphic containing false claims about U.S. statistics suggesting black Americans were the overwhelming source of gun violence.
(Reporting by Emily Flitter; Editing by Caren Bohan and Leslie Adler)
Photo: U.S. Republican presidential candidate Donald Trump speaks after arriving in his helicopter as a group of children race towards it for ride during a rally in Sarasota, Florida November 28, 2015. REUTERS/Scott Audette