Trump Claims He Never Told Giuliani To Investigate Biden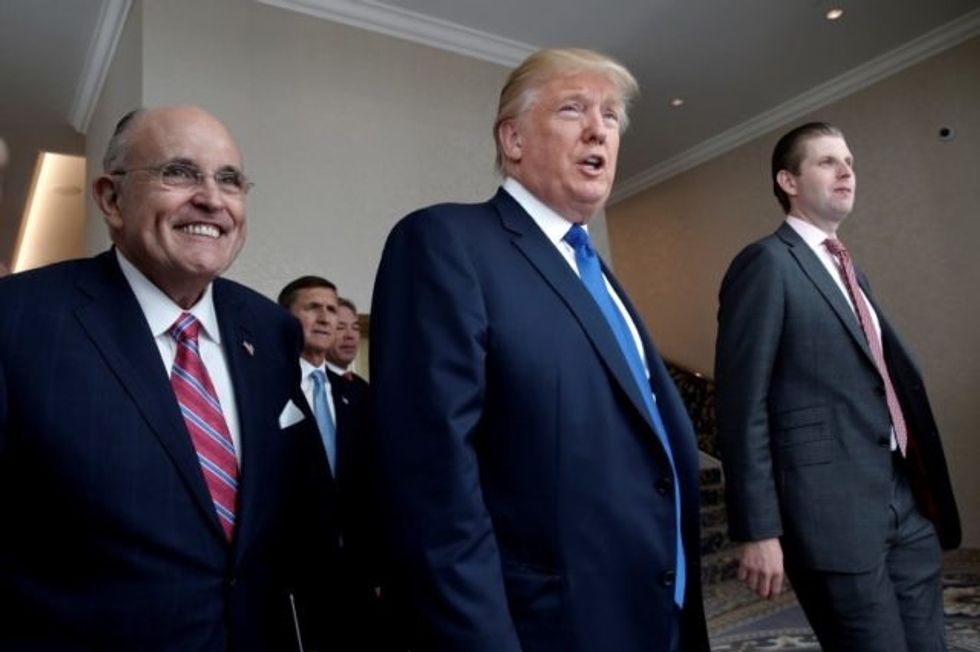 Donald Trump is trying to distance himself from his personal lawyer Rudy Giuliani, saying in an interview with disgraced former Fox News host Bill O'Reilly that Giuliani was working alone when he traveled to Ukraine to seek investigations of the Bidens.
"Rudy, I don't even know, I know he was going to Ukraine, and I think he canceled a trip. But you know, Rudy has other clients, other than me," Trump told O'Reilly, who was forced out of Fox News after multiple allegations of sexual harassment that cost the network $32 million in settlements.
Trump later claimed that he "didn't direct" Giuliani to go to Ukraine, but said Giuliani "is a warrior, he is a warrior."
Of course, Trump's claims are contrary to a growing mountain of evidence that he and Giuliani were working hand in hand to demand Ukraine investigate the Bidens — as well as a debunked conspiracy about the Democratic National Committee — which would have been beneficial to Trump's 2020 reelection campaign.
In a now infamous July 25 phone call between Trump and Ukrainian President Volodomyr Zelensky, Trump said, "Rudy very much knows what's happening, and he is a very capable guy."
He added, "If you could speak to him that would be great."
What's more, multiple witnesses in the impeachment inquiry have since testified that Giuliani was working directly with Trump to both force out former U.S. Ambassador to Ukraine Marie Yovanovitch, and that Trump deputized Giuliani to force the Biden investigations.
"Mr. Giuliani demanded that Ukraine make a public statement announcing investigations of the 2016 election, DNC server, and Burisma," Gordon Sondland, the United States ambassador to the European Union, testified in his opening statement in the public impeachment hearings last week. "Mr. Giuliani was expressing the desires of the president of the United States, and we knew that these investigations were important to the president."
Burisma is the Ukrainian energy company on whose board Hunter Biden, son of former Vice President Joe Biden, served until April this year. Trump and his supporters have claimed without evidence that the elder Biden used his former office to force out a Ukrainian prosecutor general who was investigating the company, despite the fact that the investigation was dormant when the prosecutor was ousted.
Trump has reason to try and distance himself from Giuliani.
Giuliani is under federal investigation for his dealings with Ukraine, and could face a litany of charges including "obstruction of justice, money laundering, conspiracy to defraud the United States, making false statements to the federal government, serving as an agent of a foreign government without registering with the Justice Department, donating funds from foreign nationals, making contributions in the name of another person or allowing someone else to use one's name to make a contribution, along with mail fraud and wire fraud," the Wall Street Journal reported Monday.
Giuliani, for his part, said he has an "insurance" policy assuming Trump throws him under the bus — suggesting he has dirt that could take Trump down with him. Giuliani later said he was being sarcastic when he made the comment.
Trump has a history of claiming not to know people once they get into legal trouble.
He tried to downplay Paul Manafort's role in his 2016 campaign after Manafort's legal troubles began, even though Manafort ran the Trump campaign during the most important stretch of the GOP primary.
Trump also tried to distance himself from Michael Cohen, his longtime personal lawyer who pleaded guilty to campaign finance violations related to payments he made on behalf of Trump to two women, adult film actress Stormy Daniels and Playboy model Karen McDougal. Both women claim they had sexual relationships with Trump in the past.
Both Cohen and Manafort are now serving jail time.
Published with permission of The American Independent Foundation.