Trump Directed Jeff Sessions To Violate His Recusal From The Russia Investigation: Report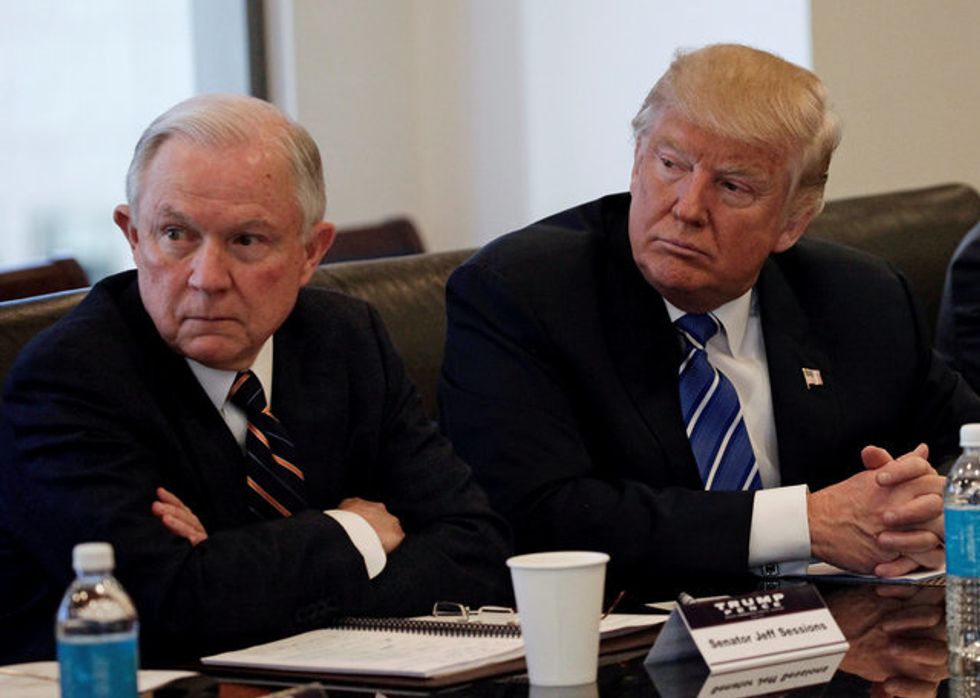 Reprinted with permission from AlterNet.
In March of 2017, President Donald Trump instructed Attorney General Jeff Sessions that he should continue to oversee the investigation into Russian interference in the 2016 election and potential collusion with the Trump campaign, despite Sessions' recusal on the advice of Justice Department lawyers, according to a new report from the New York Times. Trump reportedly sought to control the investigation that has since led to guilty pleas and indictments from several of his top aides.
"If you don't think this is obstruction of justice, I can't help you," said Republican columnist Rick Wilson of the new report.
Sessions recused himself from the Russia probe, and any other investigations touching on the campaign, because of his involvement as a surrogate for Trump. The Times notes that experts in conflict of interest regulations say there is no precedent for overturning or withdrawing a recusal in any similar case.
"If Trump has nothing to hide, why does he act as if he has everything to hide?" asked New York Times columnist Nicholas Kristof.
During the campaign, Trump and Sessions were close allies. Since the attorney general's recusal, however, the relationship has soured.
Previous reporting found that Trump had attempted to fire Sessions, presumably so that he would be able to appoint a new attorney general to control the Russia probe. Trump also reportedly asked White House counsel Don McGahn to get Sessions to reverse his recusal himself from the investigation, but McGahn backed off when Sessions explained that the recusal was based on the recommendation of Justice Department lawyers.
The Times has previously reported that special counsel Robert Mueller, who currently is in charge of the investigation, wants to ask Trump about his attempts to interfere with Sessions' recusal decision.
Cody Fenwick is a reporter and editor. Follow him on Twitter @codytfenwick.