How Trump Is Jeopardizing The Future Of America's Public Lands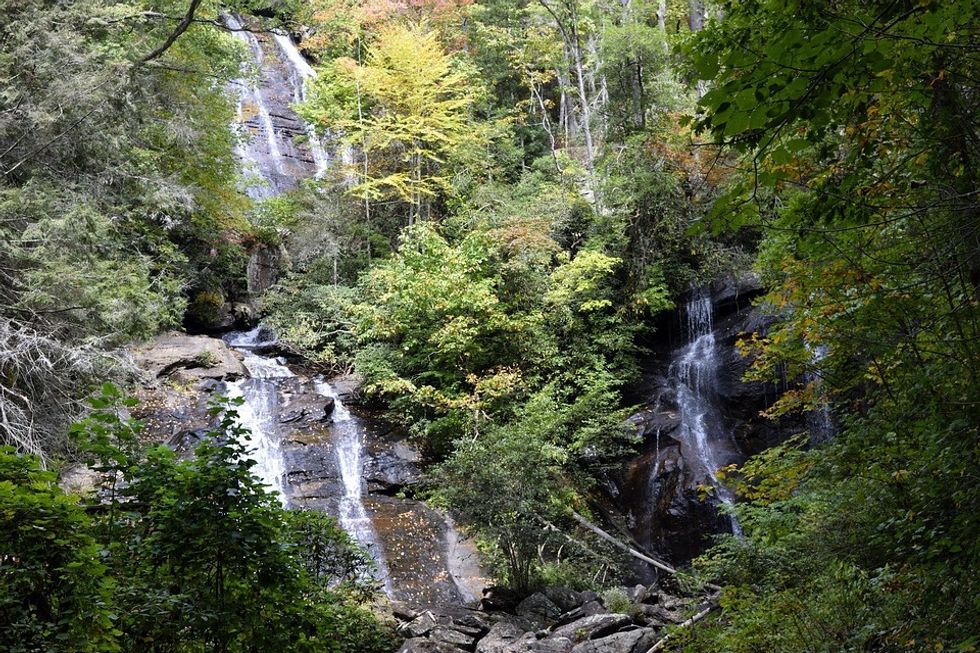 Reprinted with permission from AlterNet.
From casting a line for that elusive trout to packing the family for a night unplugged in the woods, America's public lands offer freedoms that can't be found anywhere else in the world. National Forests are where Americans go to reconnect with the great outdoors. As the U.S. Forest Service motto goes, "It's all yours."
Sadly, our new president doesn't care about what is rightfully ours and wants to jeopardize the future of our public lands for his bottom dollar. Titled "A New Foundation for American Greatness," Trump's FY 2018 budget is anything but great. The president claims he is saving taxpayer dollars—in part by carving away funding for federal land agencies like the Forest Service. But he ignores a true foundation for American greatness: our public lands.
It's time we invest in the future of our national forests for all Americans to enjoy. We can start with right-sizing the Forest Service's massive road infrastructure. At over 370,000 miles, it is one of the largest road systems in the world. That's enough distance to get you from New York to L.A. and back again 66 times. It's far more miles than we need. Only 17 percent of those roads are open to passenger vehicles. Returning unneeded forest roads to the wild ("rewilding") ensures safe, reliable access, healthy and clean drinking water, and vibrant, connected forest landscapes that allow wildlife to flourish.
The Forest Service can't afford to maintain its over-sized road system, and hasn't been able to for many years. Funding from Congress for capitol improvements and maintenance declined 37% between fiscal year 2010 and fiscal year 2016. In turn, many road failures go unaddressed, like this road on the Gifford Pinchot National Forest in Washington State that washed out in 2015 storms and remains closed. The agency's practice of borrowing funds—including road maintenance funds—to fight wildfires further grows the gap between costs to maintain the forest road system and the resources to pay for it.
As funding rapidly decreases, little-used roads become forgotten and begin to crumble—requiring even more attention and money. Given the magnitude of the dilemma, the agency's short-term approach of slapping a Band-Aid on one emergency road failure after another is bound to fail in the long run.
The President's spiel to slash the Forest Service's budget by 21 percent in his FY 2018 budget is certain to exacerbate the growing forest road infrastructure mess. At a Senate hearing this summer, Forest Service Chief Tom Tidwell explained the budget will "make it very challenging" for the agency to carry out its work.
Cutting funding is also unwise in the face of growing threats from a changing climate. Damage to forest roads caused by changing climate patterns is very real. More extreme weather events, early snowmelt, increased flood severity, and more frequent landslides do not mix well with poorly maintained forest roads.
Record precipitation this past winter wrecked many roads on national forests in Washington, California and Montana, resulting in significant landslides. Culverts that divert water beneath forest roads become blocked with debris during storms and fill up, leading to massive road washouts that prevent public access, contaminate drinking water and harm fish habitat. Fixing forest road washouts is often even more expensive than the maintenance that the agency deferred in the first place.
Privatizing our public lands is not the answer. Americans—Republicans and Democrats alike—value our public lands. Under its multiple use mandate, the Forest Service has a duty to care for the land (including forest roads) and serve the people, from hikers and fisherman to municipal drinking water suppliers and industrial demands. Trump's budget would limit everyone's access to our national forests by obliterating Forest Service funds critical to ensuring safe and open forest roads.
To be sure, the Forest Service could make better use of its funding. The agency has worked to trim its oversized road system, but progress is slow. Last year the Forest Service reduced forest roads by less than one-tenth of 1%, returning just 265 miles of system roads to the wild. We need to give the agency the tools to start making bigger changes.
The president claims infrastructure is a priority. So let's fund the Forest Service's budget so it can fix needed forest roads and return the rest to the wild, creating a resilient future. Determining which forest roads to return to the wild is a difficult decision often involving many complex and often competing interests. But Mother Nature is sure to make these decisions for us if the Forest Service does not. It's time we take care of the public lands that make America great.
Marla Fox is WildEarth Guardians' rewilding attorney. She works to restore water quality and reconnect wildlife habitat by shrinking the motorized footprint on National Forests across the West.