Trump Lawyers Issue Warning To Bannon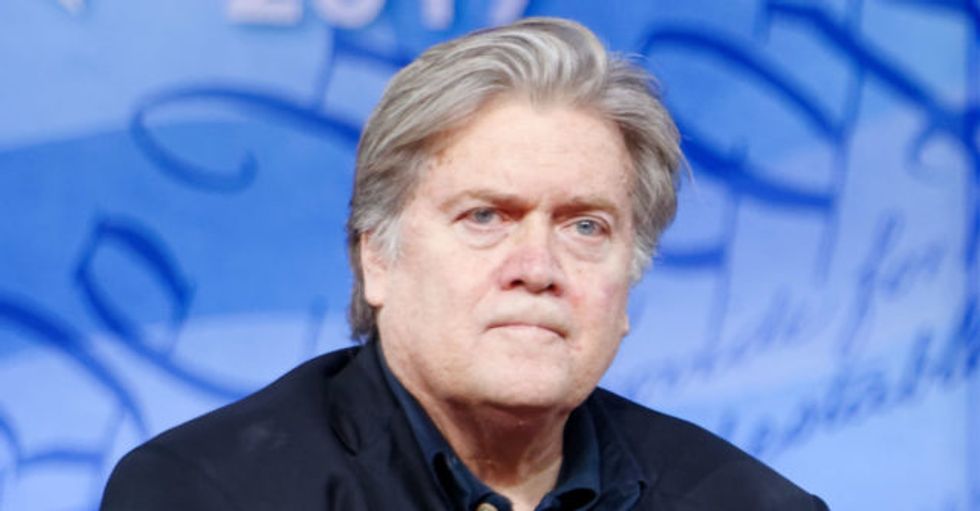 Reprinted with permission from AlterNet.
Lawyers for President Donald Trump sent a cease-and-desist letter to former White House chief strategist Steve Bannon following the publication of his comments in journalist Michael Wolff's upcoming book, Fire and Fury: Inside the Trump White House.
ABC News reported on the letter, along with a statement from Trump's attorneys. It reads in part:
"This law firm represents President Donald J. Trump and Donald J. Trump for President, Inc. On behalf of our clients, legal notice was issued today to Stephen K. Bannon, that his actions of communicating with author Michael Wolff regarding an upcoming book give rise to numerous legal claims including defamation by libel and slander, and breach of his written confidentiality and non-disparagement agreement with our clients. Legal action is imminent."
The letter to Bannon accuses him of breaching a nondisclosure agreement Trump forced staffers to sign. The segment of the letter reads:
"You [Bannon] have breached the Agreement by, among other things, communicating with author Michael Wolff about Mr. Trump, his family members, and the Company, disclosing Confidential Information to Mr. Wolff, and making disparaging statements and in some cases outright defamatory statements to Mr. Wolff about Mr. Trump, his family members, and the Company, knowing that they would be included in Mr. Wolff's book and publicity surrounding the marketing and sale of his book."
This comes after Trump released a statement denouncing Bannon Wednesday, saying he "lost his mind" after being fired and was responsible for the Republicans' loss of an Alabama Senate seat.
Chris Sosa is a managing editor at AlterNet. His work also appears in Mic, Salon, Care2, Huffington Post and other publications. Follow him on Twitter @ChrisSosa.