Will Trump Undo Obama's Executive Actions In His First 100 Days?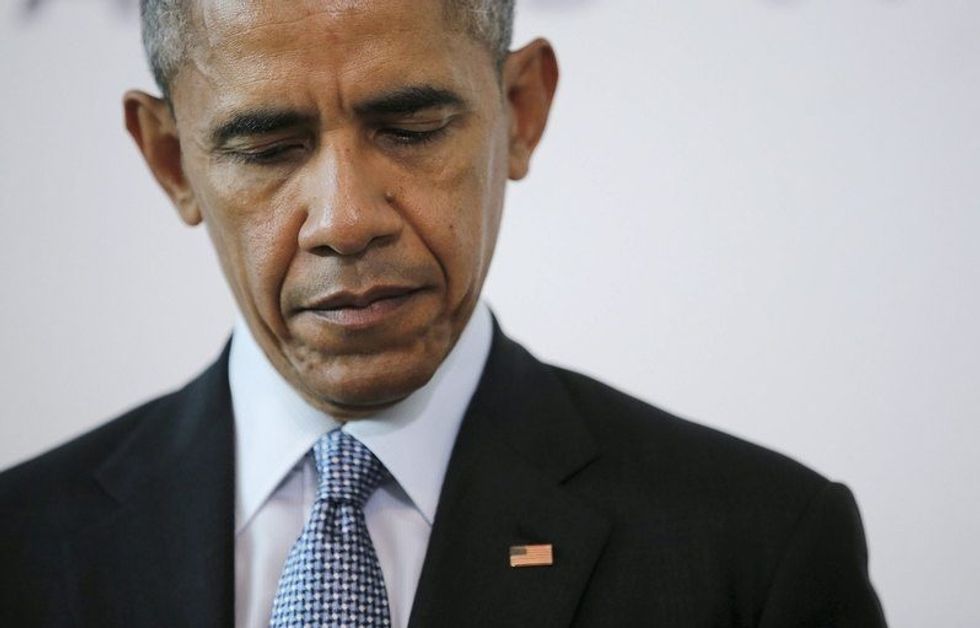 Reprinted with permission from AlterNet.
For years, progressives have wrung their hands over President Obama's reluctance to more aggressively use executive authority to overcome congressional gridlock—even as Republicans sued and blocked his actions on immigration and climate change. But as the incoming Trump administration threatens to reverse nearly everything Obama has done, it's worth recalling his priorities.
President Obama, notably, is not going quietly into the night. Even as Trump called this week for vetoing a U.N. resolution condemning Israeli settlements, the White House abstained on that vote on Friday—implicitly criticizing Israel. A day earlier, the Obama administration announced it was dismantling a federal registry of Muslims visiting from "high-risk" countries that was created after the 9/11 attacks; a registry Trump would have to reinstate. Days before that, the White House banned new oil and gas drilling in the Arctic and mid-Atlantic, citing a 1953 law the administration said could not be undone by Trump.
What follows are a half-dozen focal points for Obama's executive actions.
1. Immigration. Obama's 2014 actions suspended the deportation of young people and their parents who came to the country illegally. The Deferred Action for Childhood Arrivals (DACA) program kept young people in public schools, protected recent college graduates or those who served in the military and were honorably discharged. Obama's DAPA (Deferred Action for Parents of Arrivals) program shielded the undocumented parents of citizens and others with legal status. After Obama's first term, when deportations hit a record high, these executive orders protected an estimated 4 million people. However, red-state Republicans, led by Texas, sued, and in June the U.S. Supreme Court issued a split 4-4 decision, leaving the programs blocked following a lower court ruling by a right-wing judge.
2. Reproductive Rights. Obama has stood up for reproductive rights and gender equality throughout his presidency. Soon after taking office, he reversed a George W. Bush administration ban on stem cell research that resulted from religious conservatives who opposed fetal cell science. The Affordable Care Act required employers to offer contraception in their health plans, which was challenged in court by employers seeking a religious exemption. After the Supreme Court sided with them, the administration issued a rule ensuring women could get birth control for free by requiring health insurers to cover it. Obama also ordered federal agencies to make gender equality and women's empowerment a core foreign policy focus.
3. Carbon and Climate Change. Obama has used a mix of executive orders to push the development of non-carbon energy sources and federal regulations to force high-carbon power plants to clean up emissions or close down. On the executive order front, he has issued several orders giving new authority to Native tribes in Alaska and elsewhere to support biodiversity and control energy development on tribal lands and offshore. He has also ordered the federal government to reduce greenhouse gas emissions, factor in climate change in domestic and foreign policies, and adopt more energy-efficient technologies. Earlier this year, however, proposed rules forcing power plants to cut carbon emissions from 2005 levels by 30 percent by 2030 were rejected by the Supreme Court after 29 red states and the energy industry sued. Like the court's immigration ruling, this was a major blow to Obama's policies.
4. Raising Labor Standards. Obama did many things to improve pay and working conditions for federal contractors. He was unable to get Congress to raise the federal minimum wage to $10.10 per hour, but raised the minimum wage for federal contract workers to that level. He instituted paid sick leave for federal contractors and required federal contractors comply with all federal labor laws, including forbidding those firms barring employees from sharing salary and benefit information. Obama also issued numerous orders to resolve labor disputes between union and passenger railways in the northeast.
5. Expanding Gun Controls. Despite congressional refusal to adopt any substantive gun control laws after a series of mass shootings at schools, theaters and other settings, Obama announced nearly two-dozen actions to combat gun violence. Those include expanding background checks, making information about mental illness available in the background check system, expanding research into the causes of gun violence and telling U.S. attorneys to expand efforts dealing with domestic violence. Obama has called Congress's inaction on gun control the biggest disappointment of his presidency.
6. Reducing Threat of Nuclear Arms. Astoundingly, Donald Trump this week tweeted that the U.S. needs to increase its nuclear arsenal, a threat by which he would resume the Cold War arms race with Russia and China. President Obama has taken the long view with nuclear arms reduction, such as a 2012 agreement to convert 500 metric tons of highly enriched uranium in Russian nuclear weapons into low-grade fuel for commercial nuclear reactors. More recently, Obama's deal with Iran has sidelined that regional power from developing nuclear weapons, even though Republicans have voted to reverse the deal.
More a Moderate Than an Activist
Despite Republican hyperbole, President Obama has not had the most executive orders of any recent president. Most of his executive actions were focused on streamlining federal bureaucracy, management of federal agencies and sanctioning countries with repressive regimes.
In some cases, Obama ordered the government to better reflect favorable Supreme Court rulings, such as instituting policies benefiting same-sex marriages by extending the Family Leave Medical Act to eligible employees regardless of the state they live in and treating same-sex couples like married couples when it comes to filing taxes. Similarly, he implemented policies from presidential panels, such as requiring more training for local police that obtain surplus military weapons, a recommendation of his police reform commission.
But Obama has not used his position to grant amnesty or pardon all undocumented people in the country—which scholars like Noam Chomsky suggested he do before leaving office. Instead, he has been a moderate, choosing to protect roughly the same proportion of immigrants as Ronald Reagan and George H.W. Bush did when they were in office. Nonetheless, Obama's steps will likely soon be imperiled by the incoming Trump administration and radical right-wing Republicans in Congress.
Steven Rosenfeld covers national political issues for AlterNet, including America's democracy and voting rights, campaigns and elections, and many social justice issues. 
IMAGE: U.S. President Barack Obama pauses as he delivers a speech during a visit at the the Parque de la Memoria (Remembrance Park), where they honored victims of Argentina's Dirty War on the 40th anniversary of the 1976 coup that initiated that period of military rule, in Buenos Aires, March 24, 2016. REUTERS/Carlos Barria