Trump Opened Pandora's Box And There Is No Going Back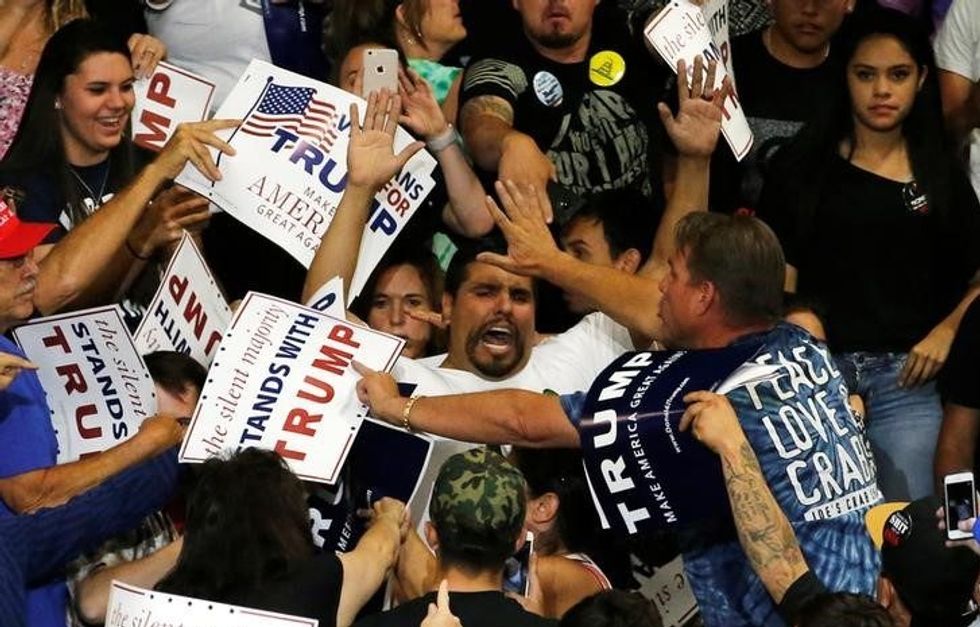 Donald Trump is not done.
Over the last few days, he has repeatedly impugned the integrity of our democratic processes and our civic institutions. He has warned his supporters of a "rigged system" that could "steal" the election from him.
At one campaign stop, he told his virtually all-white audience to watch "other communities" (translation: heavily black neighborhoods) to make sure they were not committing voter fraud. "I hear these horror shows, and we have to make sure that this election is not stolen from us and is not taken away from us," he said.
At another rally, he claimed that the FBI and the Department of Justice were in cahoots with his rival, Hillary Clinton. "The Clintons are criminals. … And the establishment that protects them has engaged in a massive cover-up of widespread criminal activity … to keep the Clintons in power. … This is a conspiracy against you, the American people," he proclaimed wildly in one of his fact-free rants.
His rhetoric of late raises the prospect that Trump would incite his voters to all sorts of mischief should he lose, which, thank heaven, looks increasingly likely. Of course, that's of a piece with the havoc he has already created, the competing, dissonant forces of nihilism and fascism that he has already unleashed.
So if you have gained some comfort from Trump's recent dramatic drop in the polls, don't get too complacent. Even in defeat, he will continue to influence the fate of the republic. Trumpism, I'm afraid, will be with us for some time to come.
The real estate mogul and reality TV star rose to the top of the Republican heap by appealing to the basest instincts of a significant number of GOP voters — Americans who tend toward xenophobia and racial prejudice, who are most secure within a white patriarchy, who are vulnerable to the weirdest conspiracy theories if those theories confirm their world-view, who are inclined toward authoritarianism (as long as the authoritarian shares their identity politics).
He has primed those voters to believe that our democratic institutions no longer work; he has encouraged them to be suspicious of people of color; he has suggested that they respond with violence to any electoral setback. Americans tend to take one of the best features of our democracy for granted — that the losers accept their defeat, that they affirm the legitimacy of the process. Trump has no respect for that basic tradition.
But that's just one way in which he has normalized behavior that, just a short year ago, was completely out of bounds for an American presidential candidate. The civic fabric has been stretched and grossly contorted by the behavior of a man who has no more use for our democratic values than Vladimir Putin, whom Trump admires.
During the last debate, Trump threatened to imprison his rival, Hillary Clinton, if he were elected. Allow me to repeat that because it is simply astounding: In a nation founded on the rule of law, he has threatened to jail a rival who has not been convicted of any crime (or even prosecuted for one). That happens in Putin's Russia. That happens in banana republics, in Third World dictatorships.
Never mind that his supporters claim to revere the U.S. Constitution. They chant "Lock her up!" at his rallies. But that sickening disrespect for democratic conventions draws little comment or scrutiny as reporters race to cover the next outrage, the next assault, the next low in a campaign that has rolled around in the sewers for months now.
At least Trump's outsized misogyny has finally drawn the attention that it deserves. With the release of an audiotape in which he brags about sexually assaulting women, other victims of his lechery have come forward to tell their sad tales. His poll numbers are plummeting, his unfavorable ratings among women soaring.
Still, considerable damage has already been done. Trump and his followers have set fire to the public commons and dumped jet fuel on it. The resulting conflagration will not be easy to contain.
Photo: A protester disrupts a rally with Republican U.S. presidential candidate Donald Trump and his supporters in Albuquerque, New Mexico, U.S. May 24, 2016.  REUTERS/Jonathan Ernst