Trump Publicly Submits To Putin In Advance Of Summit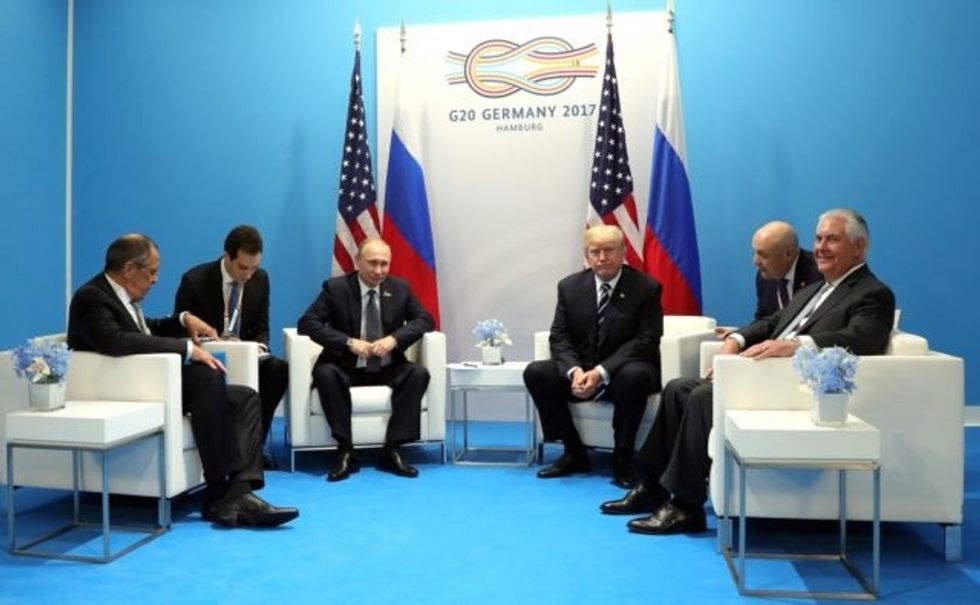 Reprinted with permission from Shareblue.
Trump woke up Thursday and decided to remind Americans that he's Vladimir Putin's lapdog.
On Thursday morning, Trump, seemingly out of the blue, tweeted, "Russia continues to say they had nothing to do with Meddling in our Election!", and criticized the FBI.
Then, just minutes later, White House press secretary Sarah Huckabee Sanders released a statement announcing that "Trump and President Vladimir Putin of the Russian Federation will meet on July 16, 2018, in Helsinki, Finland. The two leaders will discuss relations between the United States and Russia and a range of national security issues."
And Trump's surrender comes not 24 hours after Secretary of State Mike Pompeo was asked, during a Senate hearing, if Russian meddling in our elections would be a topic of discussion at ay Trump-Putin summit.
"I'm confident when the president meets Putin, he will make clear that meddling in our elections is completely unacceptable," Pompeo said.
Trump's declaration is contradicted by multiple U.S. intelligence agencies, by over a dozen indictments that have been handed down against Russians by special counsel Robert Mueller, and even by Trump himself, occasionally.
Although Trump has continually spoken out against the overwhelming conclusion of our intelligence agencies — that Russia did interfere in our elections — he has occasionally been pressed into expressing reluctant support for that view.
In November, Trump was asked to answer "yes or no" whether he believed the intel community's assessment that Russia and/or Putin interfered in the election. "As to whether I believe it or not, I'm with our agencies, especially as currently constituted with their leadership," Trump replied. "I believe in our intel agencies, our intelligence agencies."
At that time, the CIA was headed by Mike Pompeo.
Trump has already humiliated himself by taking Putin's word against that of our intelligence agencies. But the timing of this particular profession of Russia's innocence is suspicious, coming so soon after Pompeo's statement, and just minutes before the announcement of the summit.
Whether or not Trump made the decision to proclaim Putin's innocence on his own or as a condition of the summit, the message is the same: Trump sides with Russia, and against American voters.
Published with permission of The American Independent