Trump Reveals Media Strategy To 'Fox & Friends'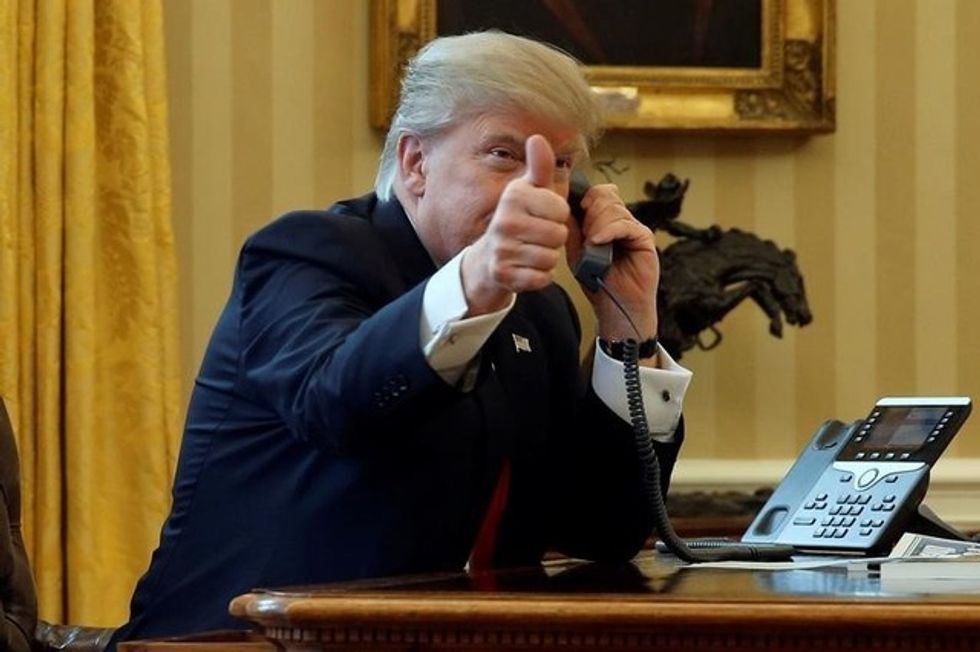 Reprinted with permission from MediaMatters.
When President Donald Trump called in this morning to his favorite program, the Fox News morning show Fox & Friends, it seemed inevitable that sooner or later the conversation would turn to the president's virulent hatred for journalists. Trump spent much of his presidential campaign and presidency thus far embroiled in an ongoing war against what he terms the "fake news" media, and indeed today's interview featured several such attacks, with the president calling out NBC's Chuck Todd by name. But the president also confirmed that his criticisms of the press aren't merely a sign that he hates public criticism — they're a deliberate strategy intended to convince his supporters not to believe critical information about him.
During a long tangent about his 2016 Electoral College victory, Trump portrayed media coverage that suggested he had a low chance of winning as an effort to "suppress the vote," designed to trick the viewers into not voting because they would assume it was futile. "They don't know it's fake news," the president said of his supporters. "I have taught them it is fake news."
I have taught them it is fake news.
Earlier in the program, Trump says that people watching television "don't know it's fake news — I've taught them it's fake news."

He knows exactly what he's doing. pic.twitter.com/l6iUqGCxgD

— Matthew Gertz (@MattGertz) April 26, 2018
Trump is correct. While his attacks build on a decades-long conservative campaign to undermine the news media, his ferocious, unending feud has triggered a noticeable dip in support for the press among Republicans since the beginning of the presidential campaign. He is trying — and succeeding — in keeping his supporters from accepting bad news about his presidency.
Delegitimizing alternative sources of information is a necessary step for a president and administration that constantly lie, have a wildly unpopular agenda, and are embroiled in a host of corruption scandals. If Trump's supporters come to trust reality over the president's words, he's toast.
Throughout the interview, Trump divided up the press into two factions. On one side, there's ABC, CBS, NBC, CNN, and the rest of the mainstream media, whom he described as "fake news" outlets that are conspiring against him. On the other side, there's Fox, which he described as "tough" but "fair." "In all fairness to Fox," Trump said, "you guys don't always treat me great. You treat me fairly."
Here's Trump ranting about the fake news media while the Fox & Friends desperately try to get him to talk about something else. pic.twitter.com/yvWdfpeRc9

— Matthew Gertz (@MattGertz) April 26, 2018
If Fox — a network known for its sycophantic Trump defenses — becomes the standard for tough coverage, the president knows he has nothing to worry about. That's what this whole campaign against mainstream media has been about.