Trump Says Border Wall More Important Than Defending Kurdish Allies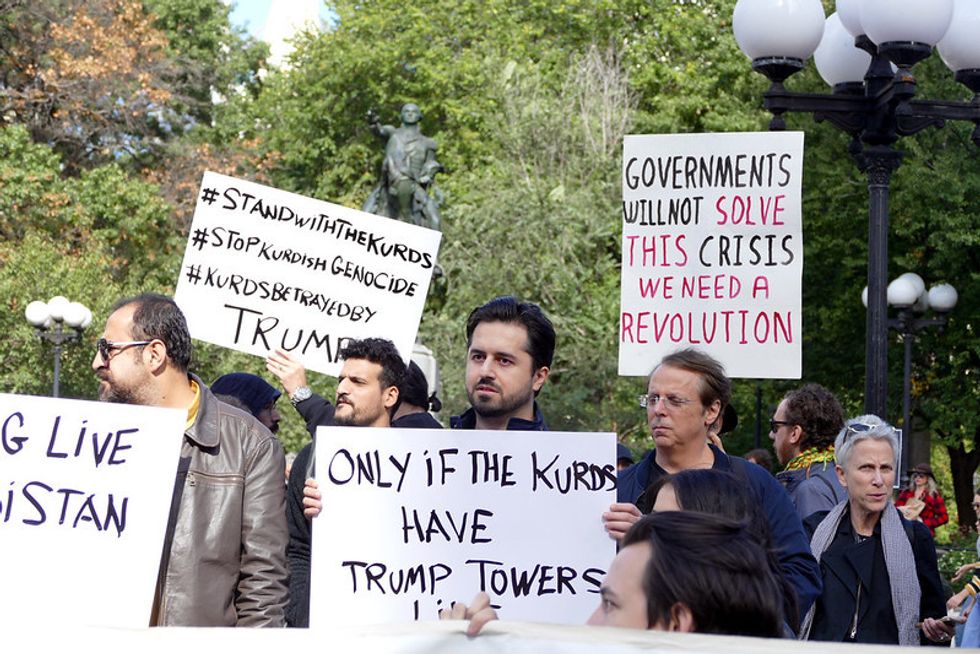 As Turkey's military actions intensify in northern Syria, Trump is defending his decision to abandon Kurdish allies by claiming he wants to focus his attention on the U.S.-Mexico border.
"Some people want the United States to protect the 7,000 mile away Border of Syria, presided over by Bashar al-Assad, our enemy," Trump wrote on Monday. "At the same time, Syria and whoever they chose to help, wants naturally to protect the Kurds. I would much rather focus on our Southern Border which abuts and is part of the United States of America. And by the way, numbers are way down and the WALL is being built!"
After an Oct. 6 phone call with Turkish President Recep Tayyip Erdogan, Trump announced U.S. troops would withdraw from northern Syria, giving tacit permission for Turkey to begin military action in the area. Trump abandoned Kurdish allies in the region who had been pivotal to America's fight against ISIS, knowing Turkey would attack the Kurds.
"I've worked directly with the SDF [Kurdish allies] and had many fighters from the group I grew to trust with my life," a former CIA officer told NBC News on Wednesday. "Now, I realize they are all going to be killed or detained after we betrayed them — killed with weapons we gave to Turkey."
Over the weekend, fighting intensified in the area and Turkish-aligned forces filmed themselves executing Kurds on the side of the road.
"There is blood on Trump's hands for abandoning our Kurdish allies," John Allen, a retired four-star general, told CNN on Sunday.
Amidst the fighting, hundreds of ISIS-linked prisoners have escaped from prisons in the area, and experts warn that ISIS will regain power and forces as a result of Trump's decision.
Yet Trump is more concerned about building a wall along the southern border than the chaos he unleashed in Syria. However, he is not being truthful about the border wall.
According to Customs and Border Protection officials, not a single mile of new border wall has been built during the entirety of the Trump administration. The Trump administration has simply replaced some older sections of the existing wall.
Trump has made immigration policy the centerpiece of his administration, often using racist language and cruel policies in his efforts to reduce immigration from non-white majority countries. And while Trump's immigration policies have the support of most Republicans in Congress, some of his staunchest allies have spoken out against his withdrawal of American troops.
"Nothing better for ISIS than to create a conflict between the Kurds and Turkey," Sen. Lindsey Graham (R-SC) said last week. "The Kurds will now align with Assad because they have nobody to count on, because we abandoned them. So this is a big win for Iran, a big win for ISIS."
In response to Trump bragging about focusing on a border wall, Graham disputed the notion on Twitter.
"Our southern border should be our LAST line of defense against radical Islam," Graham wrote. "Our FIRST line of defense is the U.S. military working with partners in radical Islam's backyard keeping them over there so they can't hurt us here at home or hurt our allies like Israel."
Later on Monday, Trump announced a series of economic sanctions against Turkey, including reimposing high tariffs on steel. In the same announcement, Trump said that rather than coming home, soldiers formerly stationed in northern Syria would be repositioned elsewhere in the region.
The second announcement made no mention of the border wall, nor why it would be necessary to abandon allies helping to fight ISIS in order to focus on the border wall.
Published with permission of The American Independent.