If Elected Again, Trump Would Cut Taxes For The Rich Even More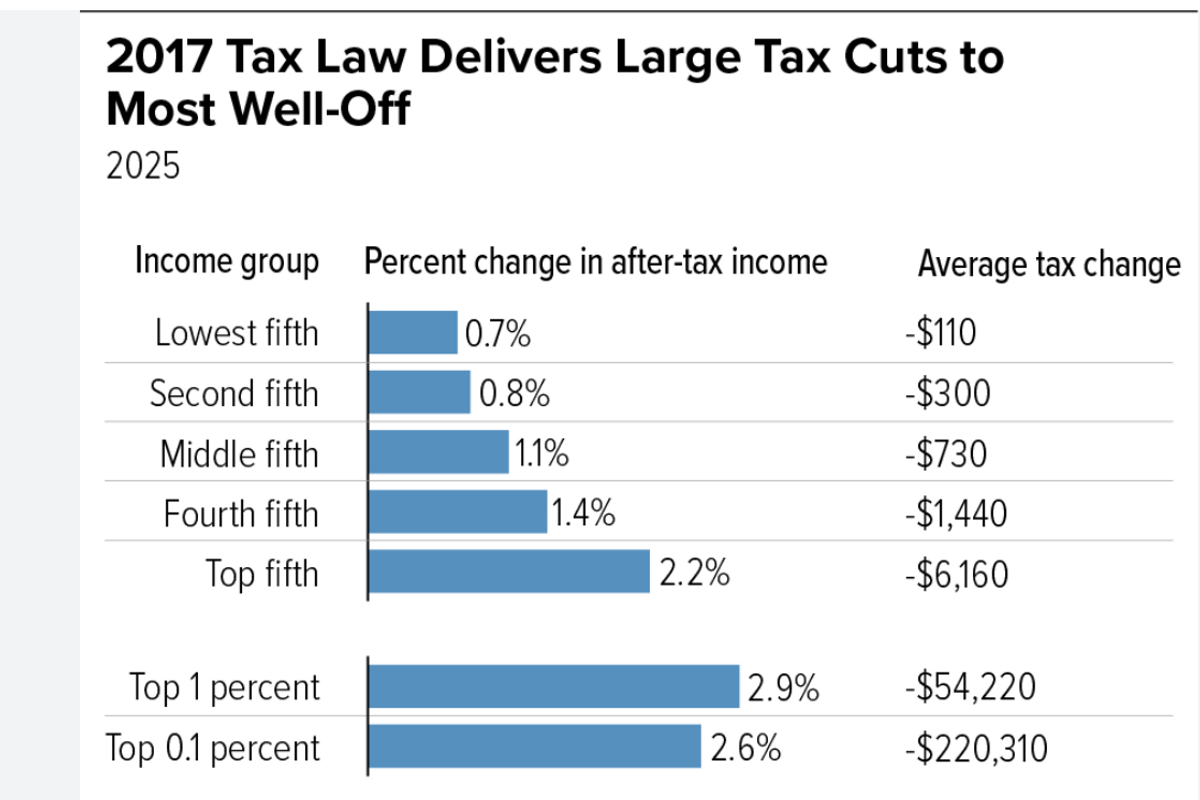 Center on Budget and Policy Priorities
Former President Donald Trump wants once again to slash taxes for the wealthy if he's elected in November 2024.
Trump's economic advisers are floating cutting the corporate tax rate from 21 percent to 15 percent, the Washington Post reported . Such a cut would overwhelmingly favor wealthy corporations.
Trump already cut the corporate tax rate from 35 percent to 21 percent with the 2017 Tax Cuts and Jobs Act.
That tax cut was deeply unpopular with voters . A November 2017 Quinnipiac University poll found that 52 percent of voters disapproved of the tax law, while just 25 percent approved of it.
"Tax cuts enacted in the last 25 years — namely, the tax cuts enacted in 2001 and 2003 under President [George W.] Bush, most of which were made permanent in 2012, and those enacted in 2017 under President Trump — gave windfall tax cuts to households in the top 1% and large corporations, exacerbating income and wealth inequality," Center on Budget and Policy Priorities senior tax analyst Samantha Jacoby said in testimony before the Senate Budget Committee in May.
Experts say cutting the corporate tax rate for a second time would likely be similarly unpopular.
"We have plenty of data showing most Americans want corporations to pay more in taxes, not less — this was true when Trump and his supporters in Congress enacted the 2017 law, and it's still true today," Steve Wamhoff, the federal policy director of the Institute on Taxation and Economic Policy, said in a Sept. 11 tweet.
The Washington Post reported that the 15 percent corporate tax rate is a "preliminary" proposal that Trump's economic advisers are kicking around.
"There are many ideas coming in about how to undo the damage Joe Biden has done, and President Trump's America First economic focus remains how we create more higher-paying jobs for American workers, and he will do whatever it takes to make our Country competitive again," Trump campaign spokesperson Jason Miller told the Post .
Trump proposed a 15 percent corporate tax rate in 2017 when the Republican-controlled House and Senate were crafting tax cut legislation.
President Joe Biden's administration came out against Trump's potential corporate tax cut proposal just hours after the Washington Post reported on it.
"Another wave of deficit-increasing tax welfare for big corporations — especially one directly tied to unprecedented price increases on American families — would turn back the clock to the trickle-down economics that hollowed out the American middle class and added trillions to the national debt," White House spokesperson Andrew Bates told Axios on September 11.
Reprinted with permission from American Independent .