Trump's 7 Most Unhinged Remarks At Wild Press Conference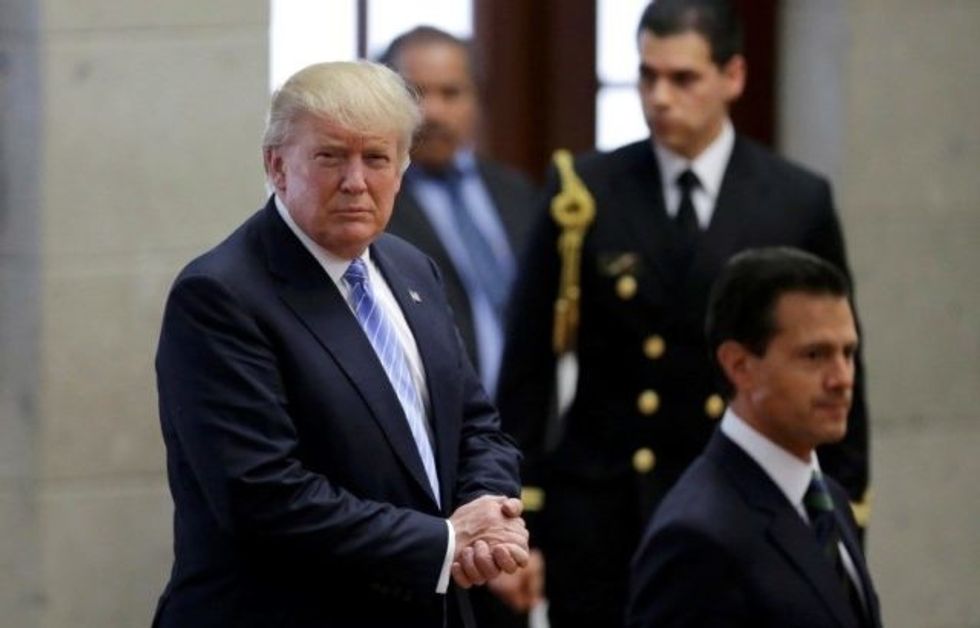 Reprinted with permission from AlterNet.
Since he entered the White House, President Donald Trump has given few press conferences. On Wednesday, he made it clear why he and his team avoid the medium.
In a wild, disjointed, and disrespectful display, Trump launched into a rant about his supposed accomplishments, his dissatisfaction with the coverage of his presidency, and foreign relations. He spoke over women, lied, twisted the facts, berated reporters, and jumped from topic to topic in a frequently incoherent manner.
Here are just seven of the wildest moments of the press conference:
1. Trump claimed Obama was close to going to war with North Korea.
When discussing his negotiations with North Korean leader Kim Jong-un, the success of which he continues to greatly exaggerate, Trump made a new wild claim that President Barack Obama came close to war with the rogue regime. While Obama did warn Trump during the transition that North Korea would be his biggest foreign policy challenge, there's no indication the former president was willing to go to war with the country.
"For the record, Obama's office declined to comment when I asked about this Trump claim about war with North Korea, but referred me to former Obama national security spokesman Ned Price, who said it's entirely false, completely at odds with everything Obama has always thought," said Toronto Star reporter Daniel Dale.
2. Trump couldn't coherently answer a question about the 25th Amendment.
Trump was also asked whether he believes anyone in his administration has discussed using the 25th Administration to constitutionally remove him from office for being unable to fulfill the duties of his office.
"I don't think so," he said. "Enemies, sure!"
Of course, this seemed to imply that Trump thinks there are enemies within his own Cabinet. When the reporter tried to press him on this, though, he kept saying that his political opponents would try to use the 25 Amendment to remove him. Since invoking the 25th Amendment requires the consent of the Cabinet, his response suggested he has no idea how the law actually works.
3. Trump says there's no timetable on denuclearization with North Korea.
In response to questions about what kind of timetable he expects with regard to North Korean denuclearization, Trump said there won't be any timetable. He seemed to think this would avoid him getting boxed in, but it also means that he is essentially letting the regime get away with having nuclear weapons indefinitely — completely undermining his efforts in the region.
4. He repeatedly interrupted women for no reason at all.
Though Trump was abrasive and disrespectful to all the reporters, he seemed to be particularly rude toward female reporters. He frequently interrupted their questions and ignored the substance of what they were saying.
To one female reporter trying to get clarity on his comments, he said, "You've been asking a question for 10 minutes. Please sit down."
5. Trump praises a reporter for being a Kurd.
Trump reacted with pleasant surprise when one reporter asking a question said that he was a Kurd. Trump immediately praised the Kurdish people, who have been allies with American forces in the Middle East. However, when the reporter actually asked a question about how his administration would support the Kurdish people, he had nothing of substance to add.
He later referred to another Kurdish reporter as "Mr. Kurd."
6. He claimed only 4 women have accused him of sexual misconduct — but many more have.
Many of the questions during the press conference focused on Supreme Court nominee Brett Kavanaugh and the allegations that he committed sexual assault. In response to a question about whether Trump saw these questions through the prism of the allegations against, the president confirmed that he does.
But he also falsely said that there were only four claims against him. In fact, more than a dozen women have accused Trump of various forms of sexual misconduct.
7. Trump said George Washington couldn't get confirmed to the Supreme Court
Discussing the claims against Kavanaugh and Democrats' refusal to vote for the nominee, Trump claimed that George Washington couldn't get votes to confirm him to the Supreme Court. He also suggested that there might be accusations of sexual misconduct lurking against Washington — though he may have confused Washington for Thomas Jefferson.
Regardless of whether such allegations existed, it's also true that Washington owned slaves, a major moral stain on his record that would justifiably bar anyone from serving on the Supreme Court.
Cody Fenwick is a reporter and editor. Follow him on Twitter @codytfenwick.