Trump's Debt 'Idea' Would Depress The Global Economy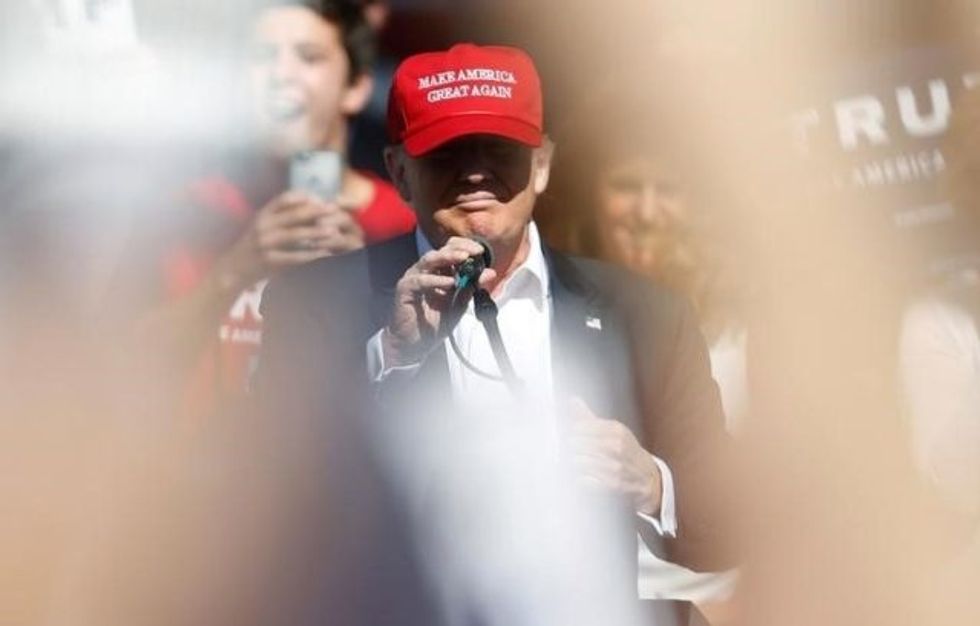 If his Muslim ban and a Mexican wall didn't turn away Republicans still planning on voting for Donald Trump, maybe his ideas about the national debt will. The racist billionaire said recently that he would try to game the international economy — much like he did with creditors for his bankrupt casino projects — by paying less on U.S. treasury bonds than what bondholders are owed, a move that would surely destabilize the global economy.
"This is the United States government. First of all, you never have to default because you print the money. I hate to tell you. So there's never a default," said Trump in comments reported by The New York Times, revealing his millimeter-deep understanding of economic policy. "I would borrow, knowing that if the economy crashed, you could make a deal."
What?!
Trump is operating on the assumption that, even after his wacky stunt, the global economy would continue to buy the treasury bonds used by the federal government to finance deficit spending, which are today seen as the safest, most stable investment in the world, especially during economic uncertainty.
The U.S. helped created the network of financial institutions that supported the postwar global economy, and in that framework, Donald's comments are unprecedented. Having the plan's architect suddenly opt out of its own rules would sow major instability in the global economy at a time when it can handle few systematic shocks. The nation's creditors might demand payment in full, and nobody could convince them that the world's largest economy needs a debt haircut when its president willfully led the country to a default.
Incidentally, Trump also recently changed his position on tax cuts for the rich, a 180 degree reversal from his primary season promise to cut taxes for the 0.1 percent of earners like himself. But on ABC's Meet the Press, Trump created some wiggle room for himself to not honor his promise.
"I'll explain how it all works. I come up with the biggest tax cut by far of any candidate. Anybody. And I put it in. But that doesn't mean that's what we're going to get. We have to negotiate," he told host Chuck Todd. Economists had predicted that Trump's first proposed tax cut plan would result in a $10 trillion revenue loss over a decade. "Now, when it comes time to negotiate, I feel less concerned with the rich than I do with the middle class."
Presenting himself as the savior of middle class Americans, Trump repeated his promise to aid the middle class. "But the middle class has to be protected. The rich is probably going to end up paying more. And business might have to pay a little bit more. But we're giving a massive business tax cut."
Fiscal conservatives have predictably been dismayed by his proposals. "You've got to be joking," said the conservative Club for Growth's president Chris Chocola, a former Indiana congressman, to New York Daily News. "Donald Trump has advocated for massive tax increases that display a stunning lack of knowledge of how to create jobs."
"If we do away with the fundamental strength of the conservative movement, which is our ideas and values and principles, then you don't have anything left but politics," said Al Cardenas, a former chair of the American Conservative Union, to The Washington Post. "A movement can survive the loss of an election cycle, but it can't survive the loss of its purpose, and that's what we're battling here."
In other words: Without an economic argument for the existence of the Republican Party, what else can Trump voters stand on than a Muslim ban and a wall with Mexico? What is this but a white nationalist party?
Photo: Republican U.S. presidential candidate Donald Trump speaks during a campaign rally in Lynden, Washington, U.S., May 7, 2016. REUTERS/Jim Urquhart