Trump's EPA Bringing Back Deadly Asbestos — From Russia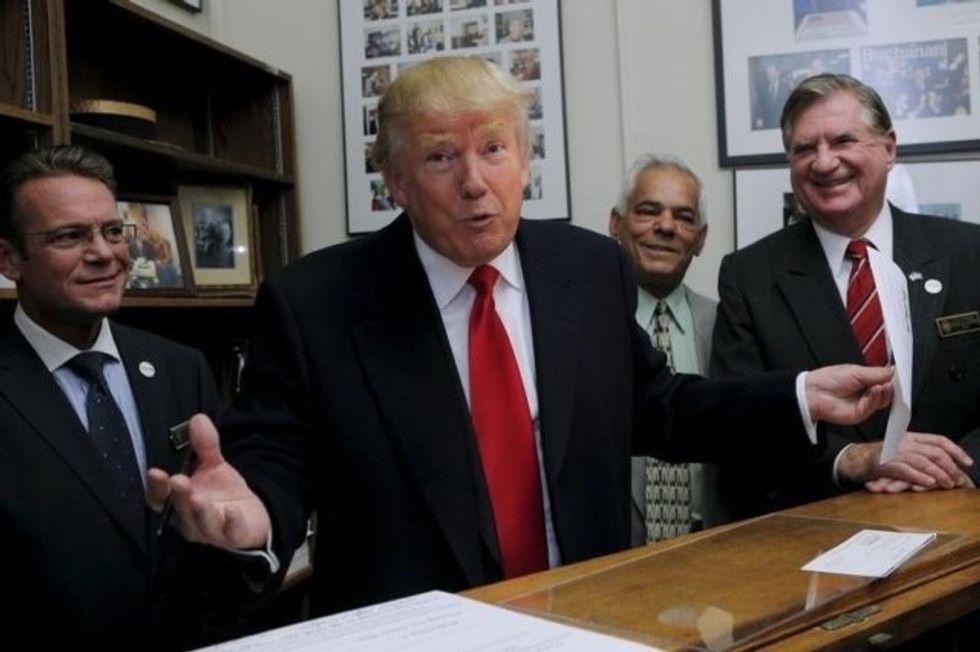 Reprinted with permission from Shareblue.
The Trump administration has gutted environmental protection rules so drastically that asbestos — one of the most dangerous carcinogens ever used in construction — is now once again legal for new uses in U.S. manufacturing.
Asbestos was once widely used in building materials until it was directly linked to lung cancer and mesothelioma. Every year, asbestos still kills 12,000 to 15,000 people in the United States.
The U.S. is one of very few countries worldwide that haven't yet banned asbestos completely. Its use is, instead, heavily restricted in the U.S.
But now the Trump administration is dramatically loosening those restrictions, which will risk thousands more lives.
The Environmental Protection Agency (EPA) has authorized a "Significant New Use Rule" which "allows new products containing asbestos to be created on a case-by-case basis," the Architect's Newspaper reports.
Companies who want to create new asbestos products simply have to give the EPA 90 days notice.
"The Trump administration rewrote the rules to be dramatically less protective of human health," said Bill Walsh, board president of the Healthy Building Network.
This June 1 rule creates a one-two punch when combined with a report the EPA released in May, which indicates the agency will no longer "consider the effect or presence of substances in the air, ground, or water in its risk assessments."
In other words, U.S. companies will now be free to use toxic materials like asbestos without even bothering to consider the harm to human life they can cause through indirect contact.
This sweeping, dangerous move by the Trump administration is especially disturbing given Trump's apparent fondness for the asbestos industry — an industry that is still prominent in Russia.
Trump has a bizarre history of minimizing the harms of asbestos. He said in his 1997 book, Art of the Comeback, that asbestos bans were a conspiracy "led by the mob," and he tweeted in 2012 that the World Trade Center might not have burned if asbestos hadn't been removed from the towers.
What's more, U.S. imports of asbestos from Russia and Brazil are skyrocketing under Trump, shooting up fourfold this year compared to last.
One Russian asbestos company even recently stamped its product with Trump's face and a claim that Trump approved of it.
"Vladimir Putin and Russia's asbestos industry stands to prosper mightily as a result of the Trump Administration's failure to ban asbestos in the U.S.," said Ken Cook, president of the Environmental Working Group, in a statement.
What's more, Trump's EPA has been plagued with scandal and mismanagement. After months of Trump defending him, corrupt EPA chief Scott Pruitt recently resigned in disgrace.
The mismanagement of the EPA, and its use as a vehicle for promoting big business interests at the expense of public health, has been a shameful hallmark of Trump's presidency.
It's not clear yet just how far-reaching the impacts of the EPA's regulation-gutting will be. We probably won't go back to the days where asbestos is ubiquitous — but any increase in public exposure to asbestos is too much given how dangerous it is.
The Healthy Building Network explains that the asbestos infection risk is high for workers who mine the materials, and for the people working in the industrial facilities that import it.
Neighborhoods in close proximity to those facilities could also have asbestos released into their air, end up in their landfills, or seep into their groundwater.
Trump is using the EPA to bring back asbestos, and ignoring the obvious dangers to public health that it would pose.
Once again, Trump is ignoring science and basic facts in pursuit of an agenda that hurts and kills people.
Published with permission of The American Independent.