Trump's 'Great Relationship' With A Homicidal Drug Warrior
@jacobsullum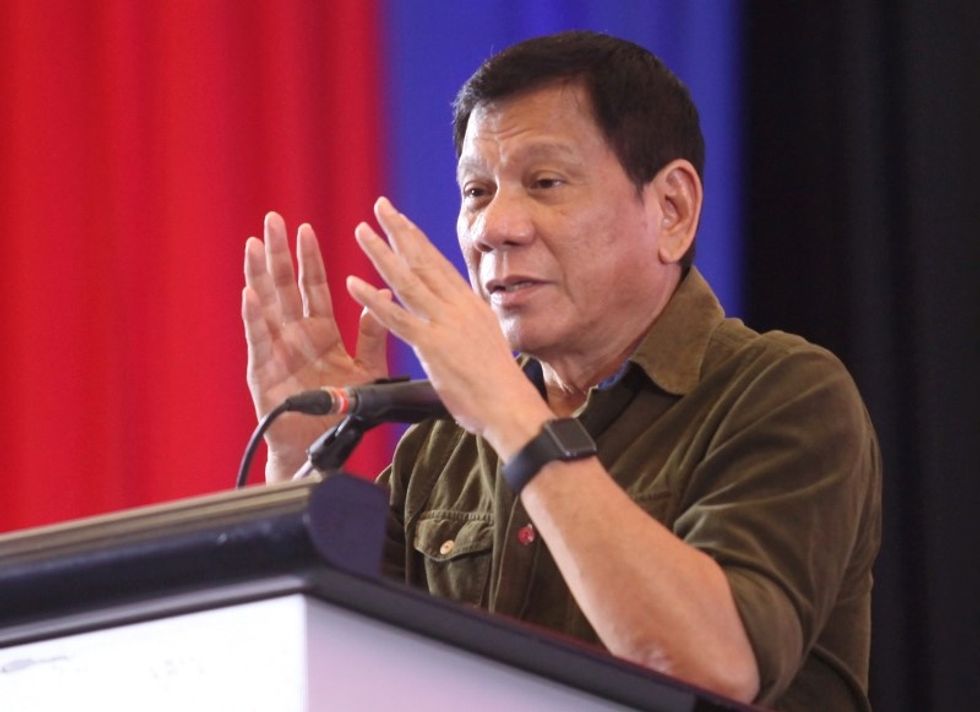 Reprinted with permission from Creators.
When Maximo Garcia heard that he was on a list of local drug suspects in Mayombo, he tried to clear his name with the police chief, explaining that he no longer used drugs and had never sold them. Four days later, the Philippine news site Rappler reports, a masked gunman shot up Garcia's house as he and his family were eating lunch, wounding him and killing his 5-year-old granddaughter.
So it goes in Philippine President Rodrigo Duterte's war on drugs, which has claimed somewhere between 7,000 and 13,000 lives since he took office in June 2016. Although Duterte's bloody crusade has drawn international criticism, Donald Trump evidently did not think the subject was worth broaching during his meeting with Duterte in Manila on Monday.
Trump, who, this week, bragged about his "great relationship" with Duterte, had previously praised his Philippine counterpart's "unbelievable job on the drug problem." Trump meant that as a compliment, but the viciousness of Duterte's anti-drug campaign does beggar belief.
"If you know any addicts," Duterte told a crowd of supporters after taking office, "go ahead and kill them yourself, as getting their parents to do it would be too painful." A few months later, he likened himself to Hitler, saying "there's 3 million drug addicts" in the Philippines, and "I'd be happy to slaughter them."
Police officers and vigilantes have taken Duterte at his word, assassinating people identified, rightly or wrongly, as drug users or dealers. Duterte says the carnage is not really a human rights issue, because drug users are not really human.
"Crime against humanity?" Duterte said during an August 2016 speech to soldiers. "Are they humans? What is your definition of a human being?" He dismisses the deaths of children killed by bullets intended for drug suspects — children like Maximo Garcia's granddaughter — as "collateral damage."
Even while endorsing murder as a morally legitimate response to drug abuse, Duterte periodically insists that he does not condone law-breaking. Yet he has created an atmosphere of impunity by promising to pardon police officers accused of using unnecessary deadly force.
The thousands of drug suspects killed by police officers in the last 16 months supposedly offered violent resistance. But investigations by Amnesty International, Human Rights Watch and news outlets such as Rappler and The New York Times have found that police routinely plant drugs and weapons to justify what amount to summary executions.
Last August, police in Manila shot and killed 17-year-old Kian delos Santos, claiming he had fired a gun at them. A police photo showed a pistol and two packets of methamphetamine next to his body. But witnesses contradicted the official account, and video from a neighborhood security camera showed police dragging the boy, still alive, into the alley where his body was found.
That incident sparked public outrage in the Philippines, leading to charges against the officers who killed the teenager. We may never know how many innocent people have been killed in similar circumstances, but without surveillance footage to prove it.
The U.S. State Department notes that "extrajudicial killings" in the Philippines "increased sharply" last year, amid "numerous reports that the [Philippine National Police] committed arbitrary or unlawful killings in connection with a government-directed campaign against illegal drugs." In a November 2 letter to President Trump, Reps. Randy Hultgren (R-Ill.) and James McGovern (D-Mass.), who co-chair the Tom Lantos Human Rights Commission, urged him to "impress upon President Duterte the United States' profound concern over reported extra-judicial killings associated with the Philippine government's 'war on drugs.'"
This week's meeting was Trump's chance to qualify his earlier praise for Duterte's "great job" as a drug warrior. White House Press Secretary Sarah Huckabee Sanders said "human rights briefly came up in the context of the Philippines' fight against illegal drugs." So briefly, it seems, that Philippine officials did not even notice.
"The issue of human rights did not arise," Duterte's spokesman said. "It was not brought up."
Jacob Sullum is a senior editor at Reason magazine. Follow him on Twitter: @jacobsullum. To find out more about Jacob Sullum and read features by other Creators Syndicate writers and cartoonists, visit the Creators Syndicate Web page at www.creators.com.