Twelfth Benghazi Hearing Reveals It's Still The 'Scandal That Never Was'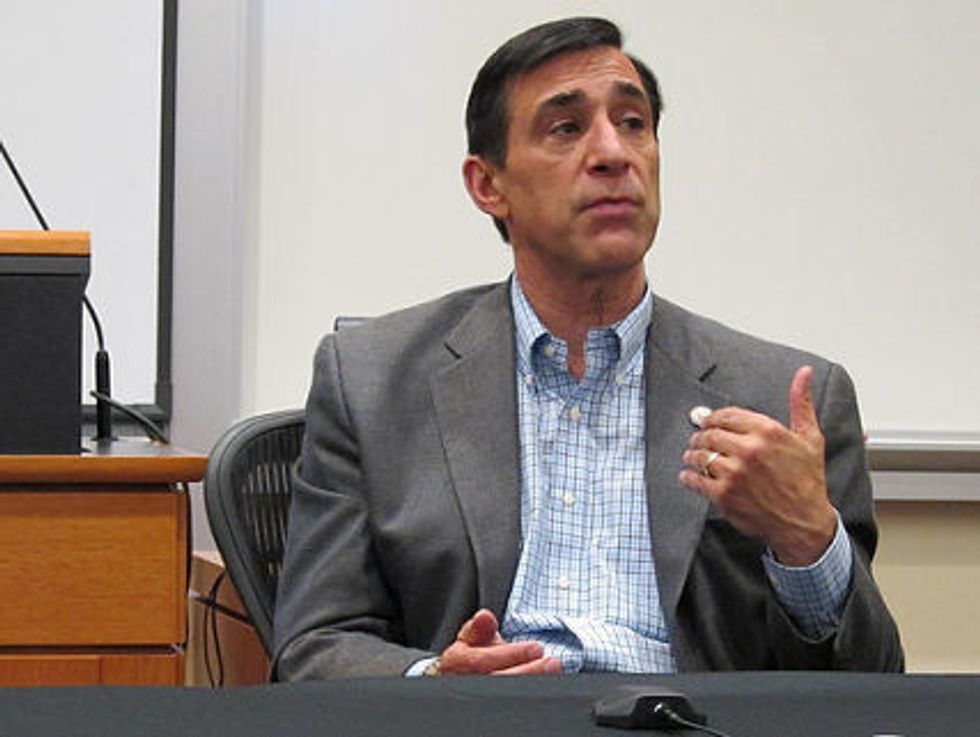 Instead of focusing on funding the government, the debt ceiling deadline, implementing Obamacare, immigration reform, or Syria, Representative Darrell Issa (R-CA) and House Republicans decided to beat the Benghazi conspiracy drum yet again on Thursday.
This was the 12th hearing regarding the September 11, 2012 terror attack on the American diplomatic mission in Libya, Representative Mark Pocan (D-WI) pointed out — three in this committee, and three just this week.
Republicans on the House Oversight Committee prodded, chastised, and blamed the witnesses, including the Chairman and Vice Chairman of the Benghazi Accountability Review Board (ARB), Ambassador Thomas Pickering and Admiral Michael Mullen. The Republican goal in the hearing seemed to be to suggest that the ARB guarded then-secretary of state Hillary Clinton and the administration from assuming any of the accountability for the attack, despite the fact that Secretary Clinton took full responsibility for the security failings that led to the deaths of Ambassador Chris Stevens and three other Americans.
During a closed-door interview with Mullen and Pickering in June—which Issa chose to keep under wraps until the Obama administration referred to the text—both witnesses reported that the administration and military did everything possible to reach Ambassador Stevens and the other Americans at the compound in Benghazi.
Mullen's remarks in that interview answer the accusation from Republicans that F-16s could have been sent into Benghazi.
"We walked through the force posture in Europe, notionally, and looked at every single U.S. military asset that was there, and what it possibly could have done, whether it could have moved or not," Mullen said. "And it was in that interaction that I concluded, after a detailed understanding of what had happened that night, that from outside Libya, that we'd done everything possible that we could."
During the House Foreign Affairs Committee hearing on Wednesday, Representative Alan Grayson (D-FL) called Benghazi "the scandal that never was" and asked Under Secretary Patrick Kennedy a series of questions aimed to deflate the conservative narrative.
Grayson: Who decided that Ambassador Stevens go to Benghazi on September 11, 2012?

Kennedy: It was the Ambassador's decision, sir.

Grayson: Now, was Secretary Clinton responsible in any way for reviewing and approving the in-country movements of U.S. ambassadors, either Ambassador Stevens or anyone else?

Kennedy: No, sir.

Grayson: Did the White House ever ignore any reports regarding this attack?

Kennedy: No, sir, not that I'm aware of.

Grayson: Did Secretary Clinton ever ignore any reports regarding this attack?

Kennedy: No, sir, I personally spoke to Secretary Clinton that evening and Secretary Clinton was being constantly briefed by our operation center all evening.
This is why Issa waited so long to hold a public hearing with Mullen and Pickering. Like Kennedy's testimony on Wednesday, everything they've testified to privately discredits every conspiracy theory Republicans have suggested about Hillary Clinton and the administration since the attack took place.
Photo: stanfordsis via Flickr.com