Twenty Protesters Killed In New Ukraine Clashes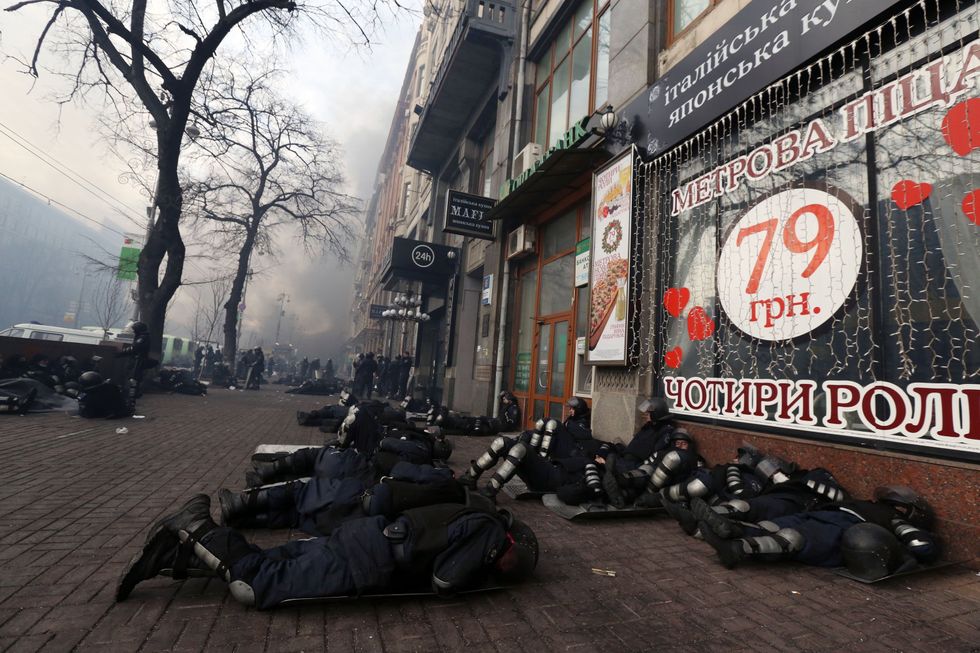 By Sergei L. Loiko, Los Angeles Times
KIEV, Ukraine — At least 20 protesters were killed Thursday morning as gunfire rang out in central Kiev, breaking the shaky truce reached between President Victor Yanukovich and opposition leaders the previous night.
Oleh Musiy, chief of the protest camp health service, told the Los Angeles Times that dozens were injured.
Police reported that one officer died in a hospital of a gunshot wound.
Early in the afternoon, about 200 riot police, many with shotguns, were deployed in the Council of Ministers building in Grushevsky Street.
Not far away, in front of the parliament building, a police officer was instructing his squad armed with shields and clubs: "Remember, the more organized fashion you retreat in, the more chances for you to stay alive."
In the meantime, protesters were busy building and fortifying new barricades a few hundred yards down the street.
The morning clashes began when police used stun grenades to attack the protest encampment in Independence Square. Protesters opened fire, forcing police to retreat, carrying their wounded to nearby buses.
One policeman was kneeling near another lying on the ground in central Khreshchatik Street. After a quick examination, he shouted: "Damn, another shotgun wound!"
Shots were fired and bullets were whistling all across the stretch between Independence Square and Europe Square nearby. At least 25 policemen were injured, 14 with shotgun wounds, said an officer who did not want to be named. He added that two officers are in critical condition.
As police ran for their buses to drive away with the injured, several dozen officers stayed behind to cover the retreat.
Then several hundred masked protesters with shields, clubs and Molotov cocktails charged police. A hand fight with shields and clubs ensued in Europe Square. Soon the protesters prevailed and police were in full retreat, some surrounded by club-wielding protesters, pushed to the ground, clubbed and kicked on all sides.
One police officer was shooting at protesters with a handgun but it jammed, so he turned around and fled. At least one protester also armed with a handgun was shooting at the retreating police. Some protesters were continuing to beat up police officers lying on the ground, some were pushing their colleagues away and trying to help injured officers.

At least half a dozen police officers were captured and led away by protesters to their camp in Independence Square. Some protesters were waving flags and shouting: "Glory to Ukraine!" Others were responding with a loud: "Glory to the heroes!"
Police officials acknowledged that some officers were taken prisoner but said they did not know the number.
The retreating police stopped and regrouped in Grushevsky Street, where the government and parliament buildings are located and which was the scene of many days of violence in January.
At about 10 a.m., the fighting subsided and protesters began building new barricades in the space they had captured in the morning assault.
City medical authorities report dozens of injured, most with gunshot wounds. Ambulance sirens could be heard coming from different locations in central Kiev, a significant part of which is in the hands of the protesters.
On Wednesday, the Ukraine Security Service announced the beginning of an anti-terrorist operation after protesters seized stored firearms from police stations and army facilities they captured earlier in the week in western Ukraine.
The death toll over the previous two days of clashes was 28, city authorities said Thursday morning before the clashes began. Hundreds were reported injured.
The situation has gone out of control with unknown consequences for Ukraine, said Vadim Karasyov, director of the Institute for Global Strategies, a Kiev-based think tank.
"The opposition leaders seem no longer capable of controlling the protesters, among whom there are a lot of people with firearms now," Karasyov told The Times. "On the other hand, Yanukovich doesn't have enough resources to crush the rebellion by force. There is only one way out for him now: to leave Kiev for a safe place and call an early presidential election."
Sergei L. Loiko/Los Angeles Times/MCT