After Twenty-Two Years, 'Tonight Show' Host Jay Leno Signs Off
@AFP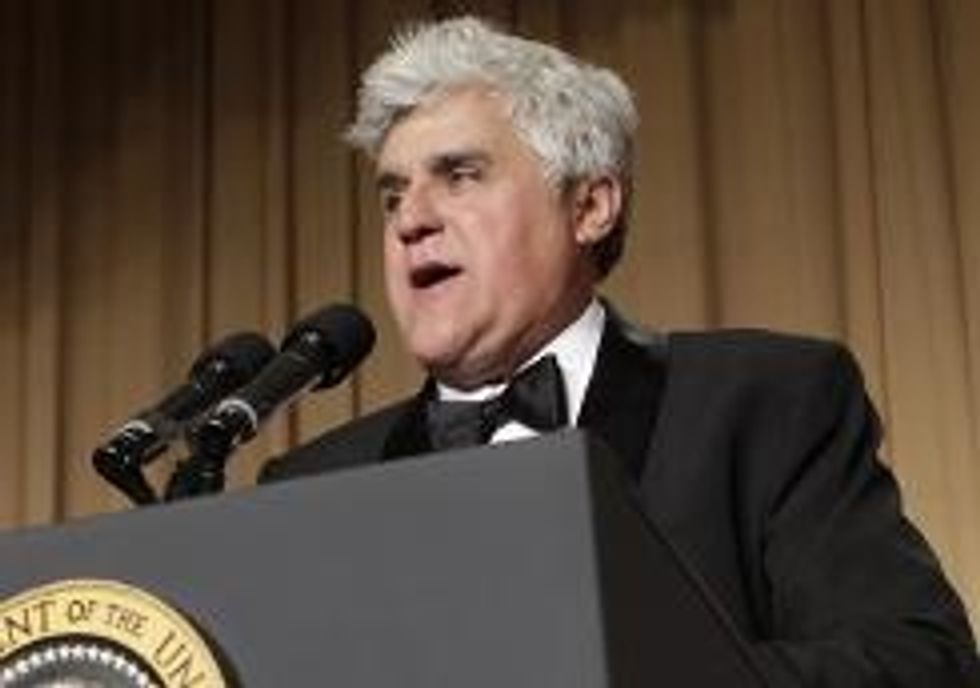 Washington (AFP) – Talk show icon Jay Leno bid farewell to his remarkable 22-year run at the top of the late-night U.S. television heap on Thursday when he signed off from NBC's "The Tonight Show" for the last time.
"I want to thank you guys. You folks have been incredible," an emotional Leno, 63, told his fans in concluding his final broadcast.
"I'm the luckiest guy in the world," he added. "I got to meet presidents, astronauts, movie stars — it's just been incredible."
Country music titan Garth Brooks and comedian Billy Crystal — Leno's first guest back in May 1992 — appeared as special guests on what NBC called "Jay's historic farewell episode."
The silver-haired, square-jawed comedian and classic-car enthusiast is an American icon, famous for skewering hapless politicians in his opening monologue and welcoming celebrity guests for breezy interviews.
But this week has been all about sentimentality, with the indefatigable Betty White, 92, appearing Monday, country star Lyle Lovett playing a sad ballad Tuesday, and actress Sandra Bullock shedding tears Wednesday.
Crystal, a nine-time Academy Awards host who starred in the 1989 comedy hit "When Harry Met Sally…", reckoned Leno had told 160,000 jokes — and gone through three studio band leaders.
"You were America's nightlight," said Crystal, who went on to lead a rousing rendition of "So Long Farewell" from the Broadway musical "The Sound of Music."
A string of celebrities then paraded out to sing a few lines, including Oprah Winfrey, Kim Kardashian and comedy icon Carol Burnett, aged 80 and looking really good.
"I'm here for your last show, what the hell, I'll do the Tarzan yell," Burnett sang, then bellowed it.
The sultry Kardashian, in a tight-fitting short white skirt, intoned that she would no longer be the "butt" of Leno's jokes.
Leno later held back tears as he said he had "got to work with talented people who made me look smarter than I am." He urged people to watch his successor, Jimmy Fallon.
President Barack Obama, a past "Tonight Show" guest and the butt of not a few of Leno's jokes, sent pre-recorded best wishes — along with a job offer Leno could refuse.
"I've decided to make you may new ambassador to Antarctica," the president quipped. "Hope you've got a warm coat, funnyman."
In a generational changing of the guard, baby-boomer Leno has given way to Fallon, 39, a Generation X'er who previously hosted the "Late Night" show that follows "The Tonight Show."
What's more, from February 17, the show will be telecast from New York, where it was located before it moved to Los Angeles in 1972 when the legendary Johnny Carson helmed the program.
It's not the first time Leno has left the show, after he was infamously fired by NBC in 2009 and forced into another program in an earlier time slot — only to triumphantly return the next year after an outcry from NBC affiliates.
This time around, Leno has said, he was asked to make way for new blood.
"I'm not unhappy. This is a great franchise (and) I'm really proud we've been able to keep it number one," Leno told the Los Angeles Times newspaper in an interview posted online this week.
The handover has been amicable, with Leno and Fallon giving joint interviews and the younger comic appearing on "The Tonight Show" penning mock thank-you notes to his mentor and promising to do him proud.
Year after year, Leno has outpaced his rivals David Letterman at CBS and Jimmy Kimmel at ABC "in every key demographic and across age groups" from teenagers to seniors, an NBC spokesman said.
It's currently riding a five-year ratings high in the critical 18- to 49-year-old age group.
But with 3.8 million viewers, "The Tonight Show" pulls far fewer eyeballs than it did in its pre-Internet, pre-multi-channel cable heyday, when Carson could get a record 45 million people to stay up late in 1969 to witness pop novelty singer Tiny Tim marry Miss Vicki.
Immeasurable is how many watch the show, or clips from it, at more sensible hours the day after broadcast, on streaming services such as Hulu (part-owned by NBC) or the official "The Tonight Show" website.
"I get it," said Leno in a recent interview with "60 Minutes" on CBS television. "Johnny was 66 when he left… That's about right… I think, after a while, I'm not going to be that up on the latest Justin Bieber record."
AFP Photo/Yuri Gripas