U.N. Condemns Ethnic Killings In South Sudan Oil Town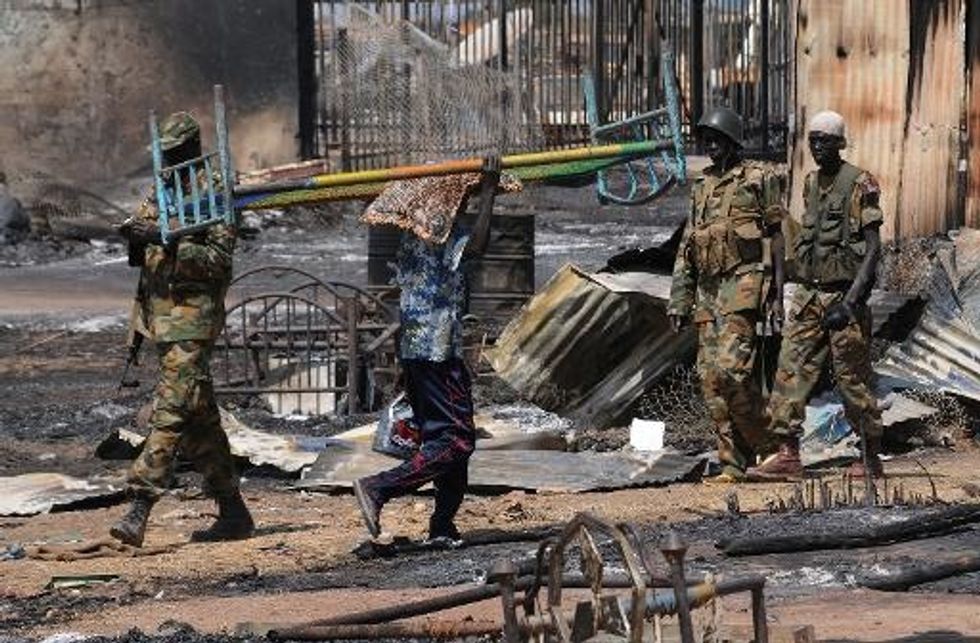 By Robyn Dixon, Los Angeles Times
JOHANNESBURG — The United Nations on Monday condemned ethnic killings by South Sudan rebels that left hundreds of people dead last week after the fall of an oil town to the opposition forces.
The world body said the killings took place in Bentiu, the hub of the country's main oil producing region in the north.
U.N. spokesman Joe Contreras said in a statement that some members of the rebel Sudan Peoples Liberation Movement in Opposition broadcast hate messages on radio after taking control of Bentiu, urging certain ethnic groups to leave town.
Some commanders from the Nuer people called on their men to rape non-Nuer women in revenge attacks. Other commanders urged unity and an end to tribalism, but their messages failed to halt the violence.
The governing Sudan Peoples Liberation Movement and the army split in December between supporters of President Salva Kiir, a member of the Dinka people, and his rival, Vice President Riek Machar, a Nuer. The power struggle triggered fighting and ethnic killings in many parts of the country, especially in towns such as Bor and Malakal that have changed hands multiple times.
Peace talks in neighboring Ethiopia produced a truce in January that has not stopped the fighting.
Contreras said U.N. human rights investigators had established that after the SPLM in Opposition took Bentiu in Unity state last week, its predominantly Nuer fighters searched a mosque, hospital and other areas where people had taken refuge and killed people on the basis of ethnicity and nationality. A day later, armed Dinka youths invaded a U.N. peacekeeping base in the Jonglei state town of Bor and opened fire, killing dozens of Nuer.
"At Bentiu Hospital, on 15 April, several Nuer men, women and children were killed for hiding and declining to join other Nuers who had gone out to cheer the (Sudan People's Liberation Army) in Opposition forces as they entered the town," Contreras said. "Individuals from other South Sudanese communities, as well as Darfuris, were specifically targeted and killed at the hospital."
The Nuer rebels also entered the Kalli-Ballee mosque where hundreds of civilians were sheltering, allowing some people to go, based on ethnicity, but detaining and killing others.
More than 200 people were killed and 400 were injured at the mosque, according to the U.N. Gunmen went to a Roman Catholic church and World Food Program compound where people had taken refuge, demanding to know people's ethnicity and killing members of certain groups.
U.N. peacekeeping forces rescued about 500 people from the hospital, mosque, airport and other locations and escorted them to their base.
About 22,000 people have sought shelter at a U.N. compound in Bentiu. Toby Lanzer, the world body's humanitarian coordinator in South Sudan, said on his Twitter account that thousands of people thronged the gates of compound after violence broke out last week.
On Thursday, the base in Bentiu was attacked with rockets. Civilians at the base are terrified there may be a repeat of the attack in Bor, where outsiders got into the U.N. base there and opened fire.
"We are not feeling safe now after what had happened in Bor," said Moubark Mousa, a displaced person in Bentiu, according to a U.N. statement.
Raisedon Zenenga, the officer in charge of the U.N. Mission in South Sudan, or UNMISS, called on both sides in the conflict to stop targeting civilians.
"These atrocities must be fully investigated and the perpetrators and their commanders shall be held accountable," he said.
About 7 million South Sudanese face severe hunger as a result of the conflict, while 770,000 have fled their homes, including 70,000 sheltering in U.N. bases. The world body launched an appeal for $1.27 billion to prevent starvation, but only 36 percent of the target has been raised from donors.
Contreras said the U.N. was investigating human rights violations by both sides, across South Sudan. The violence has been concentrated in the east and north of the country.
AFP Photo/Simon Maina