U.S. Auto Sales Best Expectations For June
@AFP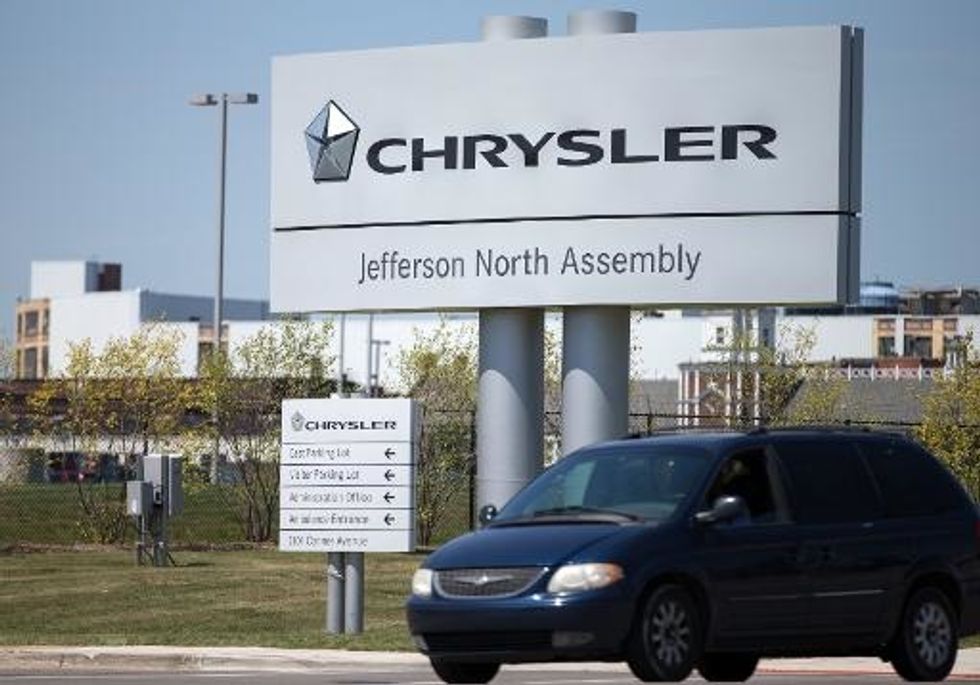 New York (AFP) – Leading automakers, including scandal-plagued General Motors, Tuesday reported better-than-expected June auto sales in the U.S., an indication of higher consumer confidence.
Three of the four biggest auto sellers in the U.S. — GM, Toyota and Chrysler — notched increases from the June 2013 period, while Ford Motor reported a smaller decline than expected.
The companies reported lower sales in June than in May, when overall industry sales rose 11.4 percent from the year-ago period.
Though all the reports were not yet in Tuesday, the early indications pointed to a much better performance than expected, said Alec Gutierrez, a senior analyst at Kelly Blue Book.
"It's an indication of consumer confidence. It's the result of the unemployment rate continuing to come down slowly but surely," he said.
Gutierrez said some consumers also may be moving up purchases to take advantage of favorable financing in anticipating that the U.S. Federal Reserve will raise interest rates in 2015.
"If interest rates start to creep up, that could have a negative consequence on some of the momentum we're seeing," he said.
General Motors, the largest U.S. automaker, eked out a one percent rise in sales to 267,461 vehicles compared with June 2013, much better than the 8.5 percent decline forecast by online car shopping site Edmunds.com.
"June was the third very strong month in a row for GM, with every brand up on a selling-day adjusted basis," said Kurt McNeil, US vice president for sales operations. "In fact, the first half of the year was our best retail sales performance since 2008, driven by an outstanding second quarter."
GM said the month's result was the best June since 2007, suggesting that consumers were continuing to overlook the automaker's travails.
GM is mired in government probes following its delayed recall of 2.6 million vehicles for an ignition-switch problem linked to 13 deaths. The automaker Monday recalled 8.4 million additional vehicles, bringing total recalls this year to a record 30 million.
"While consumers are definitely aware of the recall and concerned, I think they view the actions of GM as proactive and of them standing behind their product," said Gutierrez.
In addition, Gutierrez noted that today's fleet of GM products is not the same as those with the failed ignition switches, which were on models between 2003 and 2011.
Chrysler reported a nine percent increase in U.S. June auto sales as its Jeep and Ram brands again scored strong gains.
Chrysler, a unit of Italian company Fiat Chrysler, said it sold 171,086 vehicles last month, its best June sales since 2007.
The rise topped the 6.3 percent increase projected by Edmunds.com.
Chrysler, the number-three U.S. automaker, pointed to especially robust year-on-year increases for the Jeep brand (+28 percent) and the Ram Truck line (+14 percent).
Chrysler said sales of its Fiat brand rose 11 percent in June.
"In spite of two fewer selling days in June versus a year ago, we were able to increase our sales nine percent and post our strongest June sales in seven years," said Reid Bigland, head of U.S. sales at Chrysler.
Ford reported June U.S. sales of 222,064, down six percent from June 2013 but still better than the 6.5 percent decline projected by Edmunds.com.
"Both the Fusion and Transit Connect set records in June, continuing their sales momentum," said John Felice, Ford vice president for U.S. marketing, sales and service.
Japanese auto giant Toyota reported an 11.9 percent rise in auto sales to 201,714 units, much better than the 1.3 percent rise projected by Edmunds.
"Sales in the first half of 2014 indicate a steadily recovering industry, and we expect this pace to increase as we move into the second part of the year," said Bill Fay, Toyota division group vice president and general manager.
AFP Photo/Geoff Robins