U.S. Business Spending Slips, New Home Sales Rise In August
@reuters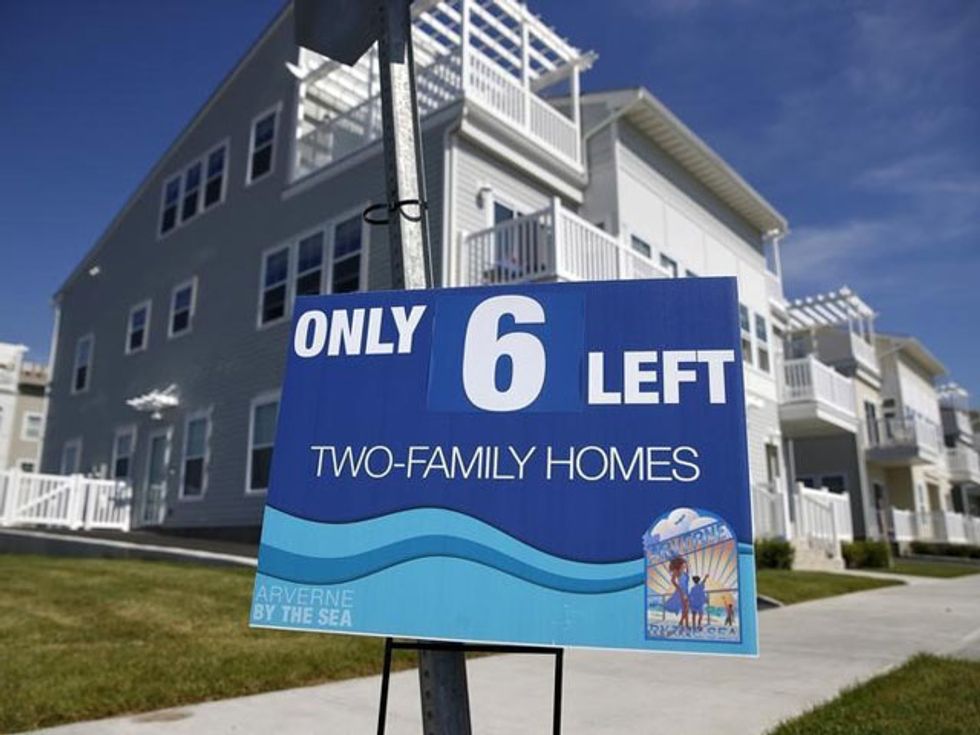 By Jason Lange
WASHINGTON (Reuters) — U.S. business investment fell slightly in August, excluding spending on aircraft and defense equipment, but new home sales rose, suggesting that global economic headwinds were doing little to impede U.S. growth.
The U.S. economy is on track to grow 1.4 percent in the third quarter, the Atlanta Federal Reserve's GDPNow forecast model showed on Thursday.
The Commerce Department said capital goods orders excluding military wares and aircraft, a closely watched proxy for business spending plans, dropped 0.2 percent last month, a slightly bigger fall than analysts polled by Reuters had expected.
However, August's decline followed a gain in July that was the largest in over a year and which had boosted optimism that many American companies were unfazed by weak overseas markets.
The recent trend in orders gives a good signal for economic growth in the third quarter after business investment on equipment fell in the April-June period.
"Investment in equipment appears to be recovering," said Paul Ashworth, an economist for Capital Economics.
Durable goods orders overall fell 2.0 percent in August, in line with forecasts, but held back by a sharp decline in orders for civilian aircraft. Excluding transportation, orders were little changed.
Some business sectors are being hit by falling commodity prices though, with Caterpillar Inc (CAT.N) saying it might close or consolidate more than 20 plants around the world across its three large businesses — construction, resources, and energy and transportation.
Caterpillar Inc cut its 2015 revenue forecast and said it could cut up to 10,000 jobs through 2018, on Thursday joining a list of big U.S. industrial companies grappling with the shock waves from the mining and energy downturn.
U.S. stock prices were lower in afternoon trading on Thursday, weighed down by a 6.0 percent fall in the shares of Caterpillar, the world's biggest mining and construction equipment maker. [.N]
Other economic data on Thursday showed that robust job growth over the last year has helped the country's housing market, which took a big hit in the 2007-09 recession.
A separate report from the U.S. Labor Department showed initial claims for state unemployment benefits rose by 3,000 to a seasonally adjusted 267,000 for the week ended Sept. 19. Analysts had expected new claims to rise more.
The four-week moving average of jobless claims fell by 750 to 271,750, which was close to its lowest level since 2000 and suggests the job market continues to strengthen.
The trend in jobless claims continues to give bullish signs on the health of the U.S. labor market, which is critical for the Federal Reserve's plans to lift interest rates as soon as this year.
Other U.S. economic data on Thursday showed new home sales in August surged 5.7 percent to an annual pace of 552,000 or the highest level since 2008. The gain was much larger than analysts had expected and came on the back of a strong revision in the pace of sales during July.
Fed Chair Janet Yellen said last week that the Fed declined to raise interest rates in September in part because of concerns that weakness in China's economy could slow global economic growth, but there is little sign of an appreciable U.S. slowdown yet.
The U.S. economy is on track to grow 1.4 percent in the third quarter following a steeper-than-forecast 4.8 percent drop in home resales in August, the Atlanta Federal Reserve's GDPNow forecast model showed on Friday.
This was a slightly slower pace from the regional Fed bank's prior estimate of 1.5 percent on Sept. 17, the Atlanta Fed said on its website.
"The decline occurred on Monday when the model's forecast for third-quarter real residential investment growth fell in response to the existing home sales release from the National Association of Realtors," the Atlanta Fed said on its website.
The government will release its third reading of U.S. gross domestic product in the second quarter at 8:30 a.m. (1230 GMT) on Friday. Analysts polled by Reuters forecast the final reading on second-quarter GDP likely come in at 3.7 percent. (ECONUS)
(Reporting by Jason Lange; Editing by Andrea Ricci and Clive McKeef)
Photo: An advertisement for two-family homes is seen outside an oceanside community in the Rockaway area of the Queens borough of New York, September 16, 2015. REUTERS/Shannon Stapleton