U.S. 'Concerned' Over IS-Beseiged Border Town
@AFP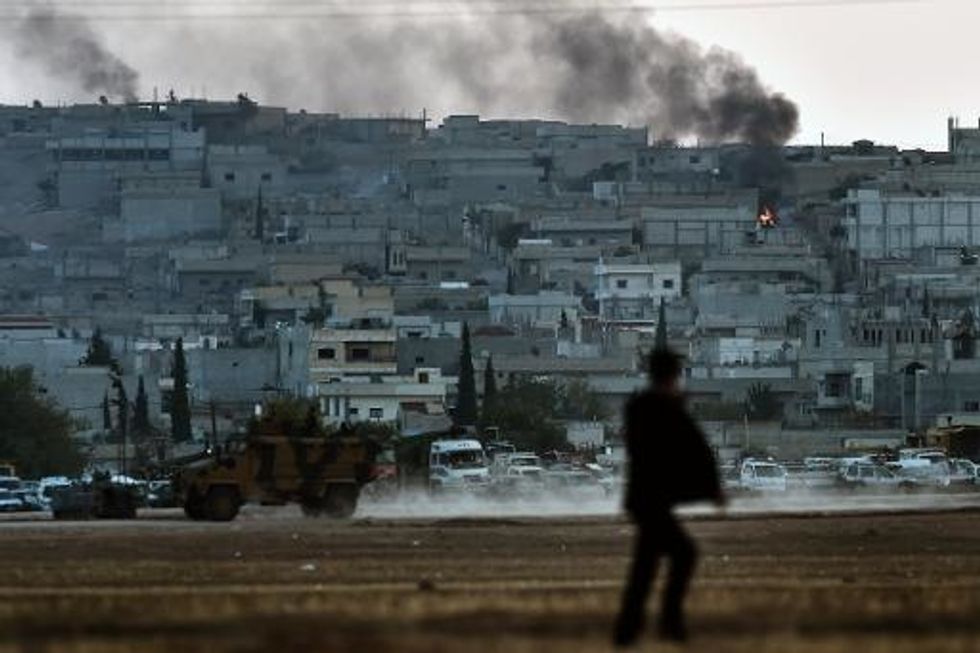 Washington (AFP) — The United States said Tuesday it was "horrific" watching in real time the battle for the Syrian border town of Kobane, insisting it did not want to see the city fall to Islamic militants.
The blitz on Kobane by the Islamic State group follows a three-week siege that sent 190,000 refugees streaming into Turkey — and despite U.S.-led coalition air attacks, the town appears on the verge of falling.
In a measure of U.S. concern, Secretary of State John Kerry spoke late Monday and again Tuesday with Turkish Prime Minister Ahmet Davutoglu about the crisis, as Kerry's spokeswoman said "it's horrific for everyone to watch in real time what's happening in Kobane.
Turkish President Recep Tayyip Erdogan warned Tuesday that air strikes alone would not halt the Islamic State advance, which has already killed hundreds of people in the town.
"I am telling the West — dropping bombs from the air will not provide a solution," he said, calling for cooperation on a ground operation without offering to send in any Turkish troops.
A State Department official, who asked not to be named, admitted it was "a challenge" to get Turkey on board with fighting to protect Kobane, which has been a stronghold of Syrian Kurds.
Turkish authorities are wary of any moves that could encourage Kurdish separatism. Kurds bitterly accuse Ankara of merely looking on as the town risks being overrun by jihadists despite the dozens of Turkish tanks deployed on the border.
"Having them do more requires them moving beyond that" anti-Kurd position, the State Department official said.
– White House 'very concerned' –
White House spokesman Josh Earnest told reporters on Air Force One that Washington was "very concerned" about the safety of innocent civilians.
"Once again, we are seeing this extremist organization, in the name of an otherwise peaceful religion, Islam, perpetrating terrible acts of violence against religious and ethnic minorities."
"This is something we remain concerned about."
Multiple coalition air strikes around Kobane overnight destroyed four IS armed vehicles including one carrying an anti-aircraft artillery battery. Another vehicle and a tank were damaged and a IS unit destroyed, U.S. officials said.
General John Allen, the special U.S. envoy in charge of forging the anti IS-coalition, and top Iraq pointman Brett McGurk are due to arrive in Ankara for talks with Turkish officials on Thursday and Friday.
"I think Turkey is determining what larger role they'll play broadly as a part of the coalition moving forward," said State Department spokeswoman Jen Psaki.
But she dodged the question on whether it was a U.S. priority to save the city, saying: "Certainly, no one wants to see Kobane fall, but our primary objective here is preventing ISIL from gaining a safe haven."
The U.S.-led coalition wants to stop the group, also known as ISIL, from being able to "stage attacks in Iraq, and possibly plan attacks against U.S. interests."
That was part of "a deliberate, well-thought-out campaign in Syria to disrupt ISIL, specifically their command and control structures, destroy ISIL's critical infrastructure, attack sources of ISIL fuel and financing," Psaki added.
AFP Photo/Aris Messinis
Want more national and political news? Sign up for our daily email newsletter.