U.S. Marks 50th Anniversary Of JFK Assassination
@AFP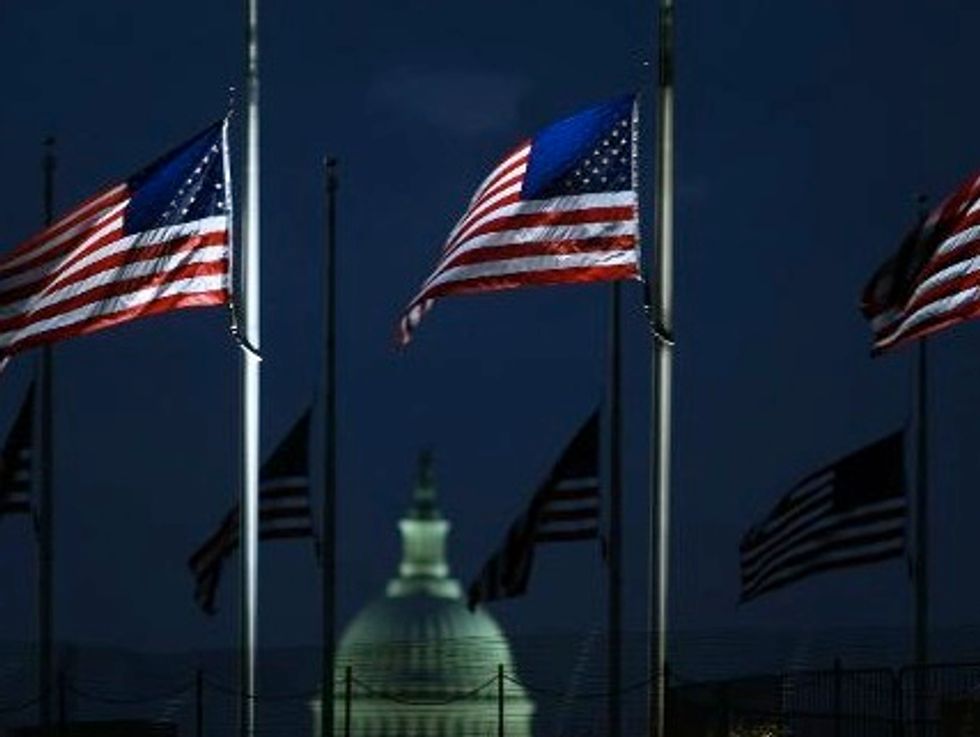 Dallas (AFP) – With flags fluttering at half-mast, bells tolling and children singing, the United States pauses Friday to remember President John F. Kennedy on the 50th anniversary of his assassination.
It was a singularly dark turning point in the nation's history, one that many still remember vividly.
Across America people will reflect upon the words of a charismatic man whose soaring rhetoric and call to service continues to inspire.
"Today, we honor his memory and celebrate his enduring imprint on American history,"President Barack Obama wrote Thursday.
Across the Atlantic, Kennedy will be remembered, too. A wreath laying ceremony is planned in the Berlin neighborhood where Kennedy gave his famed Cold War-era "Ich bin ein Berliner" speech to a rapturous crowd.
At the Tate Modern art gallery in London, the only known contemporary painting of the assassination will go on display.
In a proclamation ordering flags be lowered to half-mast at government buildings and even from people's homes, Obama recalled Kennedy's leadership in the Cuban Missile Crisis, his speech in Berlin and his drive to advance the rights of African Americans and women in the United States.
"Today and in the decades to come, let us carry his legacy forward," Obama wrote. "Let us face today's tests by beckoning the spirit he embodied — that fearless, resilient, uniquely American character that has always driven our Nation to defy the odds, write our own destiny, and make the world anew."
'The power to change this country is ours'
Former French president Valery Giscard d'Estaing said his nation, too, was stunned by the killing of Kennedy and what his death brought to a halt.
"When a dream is killed, it is not just the person who is killed. The dream is killed with him," he told French radio.
He recalled the Kennedy White House, which he visited, as a place brimming with youth eager to change the world. "He inspired me deeply," Giscard d'Estaing said.
Kennedy's voice still echoes through history to so many Americans.
"Ask not what your country can do for you; ask what you can do for your country," he urged Americans at his inaugural address on January 20, 1961.
Cut down in his first term at the age of 46 as he was driven through Dallas, Texas in an open-top limousine on November 22, 1963, Kennedy's unfulfilled promise has become a symbol of the lost nobility of politics.
He was a president who enlisted the nation in lofty goals — like putting a man on the Moon — "not because they are easy, but because they are hard."
The anniversary has sparked a prolonged period of national and media reflection on the unfinished tenure of the nation's 35th president, his tragedy-stricken family and the evocative period in the early 1960s when his political star illuminated the world.
He was the fourth U.S. president to be killed in office, but the first whose death was caught on film.
The crime – and the image of blood splattered on the pink Chanel suit of his glamorous wife Jackie – stunned the world and traumatized the nation.
Conspiracy theories
Many refuse to believe the killing could be the act of a single man: troubled Marine Corps veteran turned Soviet defector Lee Harvey Oswald, 26, who pointed a rifle out a sixth floor window of the Texas Book Depository and fired on the presidential motorcade.
Conspiracy theories continue to captivate doubters and aid an allied industry of books, films and television specials.
The most prominent ceremonies marking his passing will be held in the places with the strongest Kennedy claims: his birthplace of Massachusetts, the Washington of his White House victory and Dallas, where he died.
A moment of silence will be observed at Dealey Plaza and its infamous grassy knoll as Dallas marks the moment the shots rang out at 12:30 pm (1830 GMT) before celebrating Kennedy's legacy with music, prayer and speeches.
Elsewhere in the city, the Texas Theater will be screening the film that Oswald was watching when he was arrested — War is Hell.
Kennedy's presidential library in Boston will launch a new exhibit of artifacts from his funeral and mark his death with music, excerpts of his speeches and a moment of silence.
In Washington, a memorial mass will be held at St. Matthew's Cathedral while the John F. Kennedy Center for the Performing Arts will lay a wreath at his bust and discuss his legacy at the beginning of the evening's classical music performance.
The New York Public Library will stage an exhibit of letters of condolence sent to Jackie.
AFP Photo/Mark Wilson