U.S. On Brink Of Government Shutdown
@AFP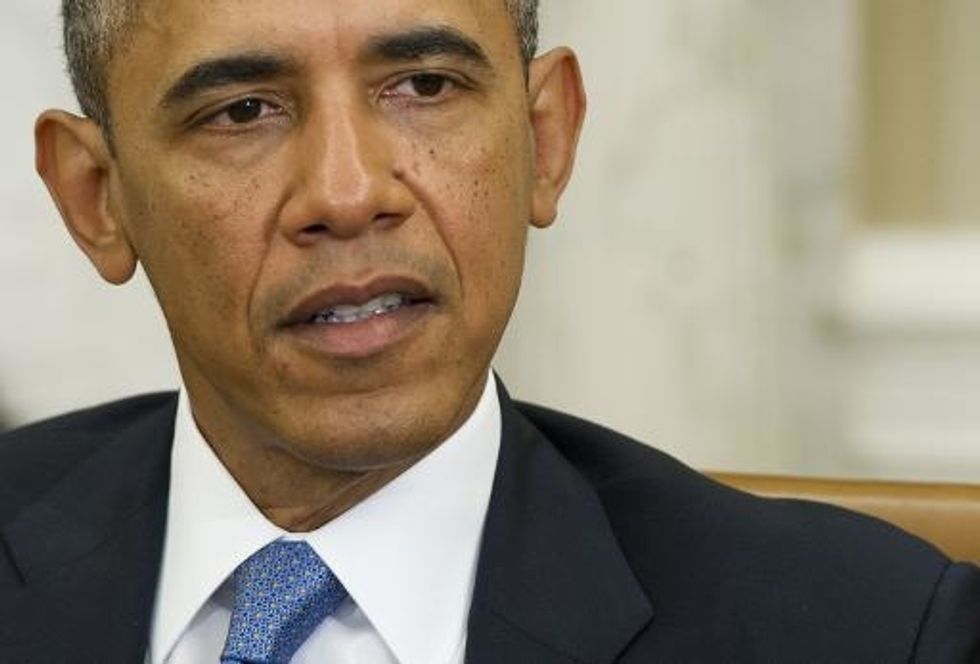 Washington (AFP) – The United States stumbled to within hours of a government shutdown, as a budget duel between President Barack Obama and Republicans threatened America with a self-inflicted economic wound.
As a mood of crisis enveloped Washington, three hours before a midnight deadline, there were no signs of compromise to head off the first such disaster in 17 years.
Instead, the Democratic-led Senate and Republican House of Representatives played a futile game, sending funding bills between them that were doomed to fail.
The U.S. Senate late Monday swiftly killed the latest House measure to delay Obama's health care law.
Obama accused Republicans of holding America to ransom with their "extreme" political demands, while his opponents struck back at his party's supposed arrogance.
Around 800,000 government workers faced being sent home, government services were to be slashed and monuments such as the Statue of Liberty and national parks were to be closed.
The crisis is rooted in an attempt by "Tea Party" Republicans in the House of Representative to make passage of a new government budget conditional on thwarting Obama's signature health reform law.
The Democratic-led Senate and the president have repeatedly rejected this strategy and are urging Republicans to pass an extension to government funding to temporarily stave off the shutdown.
In a deeper sense, the shutdown is the most serious crisis yet in a series of rolling ideological skirmishes between Democrat Obama and House Republicans over the size of the U.S. government and its role in national life.
"One faction of one party in one house of Congress in one branch of government doesn't get to shut down the entire government just to re-fight the results of an election," Obama said, referring to his own re-election.
"Time is running out. My hope and expectation is that in the eleventh hour once again, that Congress will choose to do the right thing and that the House of Representatives in particular will choose the right thing.
"You don't get to extract a ransom for doing your job, for doing what you're supposed to be doing anyway," he said, in a stern televised statement at the White House.
But on a day of accelerating brinkmanship, Republicans doubled down on their bid to gut Obamacare, as the health care law, the most sweeping social legislation in decades, is known.
With just three hours to go, House lawmakers passed a bill that would delay the individual mandate, which forces all Americans to buy health insurance under the new law, for a year.
"It's a matter of fairness for all Americans," said Republican House speaker John Boehner, who has struggled to control the riotous anti-government Tea Party faction of his caucus.
But the Senate, which must also sign off on budget measures, immediately rejected the bill.
That left House leaders with perhaps a final decision on whether to pass the "clean" budget resolution stripped of all political riders that Democrats are demanding, before the government closes down.
Democratic congressman Alan Grayson accused Republicans of "playing charades" and trying to deprive 40 million uninsured Americans of health care.
But one Republican, congressman Lou Barletta believed that a last minute compromise could emerge.
"At the end of the day we'll vote for a clean (budget) … to keep the government running."
Obama warned that a government shutdown could badly damage an economy which has endured a sluggish recovery from the worst recession in decades.
"A shutdown will have a very real economic impact on real people, right away. Past shutdowns have disrupted the economy significantly," Obama said.
Consultants Macroeconomic Advisors said the shutdown would slow growth, recorded at a 2.5 percent annual pace in the second quarter.
A two-week shutdown would cut 0.3 percentage point off of gross domestic production.
A shutdown would also have a painful personal impact on workers affected — leaving them to dip into savings or delay mortgage payments, monthly car loan bills and other spending.
Stocks on Monday retreated as traders braced for the shutdown. The Dow Jones Industrial Average was down 128.57 points (0.84 percent) to 15,129.67.
Markets are likely to be even more traumatized if there is no quick solution to the next fast approaching crisis.
Republicans are also demanding Obama make concessions in the health care law to secure a lifting of the current $16.7 trillion debt ceiling, without which the United States would begin to default on its debts for the first time in history by the middle of October.
"Congress needs to keep our government open, needs to pay our bills on time, and never, ever threaten the full faith and credit of the United States of America," Obama said.
But Boehner hit back, saying the health law, large tranches of which come into force on Tuesday, was "not ready for prime time."
Democratic Senator Chuck Schumer meanwhile likened Boehner to a priest in a Mayan ceremony, making "a sacrificial offering to the right-wing gods."
The dispute is threatening Obama's plans to head to Asia for a week-long trip on Saturday to pursue his rebalancing of foreign policy towards the dynamic region.
Polls show more Americans would blame Republicans for the shutdown than Democrats, leaving Boehner torn between his party's wider political interests and a vocal section of his own party.