U.S. Stars Look To Shine In Moscow
@AFP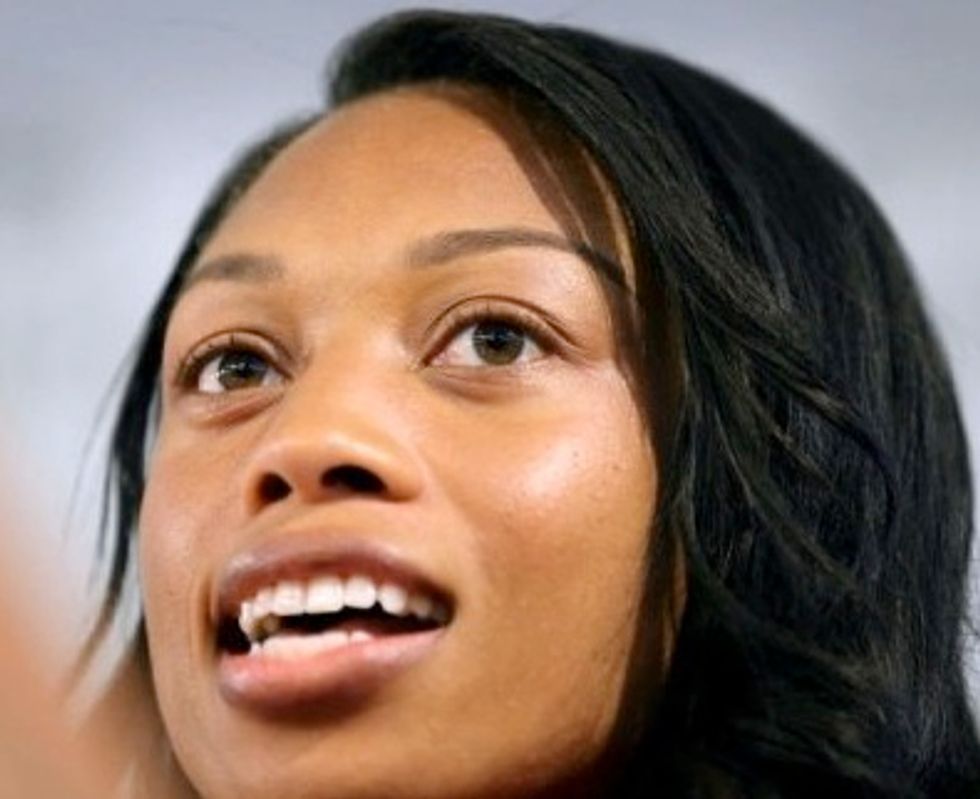 MOSCOW (AFP) – A star-studded American team is ready to impress at the World Athletics Championships that start in Moscow at the weekend, men's head coach Mike Holloway said Wednesday.
And Holloway is expecting the team to set the world alight.
"I'm very excited with the team's work in the training camp and really impressed with their preparation for the event. By their passion as well," he told reporters in Moscow.
"We have a good mix of youth and experience as nine defending world champions and five world record holders came here, along with some young athletes."
Olympic champion Aries Merritt, the world record holder in the men's 110m hurdles, believes records could tumble at the Luzniki stadium.
"The practice tracks here are extremely fast, they are similar to what we had in London (for the Olympics), except they're blue. And if the arena's track is the same, then we should expect a lot of fast times here," he said.
"This year the results were relatively slower than we had in previous years. It's just because of the Olympics. Many of the athletes still feel tired and drained after the tough preparation and high-grade competition at the Olympic Games."
Sprint star Allyson Felix said she was enjoying being one of the elder stateswomen as she prepares to concentrate on her favorite 200-meters event.
Felix, 27, has performed at 100m, 200m and 400m during an illustrious career but the majority of her medal-laden success has come in the half-lap discipline, which is her sole focus in Moscow.
"I am excited to be back at the world championships and focus on the 200 which I have not done in quite some time, get back to where I started from and enjoy the World Championships," the London Olympic 200m champion told reporters in Moscow.
"I also hope to be on both relays here." she added.
Felix is aiming to reclaim the world 200m title she lost in Daegu two years ago when finishing third, having gone into that championship as the triple world champion at her best event.
Felix, for so long the young standard bearer of U.S. athletics, also said that it felt strange to be one of the oldest athletes in the U.S. squad and to serve as a mentor to the younger ones.
"I am old now!" she said laughing. "It is very weird, time is going by… and it's a lot of fun to see the younger athletes come up.
"It is great to be able to give them advice, make sure they stay focussed and enjoy the journey and all that. They have blank pages in front of them, it is the beginning of their careers.
"It is definitely a different experience to be one of the older people on the team."
Photo Credit: AFP/Kirill Kudryavtsev