U.S. Stocks Fall As Budget Fight Continues
@AFP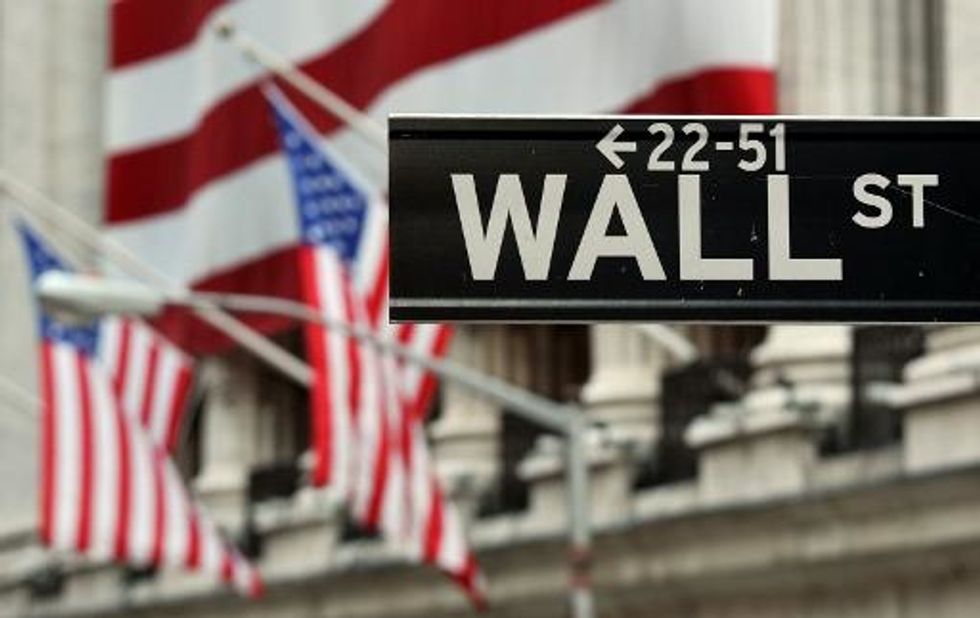 New York City (AFP) – U.S. stocks Monday finished lower as a partial U.S. government shutdown entered its second week with no sign of resolution.
At the closing bell, the Dow Jones Industrial Average fell 135.76 (0.90 percent) to 14,936.82.
The broad-based S&P 500 tumbled 14.31 (0.85 percent) to 1,676.19, while the tech-rich Nasdaq Composite Index gave up 37.36 (0.98 percent) at 3,770.40.
The paralysis in Washington continued to weigh on markets. Analysts have expressed particular concern that the fight over the budget will stymie efforts to raise the budget ceiling, resulting in a U.S. default with damaging economic consequences.
However, the market still considers a U.S. default unlikely, said Peter Cardillo, chief market economist at Rockwell Global Capital.
"If the markets were really fearful of a default…. we wouldn't be down a half a percent or three-quarters of a percent," Cardillo said. "We would be down a heck of a lot more."
Banking equities were among the hardest-hit. Dow component JPMorgan Chase fell 1.6 percent, Citigroup dropped 2.0 percent and Wells Fargo dipped 1.7 percent.
Dow component Boeing dropped 0.4 percent after Japan Airlines announced a massive $9.5 billion aircraft order with competitor Airbus. The decision challenged Boeing's dominance in the Japanese market.
Dow component IBM took a 1.1 percent hit after Barclays downgraded the stock to "equal weight" due to the lack of near-term catalysts for the stock.
Other technology companies also suffered, including Microsoft (down 1.7 percent), Amazon (down 2.8 percent), Priceline (down 1.9 percent) and eBay (down 1.8 percent).
An exception was Apple, which advanced 1.0 percent after Jefferies upgraded the stock to "buy" following meetings with Asian suppliers who were enthusiastic about upcoming Apple products.
Cooper Tire & Rubber tumbled 12.8 percent as doubts rose over the prospects of a $2.5 billion takeover of the company by India's Apollo Tyres. Apollo has sought a reduction in the price of the transaction, but Cooper maintains no cut in price is warranted.
Defense contractor Lockheed Martin rose 0.9 percent after the company reduced the number of workers sent home without pay to 2,400 from 3,000 following the Pentagon's decision to recall most of its furloughed employees.
Bond prices rose. The yield on the 10-year U.S. Treasury slipped to 2.63 percent from 2.65 percent Friday, while the yield on the 30-year Treasury dropped to 3.70 percent from 3.73 percent. Prices and yields move inversely.
AFP Photo/Stan Honda