U.S. Warns Karzai It May Leave No Troops In Afghanistan
@AFP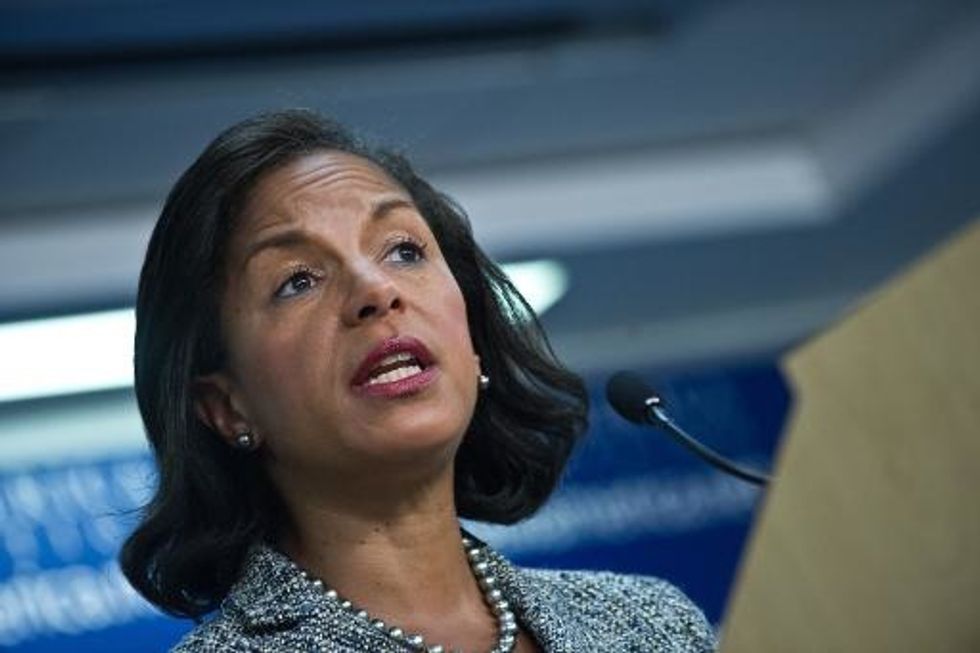 Kabul (AFP) – U.S. national security advisor Susan Rice told Afghan President Hamid Karzai Monday that a delay in signing a troubled security deal risked the U.S. pulling troops out of the country completely next year.
The U.S. said that Karzai had called for "new conditions" for signing the bilateral security agreement (BSA) to allow U.S. forces to remain in the country after 2014.
The president held talks with Rice in Kabul after he hedged on when he would accept the deal despite a "loya jirga" assembly of Afghan tribal elders and politicians on Sunday urging him to sign it promptly.
"Without a prompt signature, the U.S. would have no choice but to initiate planning for a post-2014 future in which there would be no US or NATO troop presence in Afghanistan," Rice told Karzai, according to a White House statement Monday.
"Ambassador Rice stressed… that deferring the signature of the agreement until after next year's elections is not viable" when she met with Karzai at the end of a three-day trip to Kabul, it added.
Washington was ready to sign the deal in the coming days following the loya jirga's decision, the statement said.
But "in response, President Karzai outlined new conditions for signing the agreement and indicated he is not prepared to sign the BSA promptly".
Karzai stressed his demands for "no operations by foreign forces in residential areas, a sincere start of a peace process (with Taliban insurgents), and the holding of transparent elections," his office said after Monday's late-night meeting.
At the tribal assembly last week in Kabul, Karzai exasperated Washington by saying he wanted to delay signing the deal until after April's presidential election, when he is due to step down.
The BSA will permit some U.S. soldiers to remain after the end of 2014 when most of NATO's 75,000 U.S.-led troops pull out.
"We believe it's untenable and impractical to wait until January to have this thing concluded," Pentagon spokesman Colonel Steve Warren told reporters Monday.
"We want it closed. The American government wants it. The Afghan people want it, so Karzai needs to sign."
Supporters say the BSA is vital because the Afghan government remains fragile despite 12 years of war against the Taliban.
Rice's trip to Afghanistan was planned before the latest setback for the BSA, but National Security Council spokesman Patrick Ventrell told AFP that Monday's talks were at Karzai's request.
Karzai's office added that he asked Rice for his demands to be passed on to President Barack Obama.
Karzai said on Sunday he would "continue bargaining" on the BSA, which was hammered out after months of difficult negotiations with Washington.
The Taliban, who before the assembly had threatened to target delegates if they backed the BSA, condemned the pact.
The "illegal and insignificant pact of slavery with America will neither benefit the American invaders nor criminal slaves", they said in a statement referring to the jirga members.
After four days of discussions, jirga delegates — who were convened by Karzai to vote on the BSA issue — said that he should sign before the end of 2013.
Karzai last week also appeared to toughen his stance on U.S. military raids on Afghan homes, a sensitive topic that threatened to derail the negotiations.
"If the U.S. goes into Afghan homes one more time, there will be no agreement," he said.
Kate Clark, senior analyst with the Afghan Analysts Network, said Karzai may be genuinely concerned about what could happen once the Americans had the BSA.
"As Karzai said on the first day of the jirga, there is no trust between them. He does not believe their assurances," she wrote on the AAN website.
"He wants to hold on to some form of leverage, as, in his mind, this is the only way to force the U.S. to refrain from stomping over Afghan sovereignty."
The U.S. has warned that failure promptly to sign the pact could jeopardize billions of dollars in aid, and that Obama had not yet decided whether to keep any American forces in Afghanistan at all beyond 2014.
The draft text of the BSA released by Kabul appeared to show Karzai had bowed to a U.S. demand that American troops would remain exempt from Afghan jurisdiction if they are accused of crimes.
The issue of U.S. troop immunity sank a similar deal in Iraq in 2011, leading the Americans to pull out completely. The country is now in the grip of some of its worst sectarian violence since 2008.
Rice's visit to Afghanistan, her first trip abroad as national security advisor, will also include meetings with U.S. troops, development experts and diplomats.
AFP Photo/Nicholas Kamm