U.S. Withdraws Staff From Yemen Over Qaeda Alert
@AFP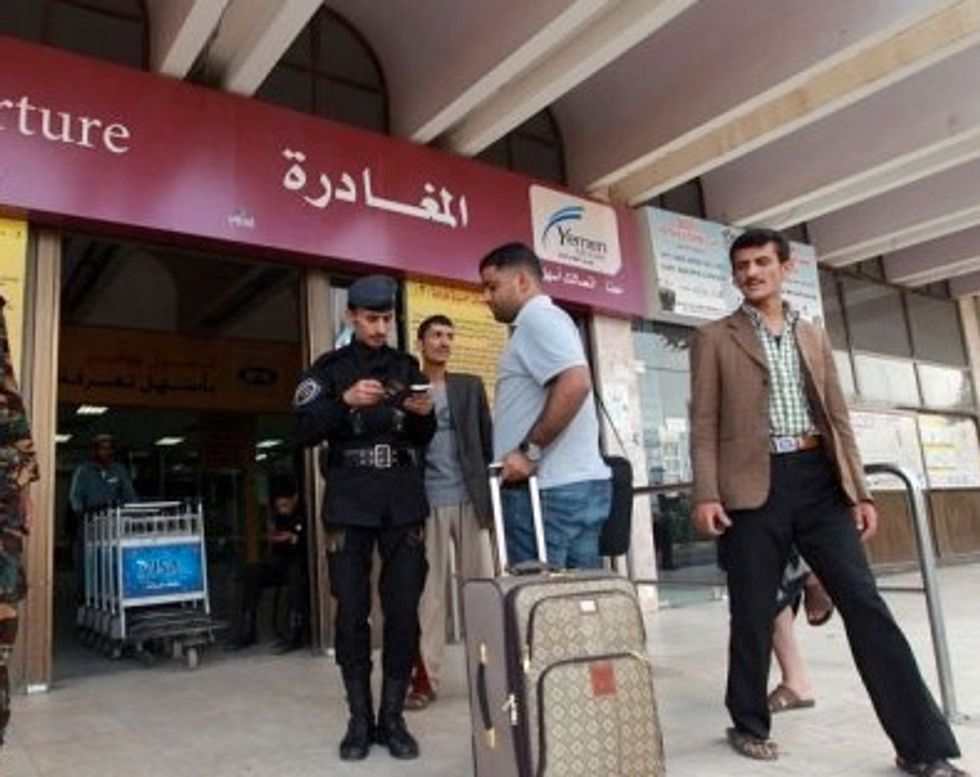 WASHINGTON, District of Columbia (AFP) – The United States and its allies pulled diplomats out of Yemen and stepped up security at missions across the Middle East amid fears of an imminent Al-Qaeda attack.
Washington has closed 19 embassies and consulates in the Middle East and Africa, citing intercepted communications among militants, reportedly including an attack order from Al-Qaeda leader Ayman al-Zawahiri.
While the closures span cities across the Arab world, the focus of concern has been Yemen, where American forces are fighting a drone war against Al-Qaeda's powerful regional affiliate.
U.S. President Barack Obama, appearing on a late-night comedy show Tuesday, said his administration was taking "every precaution" but that Americans should not panic.
"If people are paying attention, checking with the State Department or embassy, going on the website before you travel, find out what kind of precautions you should be taking, then I think it still makes sense for people to take vacations," he said.
"They just have to make sure that they're doing so in a prudent way."
The Yemeni government, however, issued a strong response to the diplomatic withdrawal, saying it recognized the safety fears but that the pullout "serves the interests of the extremists."
Such a step "undermines the exceptional cooperation between Yemen and the international alliance against terrorism," the foreign ministry in Sanaa said.
Local authorities had "taken all necessary precautions to ensure the safety and security of foreign missions," it stressed.
Some 75 non-essential staffers at the U.S. embassy in Sanaa exited on a military plane, an American official told AFP on condition of anonymity.
The plane, accompanied by a support aircraft, flew to the U.S. air base in Ramstein, Germany, the official said.
State Department spokeswoman Jen Psaki said the 19 offices are closed to the public, but they continue to provide emergency U.S. citizen services.
"They are instructed to close for normal operations through Saturday, August 10," she added, noting that some staff would remain.
"This decision and the announcement this morning was based on a response to an immediate specific threat."
The State Department warned U.S. citizens not to travel to Yemen and strongly urged any already there to leave "immediately."
The Pentagon said it still had personnel on the ground "to support the U.S. State Department and monitor the security situation."
U.S. ally Britain, meanwhile, announced the temporary withdrawal of all personnel from its embassy in Yemen, saying it would remain closed "until staff are able to return."
France and Germany have also closed their missions and other European countries have taken extra precautions. Belgium, Italy and the Netherlands advised their citizens to leave.
In a separate incident, the U.S. consulate in the Italian city of Milan was briefly evacuated over an apparently false bomb threat.
An AFP correspondent in Sanaa said concrete barriers surrounding the British embassy had been raised higher as part of increased security measures across the capital.
The withdrawal of staff came hours after an apparent U.S. drone strike in Yemen killed four alleged Al-Qaeda militants.
A Yemeni defense official said at least one of the men killed in the strike was a suspect thought to be planning an attack before the end of Ramadan this weekend.
Britain also issued a warning to ships operating in the pirate-plagued waters of the Gulf of Aden off Yemen.
According to media reports, the trigger for the pullback came when U.S. intelligence intercepted messages between Zawahiri and Nasir al-Wuhayshi, the leader of Al-Qaeda's Yemen offshoot, Al-Qaeda in the Arabian Peninsula (AQAP).
The New York Times said Monday that last week's electronic communications revealed Zawahiri had ordered AQAP to carry out an attack as early as last Sunday.
AQAP is seen as the global Islamist militant network's most capable franchise following the decimation of Al-Qaeda's core leadership in Afghanistan and Pakistan in recent years.
The Yemen-based group has attempted several attacks on the United States, including a failed bid to bring down a passenger plane by a man wearing explosives in his underwear and another to send bombs concealed in printer cartridges.
The United States in turn has launched scores of drone strikes in Yemen, where the militant group thrives in vast, lawless areas largely outside the government's control.
In an incident that underlined the level of unrest in the country, a tribal chief said gunmen had downed a Yemeni military helicopter on Tuesday, killing eight troops, in a local dispute with the government over oil pipeline repairs.
Lawmakers in Washington have described the terror threat level as very serious, with some invoking the memory of the September 11, 2001 attacks.
Late last week, the State Department issued a worldwide travel alert warning U.S. citizens of possible attacks on "public transportation systems and other tourist infrastructure."
And on Saturday, the global police agency Interpol issued a security alert over hundreds of militants freed in jail breaks, notably in Pakistan, Iraq and Libya.
Photo Credit: AFP/Mohammed Huwais