Ukraine Considers State Of Emergency As Ministry Seized
@AFP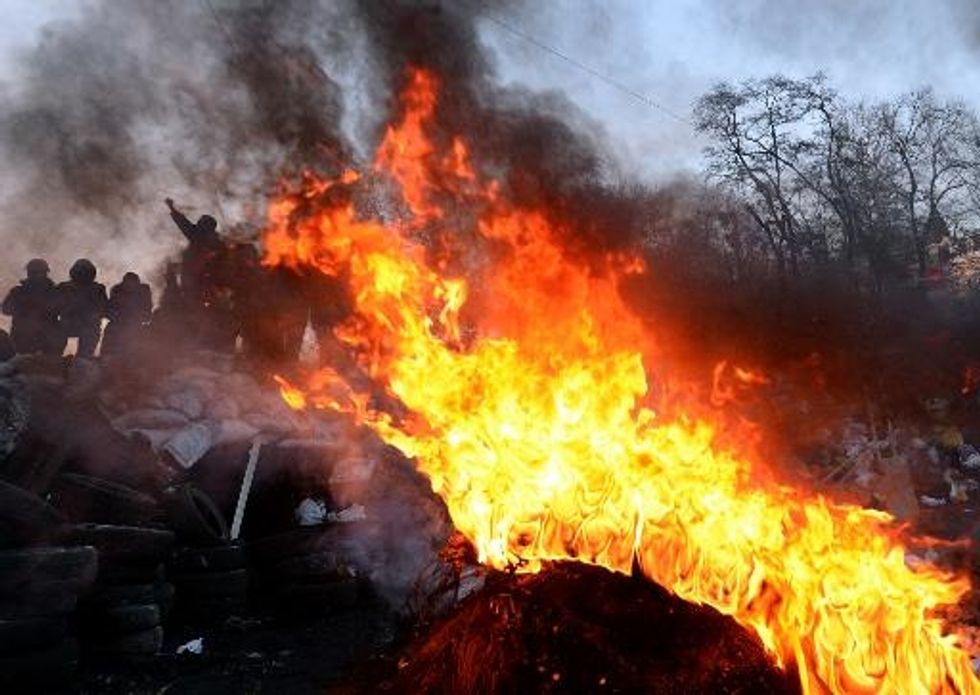 Kiev (AFP) – A Ukrainian government minister on Monday warned protesters that a state of emergency could be imposed to deal with the country's deadly crisis, after radicals seized the justice ministry in Kiev.
The storming of the justice ministry threatened to derail talks between the opposition and President Viktor Yanukovych to find a peaceful outcome to a boiling standoff that according to officials has left three activists dead.
The Ukrainian parliament on Tuesday was due to meet to discuss concessions proposed by Yanukovych to end the crisis, in a highly anticipated extraordinary session that could be a make-or-break moment to resolve the standoff.
With concern growing in the West that the situation in Ukraine is spiraling out of control, the crisis was also set to dominate an EU-Russia summit on Tuesday.
The protests, which began in November as a drive for EU integration after Yanukovych ditched a key deal with the bloc under Russian pressure, have now turned into an all out uprising to unseat him.
Tensions remained high in Kiev as several dozen radical protesters from a group named Spilna Sprava (The Right Deed) seized control of the justice ministry late Sunday, smashing windows and erecting new barricades outside.
Justice Minister Olena Lukash, who is taking part in the negotiations, said she would ask for the talks to be broken off if the building was not freed.
"I will be forced to ask the president of Ukraine to stop the talks if the building is not freed immediately and negotiators are not given a chance to find a peaceful solution to the conflict," Lukash told Ukraine's Inter channel.
If the protesters do not vacate the building, Lukash said she would also approach Ukraine's national security council with "a demand to discuss imposing a state of emergency in this country."
The Interfax-Ukraine news agency said opposition leader and former boxing champion Vitali Klitschko, who is involved in the negotiations with the president, had visited the scene overnight and asked the protesters to leave, but to no avail.
The authorities have been rumoured to have considered imposing a state of emergency but the prospect of such an extreme step had reportedly unnerved many in Yanukovych's Regions Party.
Protesters now control much of the city center of Kiev around the protest hub of Independence Square, with their camp protected by barricades several meters high and guarded by activists dressed in balaclavas and armed with baseball bats.
But the rebellion has now spread well beyond Kiev, with protesters occupying regional administrations in all but one region in the west of the country which has traditionally been anti-Yanukovych.
But most worryingly for the president, protests have swept to the country's east and center, usually considered more the president's heartland.
Protesters have now blockaded or attempted to blockade 14 of the 25 regional administrations across Ukraine.
However the security forces appear to have been fighting back in the east, using force to disperse protests in the regional centers of Dnipropetrovsk, Cherkasy and Sumy, local media reports said.
Under unprecedented pressure, Yanukovych on Saturday offered the opposition posts in government including that of prime minister, but his opponents said the offer fell short of their needs.
Yanukovych proposed sharing leadership with Fatherland party chief Arseniy Yatsenyuk as prime minister and UDAR (Punch) chief Klitschko as deputy prime minister.
Klitschko, who is believed to have a personal rivalry with Yatsenyuk, condemned the proposal as a "poisoned offer" in an interview with German newspaper Bild am Sonntag.
Opposition leaders have been careful to neither accept nor explicitly reject Yanukovych's proposals. They have said talks will continue although it was not clear when.
Yanukovych's office has also said the president is willing to consider constitutional changes to reduce his power and return to a system according more authority to the prime minister.
A crucial day in the standoff is expected to come Tuesday when parliament meets in an extraordinary session to debate and possibly pass some of the changes offered by the president.
"Yanukovych this week will be more inclined to negotiate as he is getting weaker and the protesters stronger," political analyst Yevgen Glibovitsky wrote in a column for online newspaper Ukrainska Pravda.
The parliament session also coincides with an EU-Russia summit where President Vladimir Putin will be hosted by European Council president Herman Van Rompuy and European Commission head Jose Manuel Barroso.
The meeting — already shortened to less than three hours — is expected to be shadowed by tensions over Ukraine with Moscow slamming protesters as extremists but the West worried about police violence.
In a statement on Monday, the European Union stressed that an end to human rights violations by the government "was a prerequisite for the restoration of trust."
German Foreign Minister Frank-Walter Steinmeier said "the coming days could decide Ukraine's path into the future."