Ukraine Leader Sees End To War, Eyes EU Membership By 2020
@AFP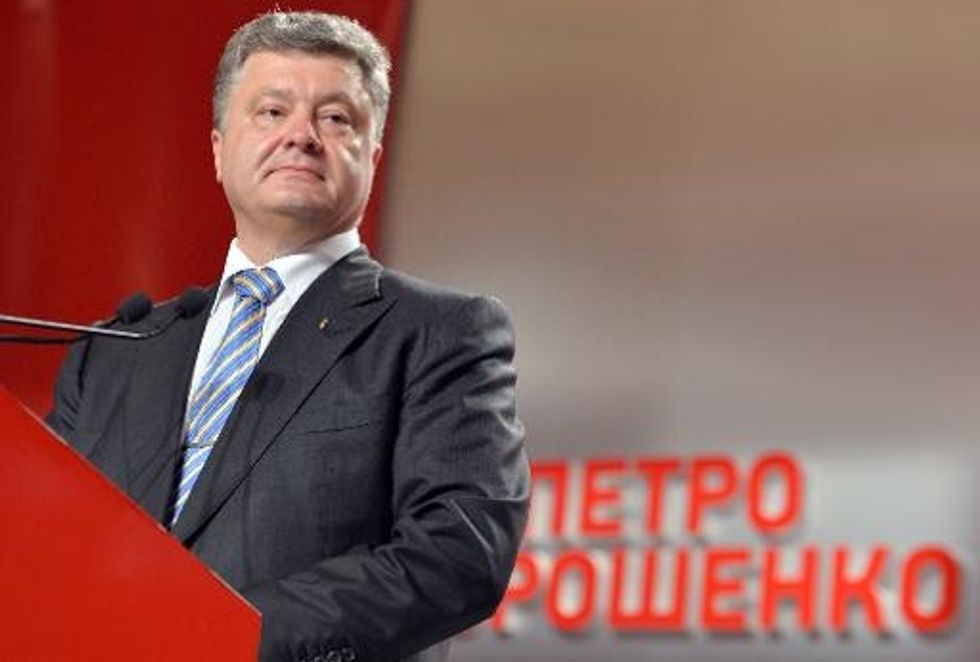 Kiev (AFP) – President Petro Poroshenko has proclaimed an end to the "most dangerous" part of Ukraine's pro-Russian uprising and the start of a post-war recovery that would lead to an EU membership bid in 2020.
But the upbeat message on Thursday was clouded by new deadly clashes and a defiant decision by guerrillas to hold independent elections on November 2 that Poroshenko said he hoped Russia would not recognize.
Fresh negotiations in a politically-charged energy price dispute will take place in Berlin on Friday between Russia, Ukraine and the European Commission.
Russia suspended deliveries to Ukraine in June due to a price dispute, threatening supplies to some European consumers.
The row, along with the escalating costs of war and the shutdown of giant industries in the east, have only accelerated Ukraine's economic implosion.
Pro-Western leader Poroshenko told the first press conference since his June inauguration that he would never allow a resurgent Kremlin and gunmen entrenched in Ukraine's eastern rust belt to halt Kiev's ambition to break out of Russia's embrace.
"We suffered for too long in the socialist camp to let someone lower an iron curtain across our western border," Poroshenko said in reference to Ukraine's Soviet past.
"I have no doubt that the biggest, most dangerous part of the war is already behind us thanks to the heroism of Ukrainian soldiers."
The five-month conflict has killed more than 3,200 people and driven 650,000 from their homes across a bomb-scarred region that once served as the country's economic driving engine.
Poroshenko showed he was determined to continue on a Westward path as he unveiled a comprehensive package of social and economic reforms, dubbed Strategy 2020, which he said "will prepare Ukraine to apply for membership in the European Union in six years".
The plunge in relations between Moscow and Kiev came after the February ouster of a Moscow-backed leader, followed by the Kremlin's annexation of Crimea and its alleged backing of a bloody pro-Russian revolt.
An unexpected militia counter-offensive at the end of last month was only halted when Poroshenko agreed to a truce the Kremlin helped partially draft.
The plan called for rebel-held regions to hold local council elections on December 7 to help restore law and order.
But separatist leaders soon objected because it gave them only limited self-rule for three years. They now plan to form their own "Supreme Soviet" parliament and elect a formal government.
Poroshenko's revival program includes 60 proposals to improve his country's chances of European Union membership — a bid the wealthier European nations currently view with mistrust.
The proposals include efforts to tackle rampant corruption and reform the country's bribe-infested justice system.
Poroshenko also promised to gain "energy independence" — a reference to Ukraine's heavy reliance on Russian natural gas.
To add to his woes, Hungary's gas pipeline network operator FGSZ said Thursday it was indefinitely suspending gas supply to neighboring Ukraine for technical reasons, a move branded "unexpected and unexplained" by Ukraine state-owned gas firm Naftogaz.
The halt in supply came days after a meeting in Budapest between Alexei Miller, head of Russian gas giant Gazprom, and Hungarian Prime Minister Viktor Orban, who often warns against damaging commercial relations with Russia.
Ukraine's economic growth is expected to slow by seven to 10 percent this year, and this has piled more pressure on Poroshenko ahead of parliamentary polls on October 26.
U.S. Commerce Secretary Penny Pritzker is due in Kiev on Friday for talks.
Poroshenko has responded to charges of weakness in the face of Russia by announcing plans to seek NATO membership — a step the Kremlin views as a direct national security threat.
The president reaffirmed his intentions on Thursday by tweeting that he had just "instructed the cabinet minister to revoke Ukraine's non-aligned (nation) status".
Leaders of the G7 most developed economies warned Russia Thursday of more sanctions unless all fighting stops in Ukraine and vowed to stand by the country as winter approaches.
Sanctions "can only be rolled back when Russia meets its commitments related to the ceasefire and the Minsk agreements and respects Ukraine's sovereignty," said the statement from the foreign ministers of Britain, Canada, France, Germany, Italy, Japan, and the United States.
Both Kiev and its Western allies accuse Russia of supporting the rebels in eastern Ukraine by sending in elite forces and heavy weapons.
But rebels are continuing to use sophisticated weapons to launch sporadic raids and on Thursday a soldier was killed on the outskirts of the government-held southeastern port of Mariupol.
Ending weeks of speculation, Poroshenko on Thursday ordered his government to prepare the temporary closure of the 1,200-mile land frontier with Russia as part of efforts to halt its "intervention" in Ukraine's state affairs.
The decision looks set to further hurt Ukraine's recovery chances by halting trade between the mutually dependent nations and increasing the likelihood of Russia adopting retaliatory steps.
AFP Photo/Sergei Supinsky