Ukraine's Soldiers In Crimea Await Their Orders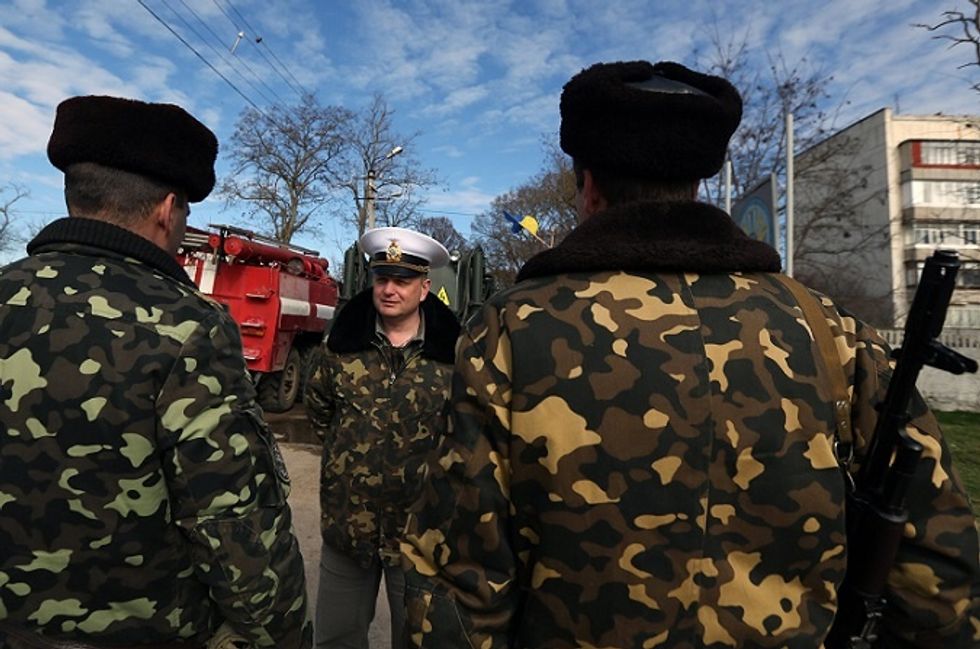 By Sergei L. Loiko, Los Angeles Times
NOVOFEDOROVKA, Ukraine — As Crimea was declaring its independence from Ukraine on Monday and looking forward to once again becoming part of mother Russia, thousands of Ukrainian servicemen stationed on the peninsula were pondering hard options and awaiting instructions from Kiev.
If some Crimeans were jubilant over the results of a Sunday referendum backing independence, the members of the Ukraine brigade with a navy air unit stationed in this small town were full of concerns. They faced options that could forever change their families' lives, leaving some to choose whether to betray their homeland, their oath of allegiance and their officers' honor, said Col. Igor Bedzay, the unit commander.
"Our fate is in limbo and our lives may be hanging in the balance too," Bedzay said in an interview inside his command station Monday. "We are men of orders and discipline and we'd rather fulfill any order given by our commanders than take our own decision now."
Bedzay didn't wait for orders early this month when he commanded his men to fly their AN-26 and B-12 planes to mainland Ukraine as a battalion of Russian troops prepared to seize the aircraft.
As the Russians approached the airfield, they could see the Ukrainian anti-submarine planes taking off one after another without warming up their engines.
On the same day, more than three dozen Ukrainian MIG-29s were captured by Russian forces at the military airport in Belbek when that unit awaited orders from Kiev that never came.
Now, with Bedzay's planes gone, the commander was sitting in his office as his men guarded the base's perimeter and blocked the main gate with a fire engine and fuel truck. A few remaining planes that could not fly were under the control of Russian troops from Chechnya.
The Russians have given Bedzay, his troops and thousands of other Ukrainian servicemen around the peninsula until Friday to choose one of three options, Bedzay said: Quit the service and leave, return to Ukraine proper or join the Russian armed forces.
"My officers come home every day and some of them are under a real pressure from their families, who are talking about higher salaries and higher pensions in Russia," Bedzay said. "I told my men they could do as they choose, but none of them has yet defected, as very few of them took part in this funny referendum."
The defense ministries of Ukraine and Russia reached an agreement that Russian troops in the peninsula "will not be taking any actions in regard to Ukraine armed forces units stationed in … Crimea," acting Ukrainian Defense Minister Ihor Tenyukh said in a statement posted on the ministry's website Sunday night. "Further decisions will depend on how the situation is developing."
Nonetheless, Russian troops on Monday captured the Sevastopol oceanarium, the property of the Ukraine Defense Ministry, known for its history of training dolphins for war sabotage back in the Soviet days, said Dmitry Tymchuk, a Ukrainian military expert.
Until recently, dolphins at the base were used for therapy for disabled children, Tymchuk said.
"If and as soon as Russia accepts Crimea and its new subject, we have information that our units in Crimea will be regarded by Russia as illegal armed gangs with all dire consequences," said Tymchuk, head of the Kiev-based Center of Military and Political Research. "Several options are possible, including opening corridors for our servicemen leaving the units with everything they can carry away. The main thing now is not to fall to pressure and provocations."
On Sunday, representatives of Crimea's pro-Moscow self-defense forces approached Bedzay and demanded his unit join the new army of Crimea.
"This is the most ridiculous option I don't even want to discuss," said Bedzay. "Who are these guys and who do they represent?"
Crimean parliament speaker Vladimir Konstantinov appealed to thousands of Ukraine army and navy officers and servicemen to join the Crimean units.
"Those who out of their convictions don't accept Crimean independence and remain loyal to Ukraine will not be prosecuted," Konstantinov said in televised remarks Monday. "They can continue (military service) in Ukraine's army outside Crimea."
The self-defense forces of the new government comprise not only local militias but many retired military officers from Russia and Cossacks, most of them also from Russia, said Alexei Mazepa, a regional spokesman for the Ukraine Defense Ministry, as he led a tour of the Black Sea coastline near the town of Saki, about 30 miles northwest of Simferopol, the regional capital. Hotels and resort centers previously straining to find customers were now hosting men in uniforms who had arrived from Russia in buses.
As the cold spring wind was blowing white waves on the deserted beaches of Saki, two men with metal detectors were slowly walking along the waterline. They were looking for gold and silver bracelets and necklaces, which people on vacation often lose and the sea sometime throws back onto the sand.
"The self-defense fellows at the hotel told us we should look out for 'fascist mines' planted in the beach by radicals from Kiev," one of them said. "Anyway, our business is coming to an end here, as tourists may not be coming this year if at all."
Photo: Ukrainian Col. Igor Bedzay gives instructions to his soldiers in Crimea, Ukraine on Monday, March 17, 2014. (Sergei L. Loiko/Los Angeles Times/MCT)