'Unconscionable': 300 National Security Experts Back Impeachment Inquiry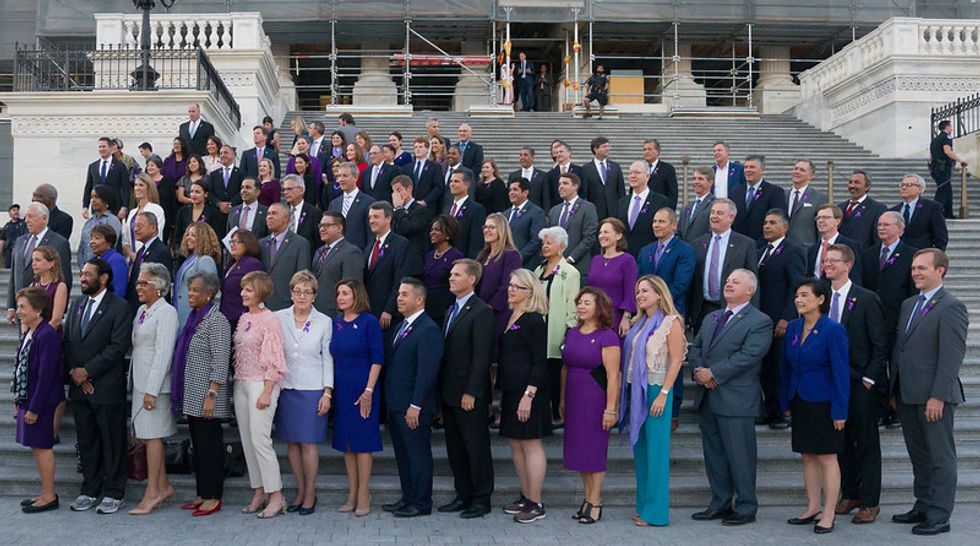 Donald Trump's behavior with the president of Ukraine was so alarming that more than 300 former national security professionals have signed a public statement condemning his actions and applauding the House for opening an impeachment inquiry into the matter.
The statement, spearheaded by National Security Action and released Friday morning, garnered the support of many former federal officials who worked for both Republican and Democratic administrations. And the group expects even more signatures to be added on Friday afternoon.
"President Trump appears to have leveraged the authority and resources of the highest office in the land to invite additional foreign interference into our democratic processes," the letter states. "That would constitute an unconscionable abuse of power. It also would represent an effort to subordinate America's national interests — and those of our closest allies and partners — to the President's personal political interest."
Trump's actions were troubling enough that the signatories applauded "those Members of Congress, including Speaker Pelosi" who supported the decision to open an impeachment inquiry earlier in the week.
The experts said their support for the inquiry stemmed from deep concerns about the security of the country.
"Having worked across administrations of both parties to uphold and advance those national interests, we consider the President's actions to be a profound national security concern," the statement reads. "The introduction of any other considerations of the President debases our democracy, has the potential to make us more vulnerable to threats, and sends a message to leaders around the world that America's foreign policy can be dangerously corrupted by catering to a single individual."
The letter comes amid a growing scandal centered around Trump's phone call with Ukrainian President Volodymyr Zelensky on July 25. During that call, Trump pressured Zelensky to dig up dirt on a potential political rival, former Vice President Joe Biden, in order to influence the 2020 election. Soliciting such information in order to influence an election is illegal.
The issue was brought forward by a whistleblower, rumored to be a CIA agent, and supported by a summary of the Trump-Zelensky phone call released by the White House.
Since the information came to light, Trump has reacted by suggesting the whistleblower — who went through the proper legal channels in raising his or her concerns — is a traitor who should be put to death. At a Thursday congressional hearing, acting Director of National Intelligence Joseph Maguire applauded the whistleblower for doing the right thing and pledged to protect whistleblowers from retaliation.
The majority of the House of Representatives so far supports the ongoing impeachment efforts currently underway, though not a single House Republican has publicly signed on.
Published with permission of The American Independent.