Union Leaders Vow To Fight Walker On Right To Work In Wisconsin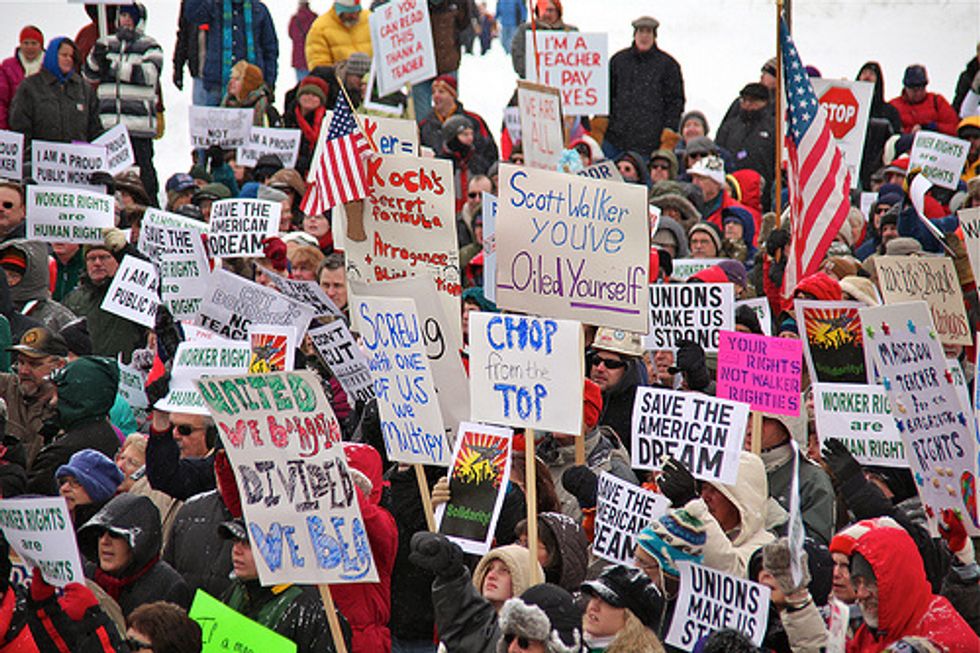 By John McCormick and Mark Niquette, Bloomberg News (TNS)
CHICAGO — More than a dozen Wisconsin labor leaders said anti-union legislation supported by Governor Scott Walker is being rushed through the legislature to discourage discussion.
"If right to work was any good for this state, we wouldn't see it being tried to pass this quickly, with limited debate in an attempt to circumvent democracy," Phil Neuenfeldt, president of the Wisconsin AFL-CIO, said Monday during a news conference in Madison, the state capital.
Republican leaders said Friday that they planned to call up the bill this week and union and other groups plan protests in Madison for Tuesday and Wednesday. The confrontation is set as Walker, 47, looks to build his standing ahead of a likely campaign for the Republican presidential nomination. Four years ago, he battled to restrict collective bargaining for public workers, setting off weeks of protests that overran the Capitol.
The latest legislation would allow employees in private workplaces to opt out of paying union dues, weakening budgets and membership. Such laws are popular among Republicans and business leaders and are viewed as a way to weaken the standing of groups that traditionally back Democrats.
"This bill makes us more like Mississippi," said Rick Badger, executive director of AFSCME Council 40 in Wisconsin, which represents government workers.
Union membership in Wisconsin represented 11.7 percent of its workforce in 2014, down from 12.3 percent a year earlier, according to the U.S. Bureau of Labor Statistics.
Wisconsin's Senate is expected to take up the legislation this week, followed by the Assembly next week. Both chambers are controlled by Republicans and Walker has said he will sign the bill.
Twenty-four states already have right-to-work laws, according to the National Conference of State Legislatures. Three enacted the laws in the past two decades: Oklahoma in 2001, and Michigan and Indiana in 2012, making inroads in traditionally industrial economies.
The Missouri House of Representatives approved a right-to- work bill this month and newly elected Illinois Governor Bruce Rauner has called for curbs on union contracts at the local level.
Walker won re-election to a second four-year term in November, two years after becoming the first U.S. governor to survive a recall in the wake of his first union fight. His status among Republicans soared and encouraged talk of a 2016 presidential bid.
During a weekend governors meeting in Washington, Walker said he supports the bill and thinks there are votes to pass it.
"You're going to see a strong showing in both chambers of the Wisconsin legislature to give people the right, the freedom to choose — just like we gave public employees the freedom to choose four years ago," he told reporters at the National Governors Association meeting.
In December, Walker had said a right-to-work bill would be a "distraction." He now says it's appropriate to consider it because his budget and legislative agenda have been finalized.
It would be "another positive" for his presidential ambitions if the bill passes, Walker said.
___
John McCormick reported from Chicago. Mark Niquette reported from Columbus, Ohio.
Photo: Wisconsin Solidarity rally in St. Paul, in February, 2011 (Chuck Olsen via Flickr)