Unwitting Boebert Offers Strong Argument For New Gun Safety Laws
@next2godwin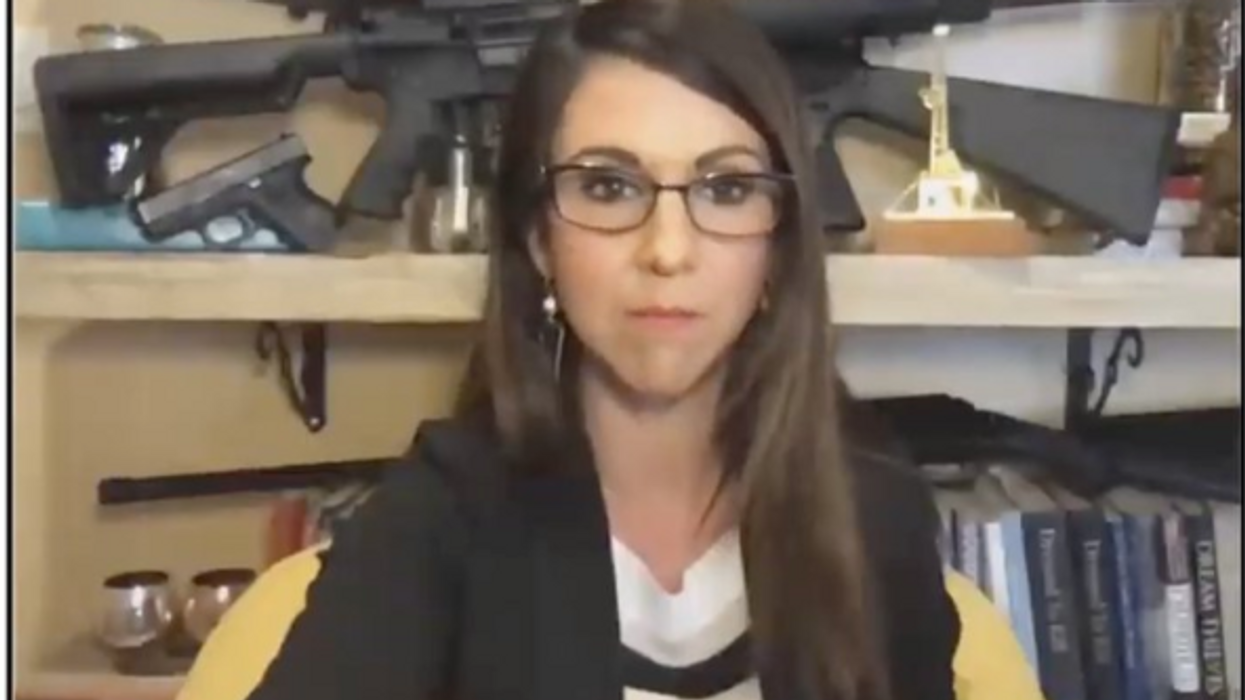 Days after the massacre at an Uvalde, Texas, elementary school — a horrific shooting that left 19 students and two teachers dead — the nationwide clamor for overdue gun control legislation has grown tumultuous. However, Republicans have chosen to mock these calls, and at the forefront is Rep. Lauren Boebert (R-CO).
Boebert, an extremist MAGA Republican and Q-Anon conspiracy theorist, took to Fox News' Hannity Special to offer a bizarre justification for her refusal to support common-sense gun reforms: The United States didn't ban planes after the 9/11 terrorist attacks.
"When 9/11 happened, we didn't ban planes — we secured the cockpits," Boebert told Sean Hannity, failing to mention that the United States had enacted a flurry of security measures after 9/11, including the creation of the Department of Homeland Security.
In the wake of the attacks, the United States temporarily grounded all flights and implemented sweeping changes to air travel in the interest of public safety, one of which was the creation of a federal agency - the Transportation Security Agency -- to vet passengers before they board planes.
Boebert reached into the Republican playbook for a solution to the growing U.S. gun violence problem — bring in more guns. "I want our schools secured; I want their children protected, and I want teachers that can protect themselves and their students. And you know what? We can achieve this without trying to disarm law-abiding citizens." Boebert said.
"For me, this is my equalizer. I need a way to protect myself and my children. And my firearm is my equalizer, my tool to do that," she added. Boebert also claimed the shooting was enough proof that "gun-free zones are deadly."
In the tasteless rant that preceded her bogus claims, Boebert went on to suggest that Democrats were trying to use the tragedy to further "their political agenda" and create stricter gun control laws.
"And, of course, leave it to Barack Obama to make this issue more divisive instead of allowing the nation to come together, mourn and heal," Boebert said, referring to the former president's tweet mentioning George Floyd's murder in a statement about the Uvalde shooting.
Boebert blasted Senate Majority Leader Chuck Schumer for blocking a Republican bill the Democrat said could "see more guns in schools"; Democratic Texas gubernatorial candidate Beto O'Rourke for confronting Texas Governor Greg Abbot at a news conference addressing the tragedy; and Rep. Alexandria Ocasio-Cortez (R-NY) for demanding that Boebert "just quit" after rejecting solutions to gun violence.
Boebert is a staunch advocate for firearm possession who centered her 2020 election campaign around attacking calls for more gun control. The lawmaker also owns a restaurant in Rifle, Colorado, called "Shooters Grill," where the waitstaff are permitted to carry firearms.
The House Republican's comments earned her a resounding backlash. "Why even be in Congress if you don't believe in doing your job?" Ocasio-Cortez tweeted after Boebert whined that evil could not be "legislated" away.
"Just quit and let someone who actually gives a damn do it instead of acting like a useless piece of furniture when babies are shot with AR-15s that we let teen boys impulse buy before they can legally have a beer," Cortez added.
CBS Sports NBA reporter Sam Quinn said of Boebert's comments, "There are so many things wrong with this, but I'll key in on this: airport security has gotten so much tighter since 9/11. I can't even wear shoes going through security anymore. When a few planes killed a bunch of people we made air travel safer. Why can't we do that with guns?"
MSNBC's Steve Benen opined that Boebert made a good point with her airplane comment but had failed to see it."If buying guns were in any way similar to getting on an airplane in post-9/11 America, the number of people killed by gun violence would fall dramatically," he said.