In VA Scandal, Let's Have Accountability For All — Including Congress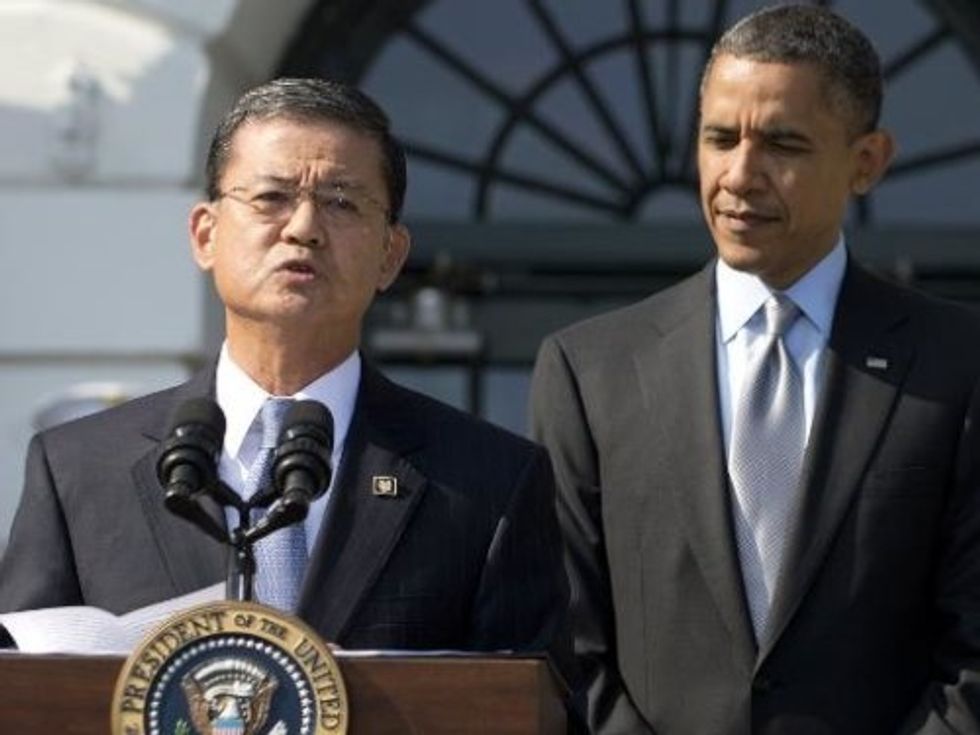 While Congress eagerly prepares its latest political stunt – a resolution to oust Gen. Eric Shinseki as Veterans Affairs Secretary – members might want to consider their own responsibility for the scandalous inadequacy of veterans' health care. Unlike most of them, especially on the Republican side, Shinseki opposed the incompetent war plans of the Bush administration that left so many American service men and women grievously wounded. And unlike most of them, especially on the Republican side, Shinseki has done much to reduce the backlog of veterans seeking care, despite the congressional failure to provide sufficient funding.
Anyone paying attention knows by now that those secret waiting lists at VA facilities – which may have led to the premature deaths of scores of injured veterans – are a direct consequence of policy decisions made in the White House years before Barack Obama got there. The misguided invasion of Iraq, carried out with insufficient numbers of troops shielded by insufficient armor, led directly to thousands of new cases of traumatic brain injury, post-traumatic stress disorder (PTSD), and other physical and mental illnesses requiring speedy treatment.
A substantial portion of the estimated three-trillion-dollar price of that war is represented by the cost of decent care for veterans. But even as that war raged on, the Bush administration and Republicans in Congress repeatedly refused to appropriate sufficient funding for VA health care. This financial stinginess toward vets was consistent with Bush's refusal to take any steps to pay for his expensive war (and to protect his skewed tax cuts instead). As Alec McGillis explained in The New Republic, legislators who voted for war while opposing expansion of the VA are hypocrites, particularly when they claim to care about veterans.  So are the Republican governors who claim to care about vets but refuse to expand Medicaid, which would provide coverage for more than 250,000 impoverished veterans.
Breaking down the voting record, year after year, the pattern along party lines is clear: Republicans regularly seek cuts in VA funding and oppose Democratic efforts to increase that funding — a pattern that extends back to the first years of the Iraq and Afghan conflicts and continues to this day. As recently as last February, Senate Republicans filibustered a Democratic bill that would have added $20 billion in VA funding over the next decade, which would have built at least 26 new VA health care facilities. The Republicans killed that bill because Democratic leaders refused to add an amendment on Iran sanctions – designed to scuttle the ongoing nuclear negotiations – and because they just don't want to spend more money on vets. Senator Bernie Sanders, the Vermont independent who chairs the Veterans Affairs Committee, said the costs of the expansion bill would be covered by savings from the end of troop deployments in Iraq and Afghanistan. But with cruel irony, according to TheWashington Post, "Republicans indicated that they prefer to dedicate the savings toward deficit reduction" rather than improved services.
What those who have served should get is the kind of care that has made the VA among the most successful health systems in the world (for those who can access its services). Instead they will get political swaggering, as members of Congress seek to score points against President Obama by attacking Shinseki, and dogmatic opportunism, as right-wing ideologues insist the VA is just another big government program to cut or even abolish. The Republicans who are susceptible to such proposals should be very careful, lest they arouse the anger of the normally conservative American Legion and Veterans of Foreign Wars, whose leaders react with anger and outrage to the idea of privatization. As American Legion commander Dan Dellinger said in congressional testimony last week, his organization overwhelmingly "finds that veterans are extremely satisfied with their health care team and medical providers."
So let's not be misled about the VA by Washington's loudmouths and poseurs — the warmongers who never face up to the price of their enthusiasm in lives and treasure. When politicians demand accountability from their betters, including a war hero like Eric Shinseki, let's remember that they should be held accountable, too.
AFP Photo/Saul Loeb