Venezuela Pursues Second Opposition Figure
@AFP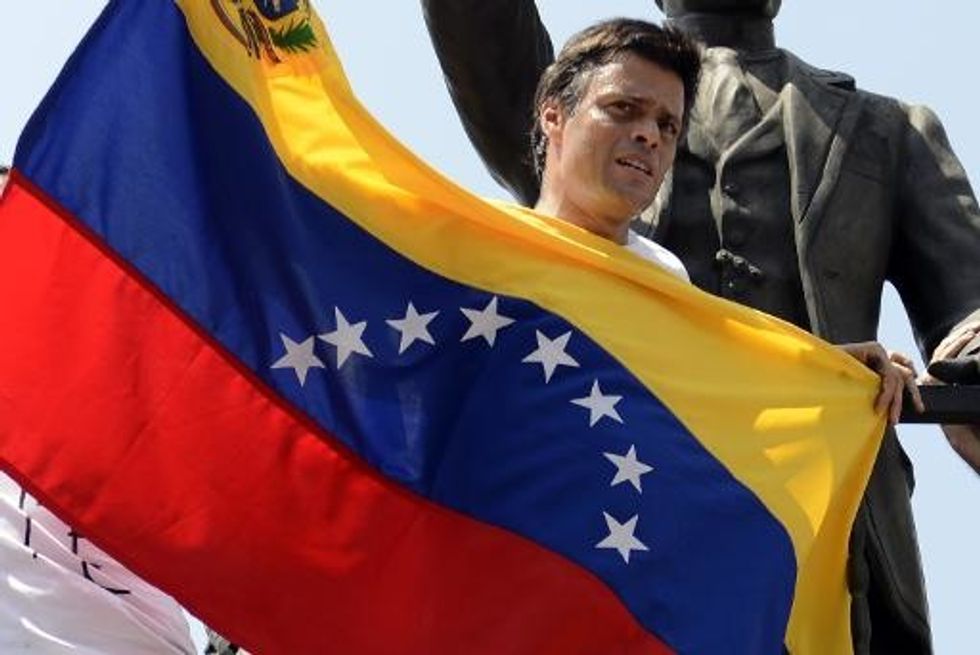 Caracas (AFP) – Venezuelan authorities issued an arrest warrant for a second opposition figure, ramping up the pressure on protesters who have staged nationwide rallies this month in the biggest threat to President Nicolas Maduro since he came to power.
Near-daily demonstrations have seen dueling pro- and anti-government protesters face off in sometimes violent confrontations that have left 14 people dead in the deeply polarized oil-rich country since the start of February.
Leopoldo Lopez, of the opposition Voluntad Popular (Popular Will), turned himself in last week after a warrant went out for his arrest and the party said Thursday that Maduro's under pressure government was now seeking Carlos Vecchio, the party's national political coordinator.
The party said the arrest warrant issued by Judge Ralenis Tovar Guillen ordered the general directorate of military intelligence to capture Vecchio "for the alleged crimes of arson, public incitement, damage and association," the same charges brought against Lopez.
Court officials have not confirmed the move against Vecchio.
Students and the opposition have hit the streets of the capital Caracas and other cities demanding better safety and protesting over shortages of basic goods and inflation, as well as against the government's crackdown on demonstrators.
They were at it again on Thursday in Caracas, though in fewer numbers, as revelers prepare for Carnaval celebrations.
Between 2,000 and 3,000 people gathered in the wealthy Caracas neighborhood of Chacao, an opposition stronghold, under the theme "No more dead."
Clashes broke out when about 200 demonstrators tried to block a nearby highway and security forces dispersed them using tear gas.
Gerardo Blyde, mayor of the Baruta district where the incidents took place, said on Twitter that 20 people were being treated for cuts and for skin and eye irritations triggered by the tear gas.
The protesters also commemorated the 25-year anniversary of the Caracazo popular uprising against president Carlos Andres Perez that left hundreds of people dead.
In the morning, at the start of a six-day holiday for Carnaval, roadblocks were reported in some eastern neighborhoods of Caracas and the industrial hub of Valencia.
In Maracay, locals said shops selling food and alcohol were looted.
Thousands of pro-government supporters meanwhile converged on the Miraflores presidential palace in the capital for an official ceremony celebrating the anniversary of the 1989 revolt.
Maduro had been expected to speak at the event, but he withdrew.
Among those killed since protests began February 4, at least eight were gunned down.
Another 140 people have been wounded and 600 arrested, in a country that saw an average of 65 murders a year in 2013, according to independent local observers.
Maduro, who accuses protesters of plotting a coup with support from Washington, met Wednesday with business and church leaders, intellectuals, journalists, lawmakers and governors at his presidential palace in what was dubbed a national peace conference.
Some opposition figures did show up. But the main umbrella opposition grouping known as MUD stayed away.
Beyond speeches by the president and several participants, no dialogue took place and no decision was taken.
The opposition's main leader Henrique Capriles — who lost narrowly to Maduro in last year's elections — did not attend, dismissing the talks as a government photo op.
Also absent were student leaders involved in the protest movement and university presidents.
Capriles and the MUD are demanding the end of the crackdown on protesters and the release of Lopez.
AFP Photo/Leo Ramirez