WATCH: The Koch Brothers Are Worried About Kansas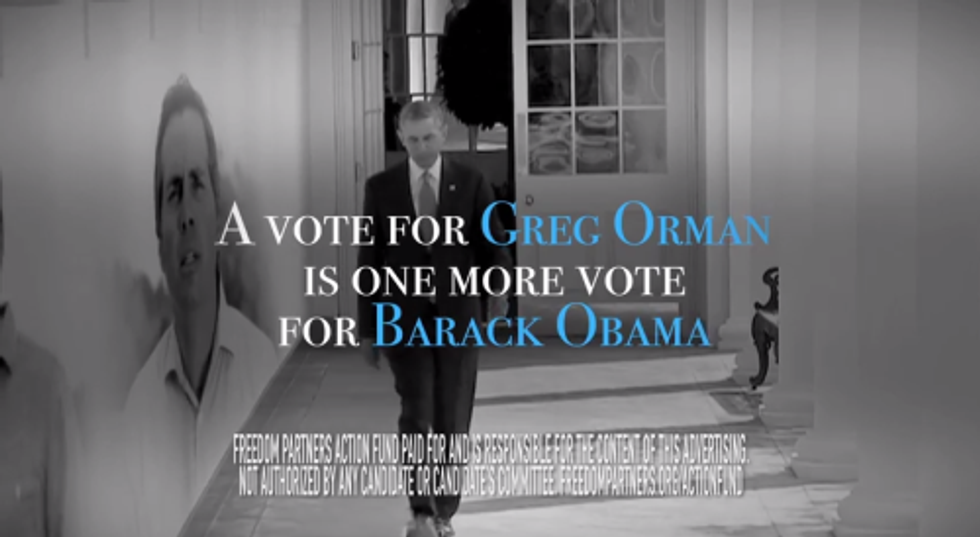 In the latest clear sign that Republicans fear for Senator Pat Roberts' (R-KS) political future, Kansas natives Charles and David Koch have waded into their home state's Senate campaign with an ad attacking Independent candidate Greg Orman as a tool of liberal Democrats.
"It's a simple question," the ad begins. "Do you support President Obama and his liberal agenda? Or do you believe Kansas and America can do better?"
"Greg Orman: Liberal Democrats across America support him because they know he'll support President Obama," it continues, citing Orman's past donations to Democratic candidates. "It isn't complicated: A vote for Greg Orman is one more vote for Barack Obama."
The ad was created by Freedom Partners Action Fund, a SuperPAC linked to Freedom Partners, a 501(c)6 nonprofit organization. As The Huffington Post has reported, Freedom Partners serves as a "central bank" for the Koch brothers' political activity, and distributed $41.7 million to various Koch-linked organizations in 2013.
The SuperPAC has spent more than $3 million attacking Democratic candidates in 2014, but this six-figure ad buy is the first time it has spent money on the suddenly competitive Kansas race.
Orman is not a Democrat, although Republicans would certainly prefer that Kansans think of him that way. While Senator Roberts is unpopular in the Sunflower State — a recent Public Policy Polling survey found his approval rating at just 29 percent — President Obama is arguably even more disliked. The same poll found Obama's approval rating at 33 percent, and respondents agreed 49 to 39 percent that they'd prefer Republicans to control the Senate. The closer Republicans can link Orman and Obama in voters' minds, the better chance Roberts has of escaping with his career intact.
Orman is running as a centrist and has not signaled which party he would caucus with if he were elected to the Senate. But with no Democrat on the ballot, he can be expected to win most of Kansas' Democratic voters. He leads Roberts by 2 percent in The Huffington Post's poll average.
Screenshot: YouTube
Want more political news and analysis? Sign up for our daily email newsletter!