WATCH Trump Push Zelensky To Disavow 'Pressure' On Biden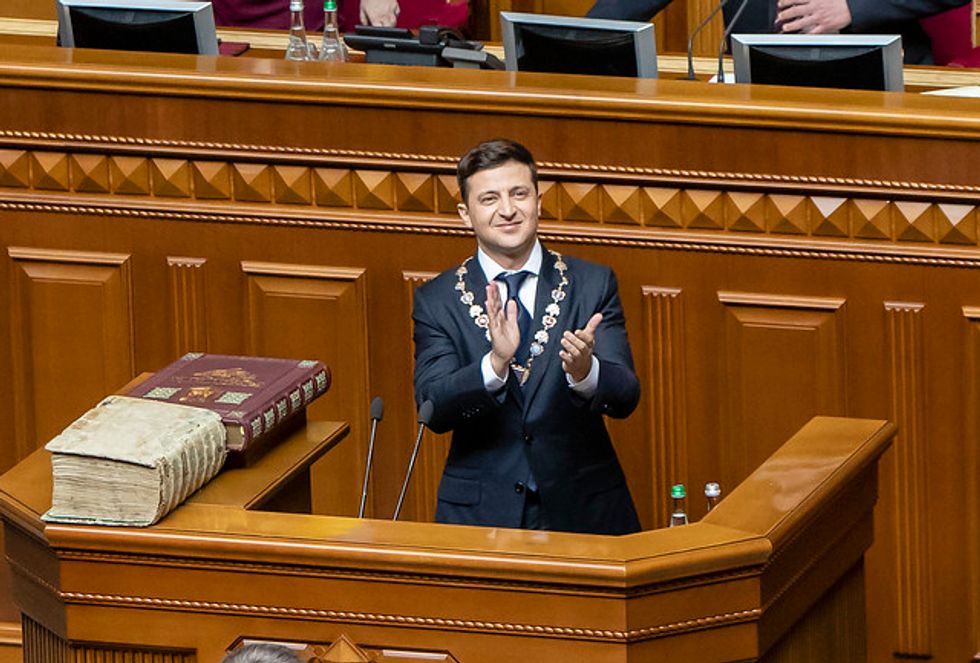 During a joint appearance with Ukrainian President Volodymyr Zelensky at the United Nations on Wednesday, Donald Trump openly instructed the world leader on how to answer questions about their July phone call that triggered an impeachment inquiry.
Zelensky was asked by reporters if he felt any pressure during the phone call in which Trump referenced millions of dollars in aid to Ukraine along with asking him for a "favor" to dig up dirt on the Biden family.
"I think you read everything, I think you read text," Zelensky replied. "I don't want to be involved [in] democratic, open, elections. Elections of USA."
"It was normal. We spoke about many things. And I think — you read it — that nobody pushed me," Zelesky continued.
"In other words, no pressure," Trump offered, attempting to summarize Zelensky's comment to reporters. "Because you know what, there was no pressure. And by the way, you know there was no pressure — all you have to do is see it, what went on on the call."
In fact, independent observers with law enforcement experience have said the memo of the call between Trump and Zelensky, which the White House released this morning, shows signs of pressure.
In the call, Trump brought up millions of dollars in aid to Ukraine — which he had held up — and then a conversation about Biden began.
The press conference showed Trump on the global stage attempting again to get his Ukrainian counterpart to do his bidding.
Published with permission of The American Independent.