We Already Knew This About Roseanne Barr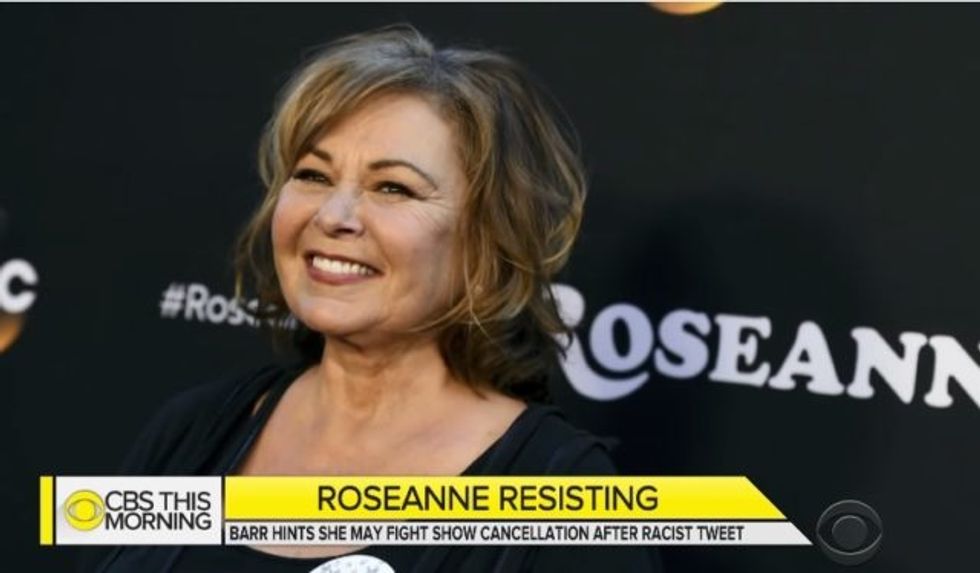 Reprinted with permission from Creators.
It was the fall of 1989. Or maybe the following spring. I remember the rising heat in the room but not the season outside the windows.
I was one of the few non-lawyers in the packed house, feeling conspicuous in my bright new blazer. I kept catching myself swaying as if my baby were on my hip, even though she was home with her big brother.
There were six or seven of us making small talk, when a man I'd met only twice before leaned in and tugged on my sleeve. "I feel I know you better now."
Confused, I returned his smile and said, "How's that?"
"Roseanne," he said loudly. "Watching her show, I understand now who you are."
I don't remember exactly what I said, but I do recall the awkward silence after I responded. By then, I was accustomed to explaining that Roseanne Barr's shtick bore little resemblance to the family of my working-class roots.
We didn't eat with our mouths open or splatter food as we talked. Our clothes were always clean, the cotton ones pressed with knife-edge creases. Our manners were a point of pride for my parents, and they were forever correcting our grammar. We didn't mock teachers; we revered them. And we were expected to treat our mother and father with respect. Mom would never have attempted to mock Dad in front of us or make him feel like less of a man.
Most importantly, we were not raised to mistake a steady stream of scorching put-downs for love.
I do not mean to romanticize who we were. Ours was a working-class family in a working-class town, with the attendant problems of racism and sexism. In that way, we were like many affluent Americans. Still, we knew a lot of good and decent people, and their daily lives looked nothing like the coarse and crude habits of the mythical Conners.
So no, I did not like Roseanne Barr's show, ever. In its original form, the series gave educated, well-off Americans an excuse to cling to their stereotypes of us. In its recent incarnation — I watched the first seven episodes after some accused me of refusing to keep an open mind — right-winger Roseanne delighted those liberals who can't get excited about blaming all those wealthy people who voted for Donald Trump.
Wow, was her show a hit. More than 18 million viewers for its first episode. Many Trump voters felt affirmed, we're told, and liberals apparently found the Trump supporters we could laugh at. Lucky us. As The Daily Beast's Amy Zimmerman put it, think of the reboot "as a funny, accessible take on a much-discussed demographic — think Hillbilly Elegy, but with more laughs."
Poverty and alienation. A punchline in every pot.
It was no surprise to anyone unwilling to ignore Roseanne Barr's past behavior on Twitter — and isn't it something how many were willing? — that despite her show's success, she would return to sharing racist, Islamophobic and anti-Semitic rants. This is who she is.
She once described then-national security adviser Susan Rice as "a man with big swinging ape balls."
She recently accused Parkland shooting survivor David Hogg of performing a Nazi salute. She promoted false right-wing conspiracies, including the one claiming that Hillary Clinton operated a pedophile ring.
And still ABC brought her back. And renewed her show for a second season.
"You can't control Roseanne Barr," Ben Sherwood, the president of Disney and ABC's television group, told The New York Times in March. "Many who have tried have failed. She's the one and only."
Nothing could stop ol' Roseanne, by golly.
And then she tweeted this about former President Barack Obama's senior adviser Valerie Jarrett: "muslim brotherhood & planet of the apes had a baby."
Just like that, ABC found its collective soul, canceling her show and then basking in the accolades for, finally, doing the right thing.
Barr apologized, sort of, but then kept spewing on Twitter after she said she was leaving. She has her defenders, of course, but here's the thing: If they're already feeling invisible, why would they think it's a good idea to stand small with Roseanne Barr?
At one point, she blamed Ambien for her racist rant. She swallowed that little pill and — presto chango! — she was likening a prominent black woman to an ape.
You can see how that could happen. I once took Ambien on a long international flight for a reporting trip and woke up to find myself in Tokyo. That was the plan, but still. Weird.
Racism is not a side effect of Ambien, to state the wide-awake obvious. It is a festering disease in our country, but it looks as if Roseanne Barr's career has finally reached the end stage of her condition.
Connie Schultz is a Pulitzer Prize-winning columnist and professional in residence at Kent State University's school of journalism. She is the author of two books, including "…and His Lovely Wife," which chronicled the successful race of her husband, Sherrod Brown, for the U.S. Senate. To find out more about Connie Schultz (con.schultz@yahoo.com) and read her past columns, please visit the Creators Syndicate webpage at www.creators.com.